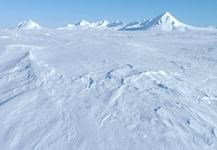 Kenai Fjords National Park was established in 1980 with the specific goals of maintaining the scenic beauty and environmental integrity of the Harding Icefield and its glaciers and fjords.
Since the park was established, evidence of global climate change has been brought to the forefront of science. Changes in weather, wildlife, and vegetation patterns around the world have been documented by numerous scientific studies. These changes are most apparent in regions where snow and ice dominate the landscape. The Harding Icefield and its outflowing glaciers are no exception. Researchers at Kenai Fjords National Park work together with university researchers and scientists from other government agencies to understand this environment, to monitor changes, and to determine the impacts of those changes on other ecosystems in Kenai Fjords National Park.
Glacier monitoring projects allow scientists and managers to understand the condition of the ice field and glaciers through time. They allow us to measure and document change, and possibly, to forecast future change. With this information, we can better understand and manage the park for today and the future.
The National Park Service has five ongoing monitoring projects in Kenai Fjords National Park that help us to understand and document changes to the Harding Icefield.
Glacier Monitoring Projects
Clicking a topic will bring you further down this webpage to that topic.
Repeat photography
Time-lapse photography
Exit Glacier terminus mapping
Glacier mass balance
Glacier extent mapping