New Superintendent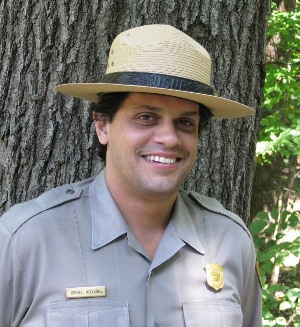 News Release Date:
September 24, 2014
Gopaul Noojibail Named Superintendent
Responsibility includes Frederick Douglass, Mary McLeod Bethune Council House and Carter G. Woodson Home national historic sites, Anacostia Park, Kenilworth Park and Aquatic Gardens, Capitol Hill parks
WASHINGTON— Gopaul Noojibail, a 15-year veteran of federal service, has been promoted to Superintendent of several national parks in Washington, D.C., administered asNational Capital Parks East. In this role, Noojibail is responsible for the management and direction of vast urban green spaces, beloved neighborhood parks that date to the L'Enfant Plan and for national parks that honor heroes of American history like Frederick Douglass, Mary McLeod Bethune and Carter G. Woodson.
"Gopaul's extensive experience in park planning and resource management, particularly in urban national parks, provides a solid foundation for the future of these American treasures," acting National Capital Regional Director Lisa Mendelson-Ielmini said. "His success is built on a collaborative approach to partnerships, a constant eye on shared goals and his ability to bring complex projects to fruition."
As a first generation Indian American, Noojibail possesses a unique understanding of what national parks can mean to diverse communities and brings an inclusive philosophy to his responsibilities.
"National parks improve people's lives physically, emotionally and economically. I am eager to continue to work with our neighbors to transform Anacostia Park and the historic homes and to realize the exciting possibilities throughout the community," Noojibail said. "I am honored to preserve and tell the stories of men and women who changed the course of American history; this is a responsibility I take very seriously."
Since 2011, Noojibail has served as the Deputy Superintendent of National Capital Parks East, where he oversaw park operations including resource management, budget, maintenance, and interpretation and education. Previously, he served as Deputy Chief of Planning and Compliance at Grand Canyon National Park, Ariz., and Chief of Resource Stewardship and Science at Carlsbad Caverns National Park, N.M. Noojibail served as the Natural Resource Program Manager for National Mall & Memorial Parks, D.C., from 2001-2004. Prior to joining the National Park Service (NPS) he was a Management Analyst in natural resource and environmental issues for the U.S. Government Accountability Office (GAO) from 1999-2001.
Noojibail holds a bachelor's degree in biology and art from Earlham College in Richmond, Ind., and a master's in environmental science and applied ecology from Indiana University. He completed the Leadership Decision Making Program at the John F. Kennedy School of Government, Harvard University, in November 2010.
Last updated: August 11, 2016