Backcountry Regulations and Suggested Best Practices
Unless otherwise noted, these regulations are in effect in all backcountry areas of Katmai National Park and Preserve, Alagnak Wild River, and Aniakchak National Monument and Preserve. More information on the regulations that help rangers manage, preserve, and protect Katmai can be found in the
Laws and Policies pages
.
Bear Spray
Bear spray may be carried, possessed and used in accordance with applicable state and federal laws. Contact
Katmai National Park and Preserve headquarters
to report any use of bear spray on a bear or other wildlife. Accurate and timely reports of bear spray discharges help the park determine whether or not there are any unsafe patterns developing.
Please note that bear spray cannot be carried in the passenger compartments of airplanes. Contact your commercial air carrier or air taxi concerning proper transport.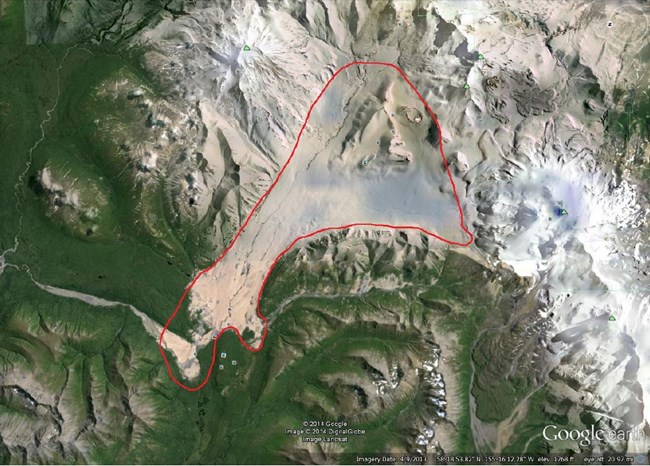 Valley of Ten Thousand Smokes Biking Closure
This area of the Valley is closed to biking effective April 1 through October 31.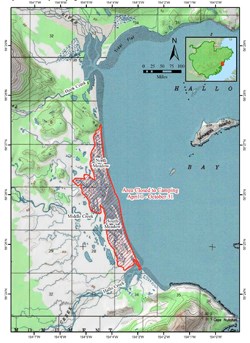 Camping
To allow others use of scarce and popular campsites and to reduce lasting impacts to the land, camping in one location for more than 14 consecutive days is prohibited. If you wish to camp longer than 14 days, your second camp must be at least two miles away from your original campsite. The 14 day clock starts as soon as you erect your tent and your tent occupies that campsite. More information on the seasonal camping closures listed below can be found in the
Laws & Policies
section of this website.
Camping Closure at Hallo Bay
The core meadow areas of Hallo Bay Meadows are closed to camping from April 1st through October 31st to prevent conflicts with bears and visitors at prime feeding sites that attract bears and bear viewers.
Camping Closure at Geographic Harbor
Camping is not permitted at the designated bear viewing site of Geographic Creek from April 1st-October 31st in order to prevent conflicts with bears and visitors at this prime feeding and viewing spot.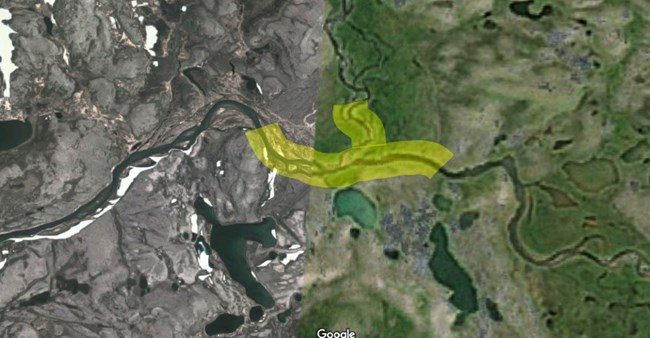 Camping Closure at Moraine and Funnel Creek Confluence
Between July 1st and August 31st camping is not permitted within one half of a mile upstream and downstream from the confluence of Moraine Creek and Funnel Creek, in order to prevent conflicts between bears and visitors.
Camping Best Practices
Avoid surprise encounters with bears—hike and camp in open areas, avoiding thickets and brush. Do not camp on bear trails.

In heavily visited areas, camp in places that have already been impacted. Not only does this reduce damage to vegetation, it has the added bonus that bears are likely to be less curious about your campsite as they have seen humans in that spot before. Frequently-used campsites include 5 Mile in the Valley of Ten Thousand Smokes, near the ranger camp at Hallo Bay, and scattered sites around Crosswinds Lake.

Erecting an electric fence around your campsite is recommended, though not required. If you do not use a bear fence, tents should be placed in a line to allow bears to pass through.

Camp at least 100 feet away from moving water. Bears commonly use waterways as trail systems, and during the salmon run, bear activity is high along these corridors.

Keep a clean campsite.
Nuts, berries, and unoccupied seashells can be collected for personal use. Collecting artifacts, rocks, antlers, or other natural and cultural resources is prohibited. Collecting fossils on state or federal lands is prohibited.
Exploring Katmai with the aid of a guide is an excellent way of experiencing the Katmai wilderness, especially if you've never been here before. If you are coming to Katmai with a commercial guide or outfitter, it is a good idea to check with our commercial services program to make sure that the guide/outfitter is authorized to do business in Katmai. Guides must have a commercial use authorization to bring clients into Katmai National Park and Preserve. A list of authorized commercial operators can be found in the commercial services directory.
Firearms may be carried and possessed in the Katmai backcountry in accordance with applicable state and federal laws. Firearms may not be used for pointing or aiming (such as to use a scope), target practice or demonstrations, or make warning shots. The park has no facilities for firearms storage and it is a good idea to contact the air taxi, lodge, or guide service to find out what their firearms policy is.
Fires
Fires are allowed but are discouraged due to fire impacts on tundra and archeological and historical resources. Fires must never be left unattended. Cabins and other historical structures are protected. Do not collect wood from these structures. Please use established fire rings if available. Keep fires small and do not burn trash or uneaten food in your fire pit. Check the news page on Katmai's website for information on any potential fire restrictions.
Fishing
Fishing is allowed in accordance with state and federal regulations. Many waterways in the Katmai backcountry have their own set of rules, and Katmai is covered under three different state fishing management areas – Bristol Bay, Kodiak and Lower Cook Inlet. Visit Katmai's fishing page for more information, including links to specific regulations.
Food Storage
The use of bear-resistant food containers (BRFCs) is mandatory in all backcountry areas. For a list of approved BRFCs (including ice chests and coolers), go to the Interagency Grizzly Bear Commitee page, or the ADFG page for BRFCs. A limited supply of BRFCs are available to borrow free of charge at the visitor centers in King Salmon and Brooks Camp. BRFCs can also be purchased or rented at many backpacking/outdoor stores.
Please note, any coolers and dry boxes accepted as BRFCs by the Interagency Grizzly Bear Committee or the Alaska Department of Fish and Game must be bolted shut or padlocked to be considered bear resistant. Yeti and Igloo coolers without padlocks are not acceptable BRFCs.
Soft-sided BRFCs that require hanging from a tree or other fixed object may not be used as a substitute for hard-sided BRFCs.

Food, equipment to cook food, garbage, and items with an odor (such as toothpaste or sunscreen) must be stored in a BRFC except when it is being actively used. Do not store food or odorous items in your tent, even if you are using an electric fence.

If you do have an electric fence, store BRFCs away from the campsite, and cook away from your camping area. A distance of 100 yards is a good general rule.
Sanitation
Be a respectful and responsible backcountry user—dispose of waste properly.
Carry out all trash. Do not burn or bury any trash.
Dump cooking or wastewater away from your camp.
Bury feces in a cathole 6-8 inches deep and replace topsoils to disguise the site. Defecate away from obvious campsites.
Always carry out toilet paper and sanitary supplies.
In heavily used areas, areas with thick vegetation, or in places where is it impracticable to bury human waste, use a "portable toilet in a bag" to contain and dispose of solid human waste. Commercial groups in heavily used areas must use a portable toilet or bag system to remove solid human waste.
Permits
Permits are not required for backcountry travel but it is recommended that a backcountry travel planner be filled out and submitted to the park. Trip planners can be filled out in person at the King Salmon and Brooks Camp visitor centers or
online
.
Pets
Pets are allowed in the backcountry but must be under physical control at all times. Pets and service animals are not allowed within the Brooks Camp Developed Area (BCDA), defined as a 1.5 mile radius from the Brooks Falls Platform, between May 1 and October 31.
Wildlife Distance Conditions/Wildlife Disturbance or Harassment
Approaching a bear or any large mammal within 50 yards is prohibited. Also prohibited:
Continuing to occupy a position within 50 yards of a bear using a concentrated food source (including, but not limited to, animal carcasses, spawning salmon and other feeding areas);

Continuing to fish within 50 yards of a bear;

Feeding, touching, teasing, or disturbing wildlife.
Bear viewing best practices:
Respect a bear's personal space.

Stay in a group when wildlife watching in the backcountry.

Consistently use the same viewing sites.

Promote predictable human behavior.
Remember to
Leave No Trace
.
Last updated: October 14, 2022