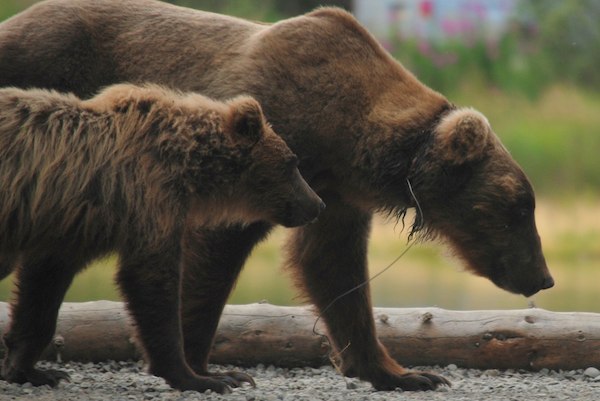 News Release Date:
August 4, 2014
Contact: Roy Wood, 907-246-2122
A wire snare was successfully removed from a female bear's neck by a team of biologists and rangers on July 30. The bear, numbered 854 and nicknamed Divot, arrived at Brooks Camp with her yearling cub on July 28 with a wire snare cutting into the flesh on her neck. The same bear was photographed outside of Katmai's western boundaries on July 24 with the snare around her neck.  She was last seen at Brooks Camp on July 12 with two yearling cubs and no snare around her neck.
Katmai National Park and Preserve's bear management plan emphasizes non-interference with bears and their natural behaviors. However, since her condition was human-caused and life threatening, the park took swift action on her and her cub's behalf.
"Regularly when there are sick and injured bears, people would like us to help," says Troy Hamon, Katmai's Chief of Cultural and Natural Resources. "Our job is to preserve natural process -- but this is not a natural process. It was a human-caused injury we had the power to rectify, and we were afraid to delay because we didn't know how serious her injuries were."
On morning of July 29th, bear 854 was again seen at Brooks Camp. Park Rangers tracked her on foot and via boat for two miles until she reached the mouth of a small salmon stream on the slopes of Dumpling Mountain. After much waiting, she was tranquilized near there on July 30th.
After she was sedated, a team of rangers and biologists were able to remove the snare which had sliced over an inch (2.5 cm) all the way around her neck. Her wounds were treated with an antiseptic solution, hair and blood samples were taken, and she was given a lip tattoo for future identification. Staff monitored her condition for four hours after she was tranquilized to ensure a full recovery from the tranquilizer. Since then, 854 Divot and her yearling cub have been seen walking along the Naknek Lake shoreline near where she was treated, and reappeared at Brooks Camp two days later.
"This was a satisfying conclusion to a difficult situation," says Diane Chung, Superintendent for Katmai National Park and Preserve. "Many things had to go right for us to even find the bear again. This was probably a life saving measure for the bear."

More information about the park's efforts to remove the snare can be found in a post on the Katmai Terrane blog and in a video on Katmai's Youtube channel.