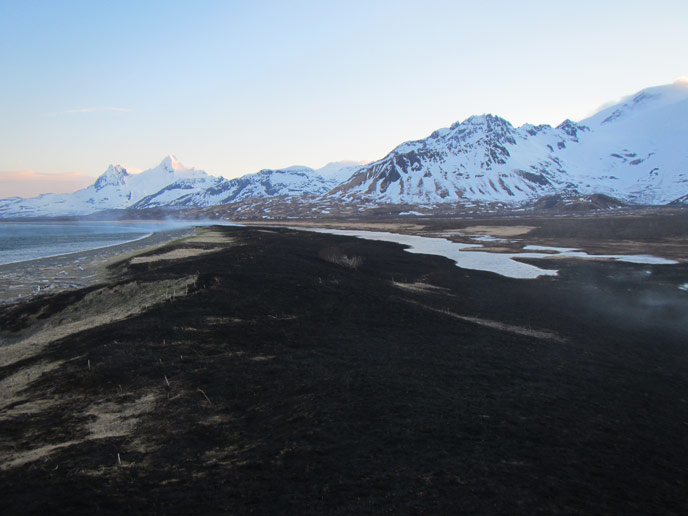 News Release Date:
May 20, 2013
Contact: Morgan Warthin, 907-644-3418
High winds caused a campfire to burn a one mile strip of grass along the Cape Douglas coast Sunday, May 19. The Shipwreck Cove fire was started by a camper who was with a party of recreationists camped in two different locations along Shipwreck Cove. A National Park Service (NPS) employee on days off was with the party but was not camped at the location where the campfire escaped. The campers attempted to put the fire out but retreated due to its rapid spread.
Katmai law enforcement rangers flew the fire today and did not see smoke or flames. Weather permitting, they will fly the fire for the next few days. Park rangers request that pilots flying in the area notify Katmai NP Chief Ranger Neal Labrie, 907.246.2127, if fire activity is observed.
Park managers remind campers that you are responsible for any fire you set until it is "dead out." Campfires are allowed in Katmai NP with the exception of Lake Camp and the Brooks Camp developed area. Before you make a fire, evaluate the weather conditions. If you choose to make a campfire, minimize your impacts. Keep the fire small. Only use dead and downed wood. Burn all the wood and coals to ash, put the fire out completely and scatter cool ashes.
Visit
https://www.flickr.com/photos/alaskanps/sets/72157633549848858/
to view photos. Information will also be shared on Katmai NP and AlaskaNPS Twitter and Facebook.
Although wildland fire management staff conducts small prescribed fires in Alaska national parks to reduce the wildfire risk before a fire starts, they have not conducted one in Katmai in many years. If and when wildland fires happen in Katmai, park officials will notify employees, visitors, local communities and media as quickly as possible for everyone's safety.