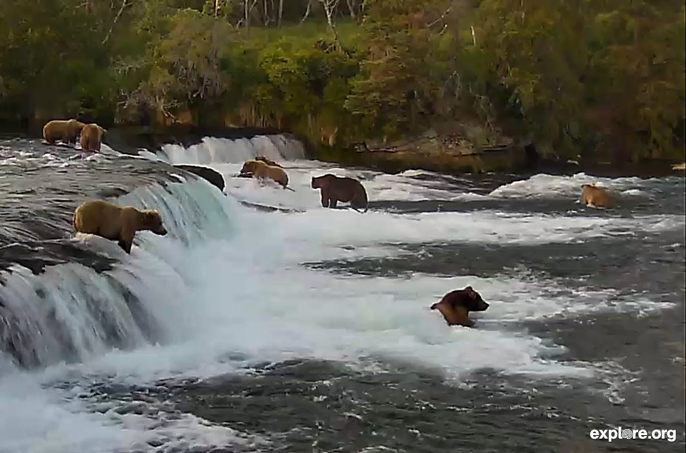 News Release Date:
July 8, 2014
Contact: Michael Fitz, (907)246-2129
Contact: Roy Wood, (907)246-2122
Katmai National Park and explore.org are pleased to announce that the popular bearcams are back for 2014. Each summer, brown bears gather to feed on sockeye salmon in the Brooks River. Eight webcams along or near the Brooks River stream live HD footage revealing the drama of the annual sockeye salmon migration and the dozens of brown bears fishing for them.
"Bears are charismatic creatures that hold enormous appeal with the public. These webcams allow anyone with an internet connection to watch one of the greatest gatherings of wildlife on earth," notes Roy Wood, Katmai National Park's Chief of Interpretation. "The cams provide remarkable opportunities to gain insight into the survival instincts and behavior of Katmai's brown bears."
Bears can be seen along the Brooks River throughout the spring, summer, and fall, but bears are most abundant at Brooks Falls in July. In June and August, few bears frequent the area. Dead and dying salmon attract many bears back to the Brooks River in September and October.
Throughout the summer and fall, park rangers will be periodically available to answer your questions about bears through live video chats and in the cam's comments stream. Viewers are encouraged to get to know individual bears and discover their different strategies for survival and unique dispositions. Guidebooks about the Brooks River bears are available to download for free. Funding for the set up, maintenance, and operation for the webcams is generously provided by explore.org.
Watch the webcams now. Visit explore.org/channels/bears/view-all/ or go.nps.gov/bearcams.
About Brooks Camp in Katmai National Park
Brooks Camp is Katmai's most popular destination. It offers amazing opportunities to watch brown bears, enjoy world-class sport fishing, explore unique volcanic landscapes, and learn about Katmai's long human history. Brooks Camp is also a staging area for many backcountry adventures.
From June 1 to September 17, the National Park Service operates a visitor center, ranger station, campground, and auditorium with daily ranger-led programs. Katmailand, Inc., provides additional services and amenities, including meals and lodging at Brooks Lodge.
Additional park information is available on the park website at www.nps.gov/katm or by calling (907) 246-3305 from 8:00 a.m. – 4:00 p.m. Monday through Friday.