Wilderness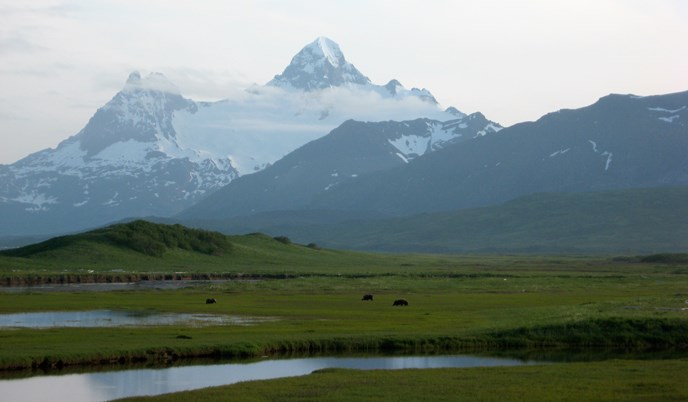 If you fly over Katmai National Park and Preserve, you will see vast expanses of wilderness: stretches of spongy tundra, forests of spruce and willow, craggy snow-covered mountains, and free-flowing lakes and rivers.
Wilderness can mean many different things to different people: a place untrammeled by humans, a state of mind, a means of protecting landscapes, a place to experience nature and solitude. Although people have always influenced wilderness landscapes, these places are usually contrasted with areas where humans exert greater influences. As opposed to cities, farms, or camps, wilderness is a place where nature can be wild. Katmai is such a land.
The Wilderness Act

Legally, wilderness is a specific designation and way to manage federal public land. The 1964 Wilderness Protection Act gave Congress the authority to protect lands from further development. The Act, which celebrated its 50th anniversary in 2014, states that wildernesses will be "...lands designated for preservation and protection in their natural condition" and places "where the earth and its community of life are untrammeled by man..."

Though places such as national parks are set aside to preserve special areas for future generations, designating land as wilderness further protects it from development. Untrammeled wilderness areas are not unvisited lands or unaltered lands. Instead, these are places where nature can act unrestrained. This further protects the landscape, plants, and animals within public lands such as Katmai National Park and Preserve.
Find out more information about the five aspects of wilderness character. More information about wilderness in national parks generally can be found at wilderness.nps.gov.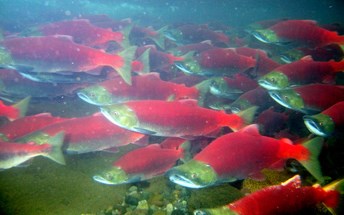 Wilderness in Katmai

Almost 3.4 million acres of Katmai is designated as wilderness. This is about 80% of Katmai's land and water. This designation was approved in 1980 when Congress passed the Alaska National Interest Lands Conservation Act. Katmai National Monument became Katmai National Park and Preserve through the same act.
The Katmai wilderness encompasses hundreds of miles of coastline, vast swaths of forest and tundra, thousands of lakes, rivers, small streams, and over a dozen active volcanoes. The forty square mile Valley of Ten Thousand Smokes, a result of the spectacular 1912 eruption of Novarupta, is also part of Katmai's wilderness.
Wilderness designation protects the habitat for plants such as white spruce, sphagnum moss, bog blueberry and Kamchatka rhododendron; animals such as the brown bear, lynx, caribou, moose, wolverine, wolf, sea lions, salmon; and hundreds of species of birds such as bald eagles, Arctic terns, tundra swans, spruce grouse, and loons. Inside Katmai's wilderness are also the sites of human habitation stretching back 9,000 years, and this cultural heritage is also an important part of the character of wilderness.
Part of preserving and managing the wilderness is Katmai National Park and Preserve means that there are fewer than 30 miles of roads and 6 miles of established trails in the park.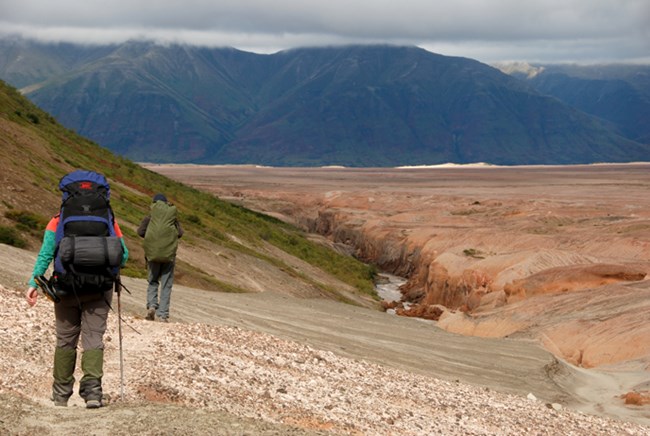 Visiting Katmai's Wilderness

Though wilderness by definition is a place where humans should not leave their mark and do not remain, this certainly does not mean that the wilderness in Katmai or other parks cannot be visited or enjoyed. The Wilderness Act also states that these lands are set aside to "be devoted to the public purposes of recreation, scenic, scientific, educational, conservation and historic use."
Even the parts of Katmai that are not wilderness—such as Brooks Camp, the road to the Valley of Ten Thousand Smokes, and much of Naknek Lake—allow visitors to experience a wilderness. The majority of the park is truly wilderness where few humans explore, even today. Exploring Katmai's wilderness can be a rewarding and challenging experience.
From Brooks Camp, day hikers can experience wilderness by heading up Dumpling Mountain for wonderful views of lakes and mountains from the wide-open tundra of the summit.
Many backpackers choose to challenge themselves amongst the extraordinary landscape of the Valley of Ten Thousand Smokes, a moonscape that is just now starting to show signs of life after the devastating eruption of Novarupta in 1912 covered parts of the valley in up to several hundred feet of pumice and ash.
Boats can be a popular way to experience Katmai's wilderness as well. The solitude of canoeing or kayaking along the swift Savonoski River or on the still waters of Lake Brooks or Lake Grosvenor allows visitors to meet wilderness on its terms and penetrate the park far away from any road, camp, or town.
Visiting Katmai's wilderness should not be taken lightly. Remote, and sometimes dangerous, a trip into the wilderness requires careful planning and preparation. Visitors should also follow Leave No Trace principles to minimize any impact on the landscape and ecosystem.
No special permits are required to stay in the wilderness of Katmai. Rangers at the Brooks Camp or King Salmon Visitor Centers can help plan your trip. Wilderness travelers are encouraged to fill out a backcountry trip planner in case of emergency. Visit Katmai's backcountry camping and hiking pages for more information.
Enjoy all Katmai's Wilderness has to offer

Experiencing wilderness is about using all your senses. Enjoy natural quiet. Smell the fresh air, free of car exhaust and smog. Taste the clear, clean water running off a glacier. Touch a brown bear's hair stuck on a spruce tree. Feel the rough edges of a pumice stone spewed from a volcano. Caress spongy lichen covering the tundra. Look around in every direction at the surrounding landscape and feel the sensation of being a guest in a wild land.
Even if you do not visit the wilderness while in Katmai National Park, it is part of your experience. Developed areas such as Brooks Camp allow you the feeling of being in this wilderness.
Animals such as brown bears, moose, bald eagles, and salmon pass in and out of the designated wilderness. Katmai's world renowned wildlife viewing opportunities would not be possible without wilderness. The remoteness of places such as Hallo Bay or Brooks Camp and the knowledge of wilderness stretching off for miles in every direction is part of the Katmai experience.
Though challenges posed by climate change, air pollution, and light pollution affect the seemingly pristine tracts of land in Katmai and other national parks, wilderness ensures that future generations can experience an untrammeled land.
Last updated: June 19, 2020