Brooks River Area Planning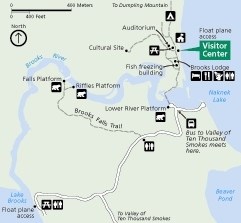 The Brooks River area is the most visited location within Katmai National Park and Preserve. This area, which is known for its outstanding sport fishing and brown bear viewing opportunities, attracts around 10,000 people each year. The area serves as a vitally important migratory corridor and spawning habitat for several species of salmon and feeding area for a large number of brown bears.
In addition to the natural environment, the area contains significant cultural features and artifacts spanning a period of over 4,500 years. For this reason, the area has been designated as the Brooks River Archeological District National Historic Landmark.
The National Park Service is committed to protecting park resources and values by demonstrating environmental leadership when designing, developing, and operating facilities within Katmai. Facilities for visitor use and management will be consistent with Katmai's authorizing legislation, general management plan, Brooks River Area Development Concept Plan, and other associated planning documents. Recent projects at Brooks River include visitor access improvements and new staff housing.
Last updated: December 2, 2015