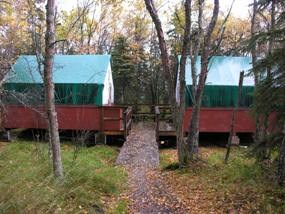 The NPS will construct replacement utility systems for Brooks Camp, at Katmai National Park. This project will move staff to the south side of Brooks River, about 1 mile from the existing location. The project will move support facilities to the south side of the river, including site layout, utility installations, and housing relocation. The project site will be adjacent to the recently constructed gravel pad for the new maintenance facility along the Valley of Ten Thousand Smokes Road. The new maintenance and housing area is referred to as the Valley Road Administrative Area (VRAA).
These projects have been identified in the Katmai National Park and Preserve Final Development Concept Plan and Environmental Impact Statement for the Brooks River Area (1996), and the Katmai National Park and Preserve General Management Plan, Wilderness Suitability Review, Land Protection Plan (1986). Beginning in 2006 the NPS investigated the cost requirements of constructing the new maintenance facility at the Beaver Pond Terrace location. The NPS concluded that it would have been cost prohibitive to construct a new maintenance facility near the Beaver Pond Terrace, as depicted in the DCP/EIS, and install underground power back to the Lake Brooks facilities using a phased implementation approach. The NPS then studied a new site for the maintenance facility and chose the location farthest south along the Valley Road that would still meet the power requirements for the Lake Brooks facilities. The EA implements direction from the DCP/EIS, and provides project detail for construction of the utilities to support the new VRAA.
The EA analyzed three alternatives and their impacts on the environment: Alternative 1: No Action, Alternative 2: Single Loop, and Alternative 3: Double Loop. Alternative 2, Single Loop, was selected. Construction on these facilities began in 2013.
Brooks River Area Utilities Replacement and Employee Housing Relocation Environmental Assessment
Brooks Utilities and Housing Finding of No Significant Impact