The Ocean Bay Tradition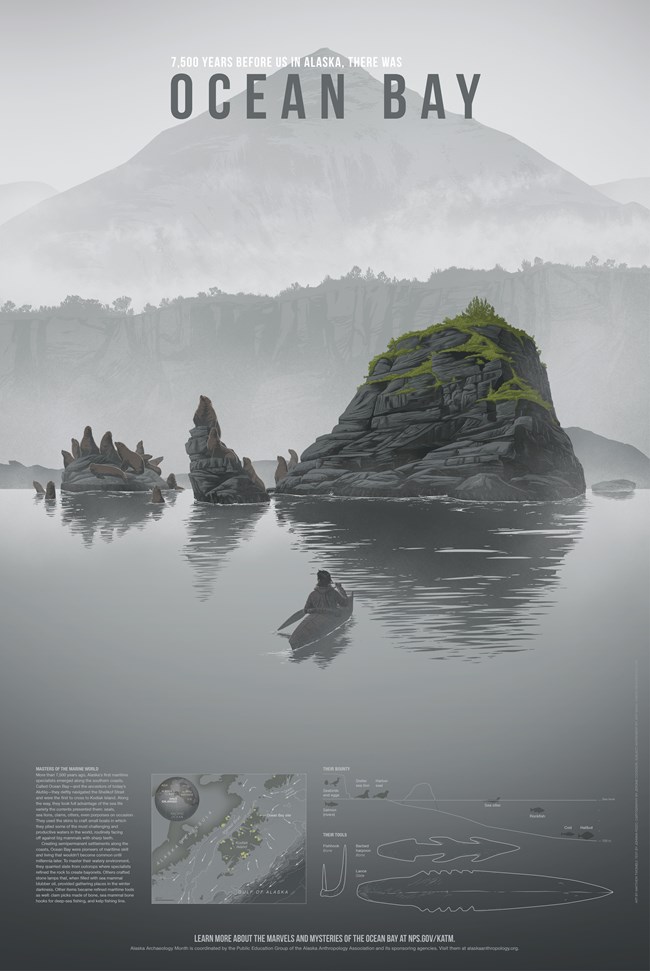 More than 7,500 years ago, Alaska's first maritime specialists emerged along the southern coasts. Called Ocean Bay—and the ancestors of today's Alutiiq—they deftly navigated the Shelikof Strait and were the first to cross to Kodiak Island. Along the way, they took full advantage of the sea life variety the currents presented them: seals, sea lions, clams, otters, even porpoises on occasion. They used the skins to craft small boats in which they plied some of the most challenging and productive waters in the world, routinely facing off against big mammals with sharp teeth. Creating semipermanent settlements along the coasts, Ocean Bay people were pioneers of maritime skill and living that wouldn't become common until millennia later. To master their watery environment, they quarried slate from outcrops where specialists refined the rock to create bayonets. Others crafted stone lamps that, when filled with sea mammal blubber oil, provided gathering places in the winter darkness. Other items became refined maritime tools as well: clam picks made of bone, sea mammal bone hooks for deep-sea fishing, and kelp fishing line.
Download the poster
(6.74 MB)
Archeology

Park archeologists research thousands of years of human history within the Katmai region.

Collections

The Katmai National Park and Preserve museum collection consists of more than 400,000 objects.

Cultures

Learn more about the cultures tied to Katmai National Park.
Last updated: April 10, 2018