Collections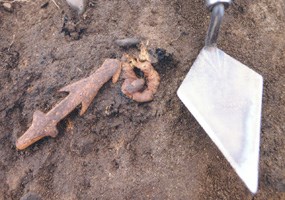 The Katmai National Park and Preserve museum collection consists of more than 400,000 objects—from an paleontological samples to 9,000-year-old artifacts. Collections staff also care for historic photographs, tapes and transcripts of oral history interviews, park archives, park administrative records, preserved small mammals, and other items reflecting the cultural and natural history of this unique place.
As of 2006, Katmai's archives and museum collection holds 419,313 items including
330,606 a

rcheological artifacts,

64 e

thnographic items,

3,181 h

istorical photos, artifacts, and documents,

82,795 d

ocuments in the park archives,

2,050 b

iological specimens,

133 p

aleontological specimens, and

484 g

eological samples.
Many of these items are fragile and require special conservation. The museum specialists at Katmai National Park and Preserve ensure that these irreplaceable pieces of the past will be available to future generations.


Last updated: December 2, 2018