Perhaps the strangest, almost inexpressible part of working as a ranger along Katmai's Brooks River comes each fall after we leave the bears, some of whom we know very well. We travel to more hospitable climes while the bears stay, digging into the earth in preparation for a cold, dark, northern winter.
Come summer, these two omnivorous, intelligent species convene again. We expect to see the bears, like family each Thanksgiving. We strive to observe, learn from, and enjoy their presence and they strive to feed. We spend another summer with largest predators on continent, coming to know them, their characteristics and tendencies.
Sometimes, though, they don't come back.
In 2014, many of us, rangers and visitors alike, looked forward to the arrival bear 489, a large adult bear, who unwittingly, is quite famous – he is featured prominently on the Katmai National Park homepage.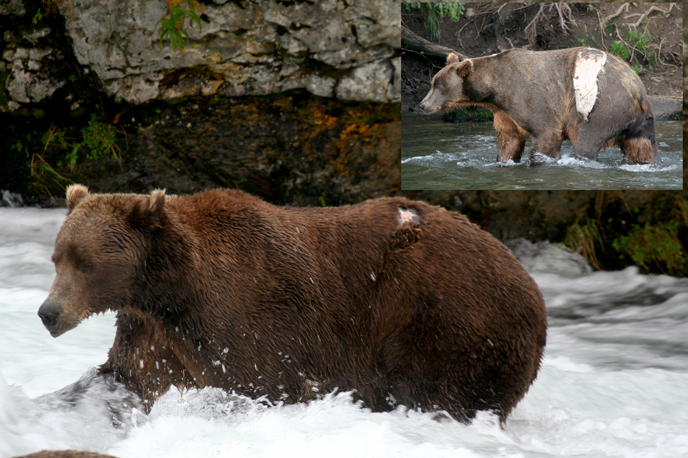 For many years, 489 Ted was one of the most frequently seen and recognizable bears at Brooks River. A large wound that he received in 2007 produced a distinctive scar (inset). NPS photo.
Bear 489, nicknamed "Ted", has a distinct white scar on the left hip – his most identifiable characteristic. We know how he earned it – it was even caught on camera – a 2007 Brooks falls skirmish that left him with a gruesome injury – a large flap of skin was ripped down his side, like peeled skin from a peach. This gruesome injury did little to hinder Ted. He returned to the Brooks River each of the next six years, fully convalesced, but with a telltale scar. 
Ted became a welcome sight for visitors and rangers alike – most bears leave the Brooks River by July's end, as the sleek sockeye migrate upriver into Lake Brooks. In the quiet days of August, however, Ted often remained, capitalizing on a river that lacked prodigious July salmon runs but still contained some available salmon - and there was little competition for them.But last year, no one saw 489 Ted. His absence is not certain, but because he is a well-known bear, it is unlikely that Katmai's biologists and expert observers failed to identify him.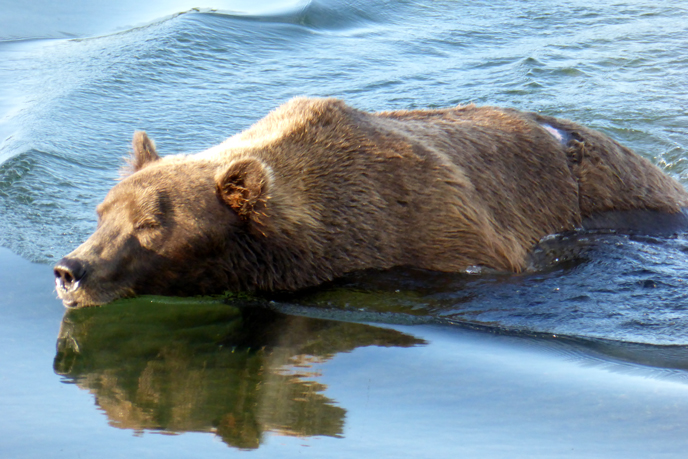 489 Ted often patrolled Brooks River in August when few, if any, other bears used the area. NPS photo.
So where's Ted? The question, however difficult to answer, remains provoking. Ted was an adult bear, and would soon be nearing his life expectancy (twenty years). Perhaps Ted had another vicious dominance encounter – one in which even his formidable bear anatomy could not recover. Or, perhaps Ted is in fine and vigorous health, and is planning to make a 2015 visit to the Brooks River and take his traditional place in the bear hierarchy.
Where's Ted? The question may never be answered.