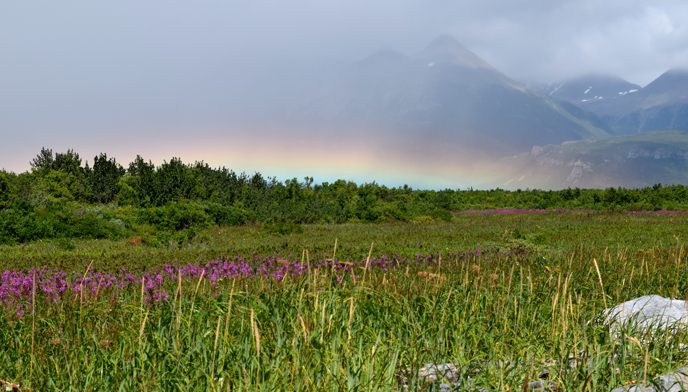 Wind and mist created this rainbow bowl at the foot of a mountain pass in Hallo Bay. On the coast, wild weather often delays flights for days at a time. NPS/R. Patterson.
A big hello from your local rangers at Hallo Bay! It's September which means things are slowing down at Hallo. Bears no longer graze in the sedge meadows like they did in June and July. Instead, they're feasting on berries and salmon. Runs of chum, pinks, and now silver salmon are in Hallo Bay's numerous creeks. Instead of watching bears graze like bison on grass, you can now sit along a river bank and watch them run and splash after fish—if the weather permits.
The weather at Hallo Bay can be hot and sunny on Monday, and cold with winds blowing rain horizontally on Tuesday.  You can go from having frost on your tent during breakfast, to sunshine on your face while you're eating lunch, to rain pouring down while you're fixing dinner. The highest temperature we had this summer at Hallo was a whopping 82 degrees, during the last week of June, followed by the worst storm we've had (so far) over the 4th of July weekend, where we hunkered down inside our tents due to gale force winds, torrential rain and temperatures as low as forty. Welcome to Southwest Alaska!
This weather doesn't stop us or the dozens of visitors who come here daily throughout the summer, arriving either on float or wheeled planes from Kodiak and Homer, or by bear viewing boats, yachts, or cruise vessels. Like the weather, the people who visit Hallo Bay are diverse. People from 21 countries have visited, including Malaysia, Scotland, and Liechtenstein. (To the other 36,925 or so people of Liechtenstein: don't worry they had a blast and we sent them safely back on their way.) During June and July we had on average about 40 people visit each day, but on our busiest day (July 24) we had over 100 people on the ground from 24 different groups!
Hallo Bay is also a great place to see science in action as the Changing Tides project is currently in progress. Washington State University doctoral student Joy Erlenbach has been stationed in Hallo Bay for periods of time throughout the summer where she is studying bear nutrition. One of the bears collared for this project arrived in Hallo Bay on July 9, swimming from Nanagiak Island with her two cubs. Sow 085 can now be seen fishing in Middle Creek, while her cubs watch and learn.