Changing Tides: Intertidal Invertebrates, Bears, and People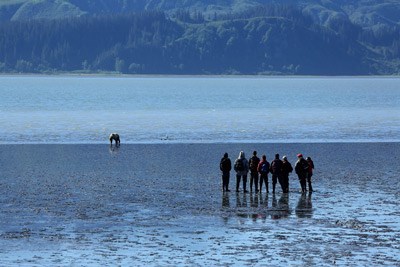 In the summer of 2015, the National Park Service embarked on a new multi-year study to investigate the unique link between the terrestrial and the nearshore environment, specifically between coastal brown bears and intertidal invertebrates. Clams and other marine invertebrates are known to be an important food source for coastal brown bears. Natural and human-related pressures can impact the health of these intertidal invertebrate communities, which can in turn affect those species that rely on them.

This study aims in part to identify just how important these invertebrate resources are for brown bears and how threats to the marine environment might affect them. Elements of the study are taking place at both Katmai and Lake Clark National Park and Preserve.

You can use the links below to explore this study and follow along as we learn more about how bears, clams, and people interact along Alaska's coasts! Project updates after 2017 have been incorporated into the park's Natural Resource newsletters.
Last updated: June 29, 2020