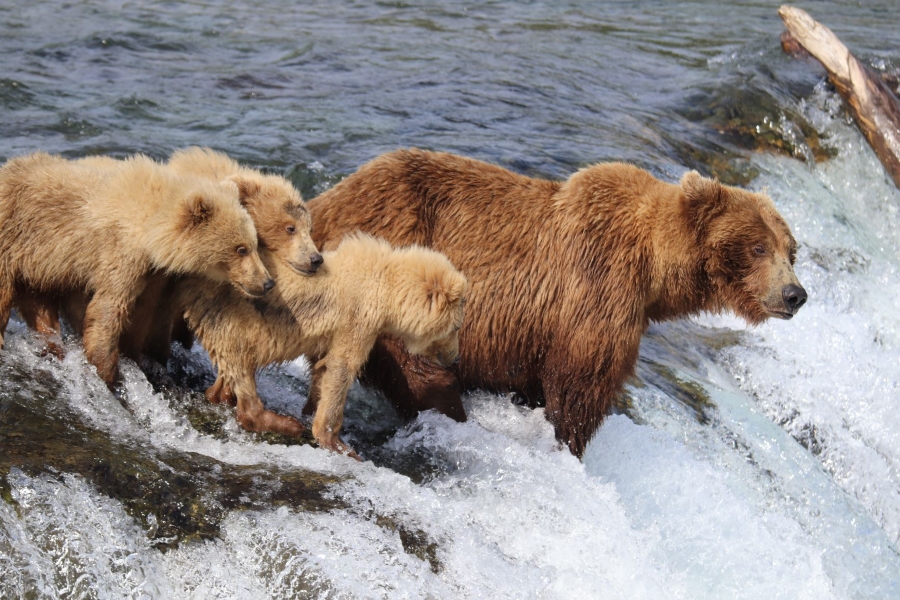 402 fishes the lip of Brooks Falls with her yearlings. NPS Photo/S. Vanstrom
Brooks Falls presents unique challenges for photographers. Learn what to bring and how to manage your photographic expectations with park rules, FAQs, and tips to understand your gear, location and subject in order to capture your best photo.
Brooks Falls is famous for its brown bears. Visitors travel long distances, and may wait hours, to watch the beauty and drama as these bears feed, mate, interact and gain weight. As a volunteer in 2019, I also encountered many visitors who were focused on taking the 'ultimate' photo. Why photography? For some, it's a way to document what they're seeing, to remember it long after they return home, and to share it with those who weren't fortunate enough to come along. For others, it's a form of artistic expression; or, it's a skill to be mastered. Photography's appeal may be a combination of these reasons.
As an avid photographer myself, I need to document the beauty that I see and connect with – as if I'm insulting it if I don't;
and
I want to improve my skills. So, I can relate to those visitors at Brooks – the excitement and anticipation I saw on their faces as they eagerly headed to the Falls, carrying cameras with very big lenses, mounted on long-legged tripods, left me wondering how many would get the shot they were hoping for.
Whatever a visitor's photographic motivation, preparation is a
must
. Much money and effort are spent getting to Brooks, a location that presents unique challenges for photographers. To get ready for your photography adventure, it's important to understand your gear, location, subject and some basic park rules.
Safety First
Alaskan Brown Bears can add drama to your Brooks Falls photography experience – and not just in your photos. Bears have the right of way at Brooks and it's important to know the rules.
Because the
safety
of bears and visitors is of utmost importance at Brooks Camp, everyone's first stop is Bear Orientation, where you learn the best practices in a world where bears have the right of way. Part of the orientation includes a short video that can be found
online
and may be helpful to watch as part of your trip preparations. Please note: watching the video in advance 
will not
 waive the requirement to attend Bear Orientation when you arrive.
It's important to know that safety rules can change at any time, depending on circumstances, but here are a few.
Watch your step!
Do not approach a bear that is within 50 yards, the minimum distance you must maintain between yourself and any bear. Keep that distance in mind when selecting the camera lens you'll use. The Brooks Falls trail begins on the Lake Brooks Road .6 miles from the visitor center, and from the trailhead, it's another .6 miles to the Brooks Falls Platform. The trail has a number of curves, so be especially careful as you approach a section where you can't see what's ahead.
Know when to speak up.
Your voice helps alert bears to your presence. Hold conversations when walking with others. If you're alone, talk to yourself – and it doesn't really matter what you say. I calmly announced myself as I walked the trail, "Attention all bears – young and old; meek and bold. I am a human being approaching a curve on the trail."
With visitors I met while roving the trail, I offered my song about a Brooks Camp legend. "Come 'n listen to my story 'bout a yearling bear; emancipated early, it didn't seem fair. Next thing ya' know, he was cryin' in a treeeeeee. That's the start of the story of bear [dramatic pause] 503." Visitors who were familiar with 503's
story
, named him before I reached the song's end. To those who weren't, I spoke about the bear who was abandoned as a yearling by his mother, 402, but was finally adopted by another sow, 435 Holly. That little song initiated some fun bear-alerting conversations, and gave visitors insight into a bear they might see at the Falls, making their photos of 503 more meaningful.
Look both ways
.
Bears can be anywhere; in fact, look every direction! I encouraged groups of visitors to divide this task; someone to look ahead, others to each side, and someone to look back the way they'd come. Have a backup plan and a strategy in mind if encountering a bear. That strategy might include heading into bushes and tall vegetation to get away; it might mean retreating. Again, in a group, each person can watch for escape routes. I reminded visitors to keep their gear with them at all times, even if they needed to head off-trail, because abandoned tripods and packs could become "play rewards" that might encourage bears to approach humans in the future.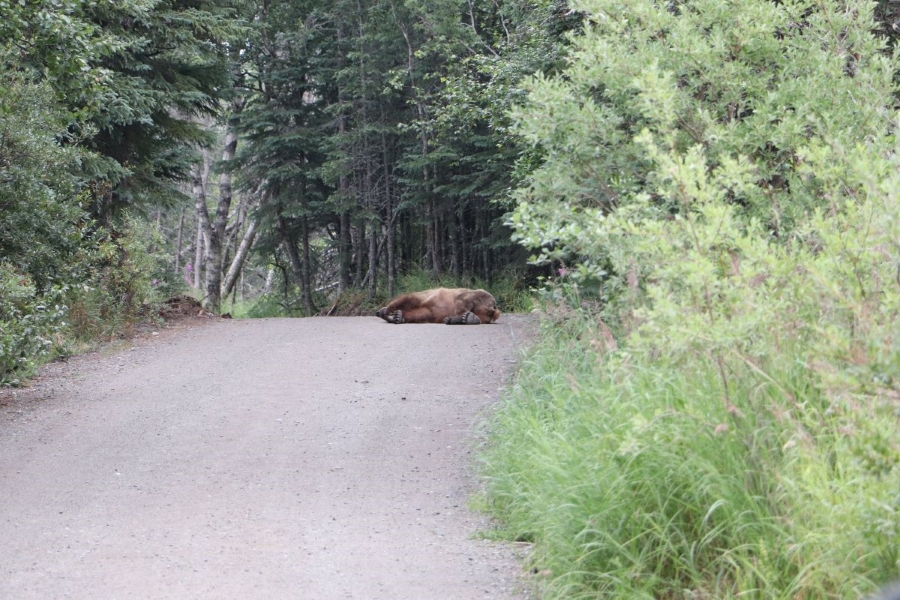 A sleeping bear in the road (taken with a telephoto lens) – Bears can be anywhere. NPS Photo/S. Vanstrom
Visitors should expect the unexpected.
Bears can change your plans at any time, and remember, bears are unpredictable. All bears are WILD - even the ones we've come to "know" through the webcams and Katmai's Bears of Brooks River eBook. Bears will be bears!
Wait your turn.
Bears have the right of way at Brooks and if you get caught in a "bear jam" it might be a long delay before the bear (or bears) move on. Maintain your vigilance while waiting in case other bears show up, and snap bear jam photos only if circumstances allow. You can't take photos at the Falls unless you can get
to
the Falls. Follow the rules you'll learn in Bear Orientation to survive in this bear-dominated world, and save the drama for your photos!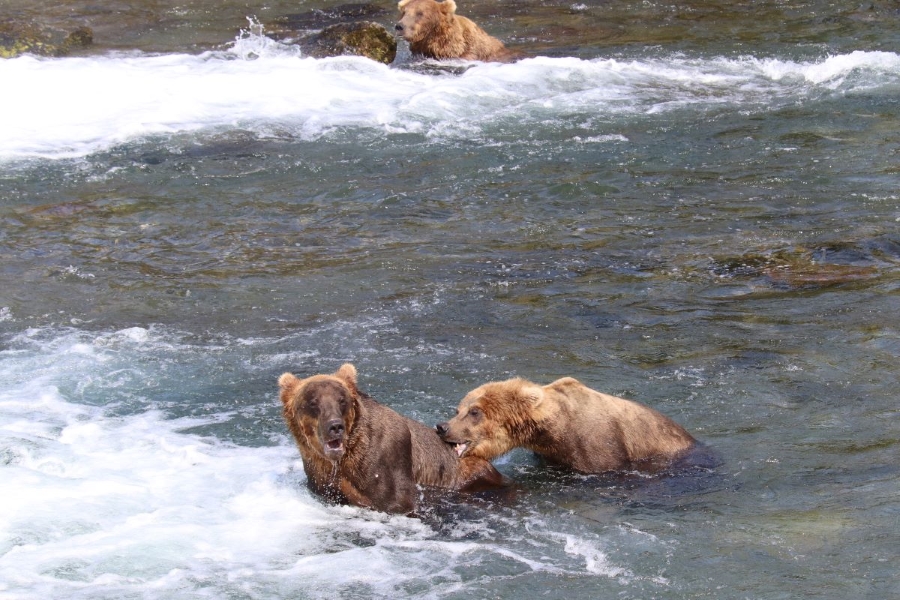 Save the drama for your photos. NPS Photo/S. Vanstrom
Know your Gear
Weight and space limitations on floatplanes determine what you can bring-how much gear will you actually need? Knowing what you want, and how to get it, are two different things. How can you increase the chances of getting the photo you want? Be prepared and bring only what you need and know how to use.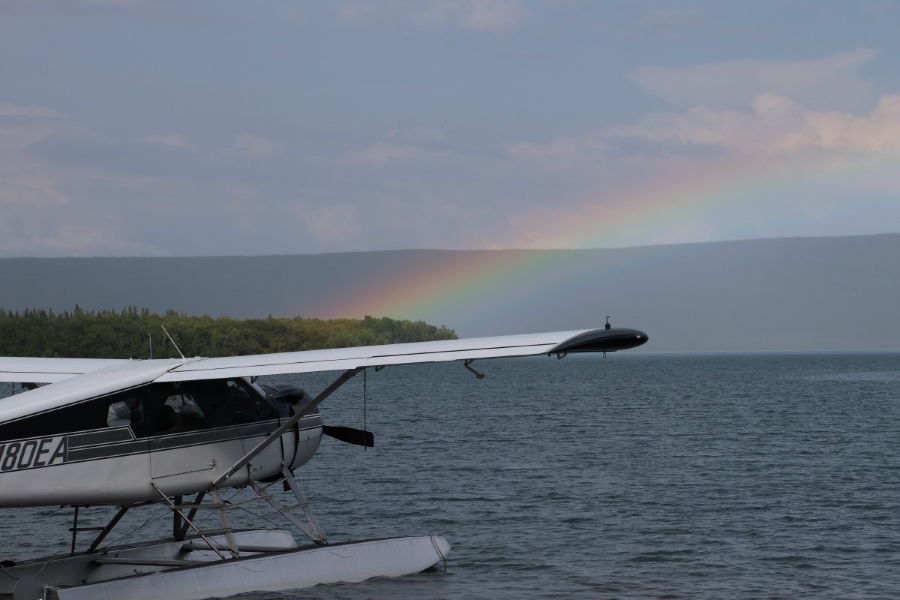 Weight and space allowances on floatplanes are extremely limited. NPS Photo/S. Vanstrom
Aperture priority, custom white balance, back button focus, rule of thirds, depth of field, exposure bracketing... whew! Photography can get complicated. Do your homework. Your camera manual, online or in-person classes, and internet resources are great tools for learning how to use your camera and take high quality, creative photos. Even If you plan to shoot strictly in automatic mode, you'll want to know what's what on your camera.

Tip – Download manuals to your phone to save space in your gear bag.
At Brooks Falls, photos can't be planned ahead with certainty; photographing wildlife means moving subjects. Freezing the motion of a leaping salmon requires a very fast shutter speed. Even bears waiting intently for a salmon may move slightly. Know how to change your camera's shutter speed and, perhaps, your focusing method, to keep that moving object sharp. Flash isn't allowed at the Falls (and probably wouldn't reach your subject anyway), so you'll need to know how to shoot in cloudy conditions. Practice, practice, practice.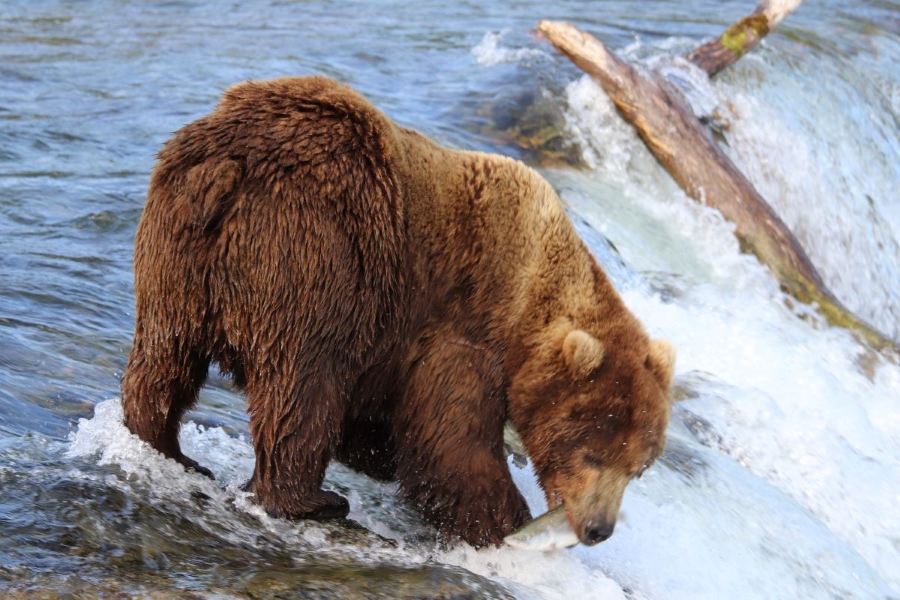 Example of blur due to slow shutter speed. NPS Photo/S. Vanstrom
FAQ –
How much gear can I bring? It depends. Research the
list of providers
that specialize in transporting visitors to Brooks Camp to learn their weight and space limits.
Tip -
Remember, any gear you bring must be attended and within arm's reach at any time in case you need to move quickly to avoid an approaching bear. Be sure it's easy to manage all the gear you bring.
Tip -
If you're learning how to use new gear or trying a new technique, practice at home first. You won't waste valuable time at Brooks, and you may decide some equipment isn't worth bringing.
Tip -
Practice with your lenses to see how far they'll "reach." Instead of multiple lenses, consider a zoom lens to photograph cubs near the platform, 128 Grazer on the lip (about 25 yards from the Platform) and 480 Otis in his office, across the River (over 50 yards away). It'll lighten the load in your camera bag, and you won't waste time changing lenses.
Tip -
Open tripods and rail-mounted cameras are prohibited on the Brooks Falls platform between June 15th and August 15th; make sure your long lens can be handheld or use a monopod.
Expect the unexpected.
Photography at the Falls can be both rewarding and frustrating. You can't control the weather or which bears will make an appearance. You may experience equipment failures. Bring extra batteries and memory cards. Have protective coverings for your camera in case of rain. All bears at the Falls and Riffles, as well as the other platforms, or anywhere around Brooks Camp are "pixel-worthy" even if they aren't the ones you expected - and those unexpected photos may become your favorites!
Sometimes my photos are 'off' because I changed settings for a specific situation and forgot to reset them when those settings no longer applied. If there's a wait before your turn at the Falls, use that time to check your settings and be ready to shoot when you get to the Falls platform.
When you
do
get to the Falls, the excitement may have your heart pumping wildly and your hands shaking with eagerness to take that first photo! 
Take a breath
, take in the view; congratulate yourself on getting here. Compose yourself; compose your shot.
Know Your Location
Know the rules and understand the challenges at the Brooks Falls Platform.
FAQ – Can I take photos from the elevated walkways that connect the platforms? No. Because some bears avoid people, be sure not to stop on the elevated walkways so bears feel safe passing under.

FAQ
–
How long are wait times at the Falls? It depends - between 7 am and 9 am crowds can be lighter. Once floatplanes arrive, you may wait an hour or longer for your turn on the platform, especially during the peak season in July. When your time is over, you may sign up again. Fortunately, the Riffles Platform has no wait and there's plenty to photograph there (Covid-19 alterations may change the Riffles Platform operations, please see our
website
 for the most up-to-date information). 
Pause to reflect
. Wait time is also good for savoring your Brooks experience!

Tip – The North and South platforms also offer excellent bear viewing and photography options for those wishing to avoid crowds and wait times at the Falls during the peak season.

FAQ – Can I access the Falls platform at night? No. The Falls and Riffles platforms are closed between 10 pm and 7 am from June 15 through August 15. However, the North and South platforms near the bridge remain open at all hours.*

*Consider "Risk vs Reward."  Some bears are active at night. Darkness makes them difficult to see and makes moving off the trails to avoid bears dangerous. Do you really want to be out in the dark for your photo?

FAQ – What about weather? Conditions change frequently. Late June and early July of 2019 were unusually warm and dry, but cooler rainy weather followed. Plan for your comfort and your gear's protection accordingly.

FAQ – Will there be insects? Oh yes! Brooks Camp is home to swarms of tiny biting insects that test your ability to hold a camera steady as they pierce your face, neck and any other exposed skin. Definitely consider long sleeve shirts, pants instead of shorts, and even a mosquito net.
Stow your gear
and
watch your step
. Items that fall from the platform can't be retrieved and can become a "play reward" for the bears below. Tripping hazards like backpacks or jackets can cause stumbles and expensive gear can be broken or lost.
Platform capacity (pre Covid-19) is 40 people, spread out on two levels. If you're on the upper level, you will be shooting over or between the heads of those on the lower level. For any current Covid-19 alterations, please see our
website
.
Tip – A telephoto vs a wide-angle lens may isolate your subject and achieve the desired composition.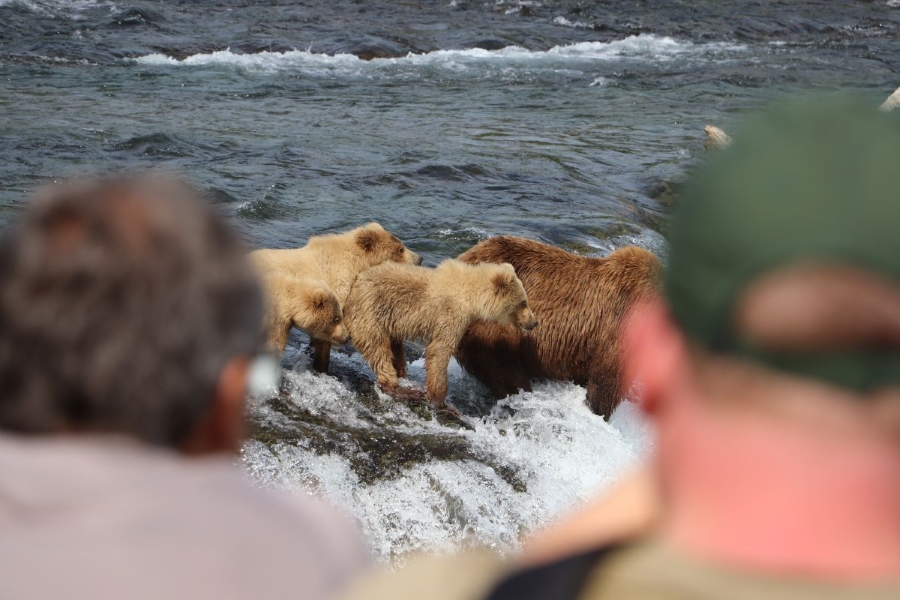 View from the Falls Platform upper level demonstrating photography constraints. NPS Photo/S. Vanstrom
Know when to be quiet.
Bears can be startled by loud voices. Keep noise to a minimum; avoid cheering for the bears (or salmon)! 
Mind your manners
. Try not to disturb others on the platform; avoid bumping that makes changing lenses and filters difficult and increases the risk of dropping things. Step lightly as you move around, to reduce vibrations in the wooden platform that could ruin someone's photo.  
Tip – Protect your lens with a tethered lens cap that can't be dropped.

Tip – A fast shutter speed reduces blur from vibrations.
Know Your Subject
Recognizing individual bears and understanding their behavior can help you anticipate potential shots and make viewing the bears more enjoyable, too!
Many of the same bears return to Brooks Falls each year. Learn to recognize which bear is which and how each behaves. Which bears play together? Which bears do not get along?
Tip
 – Download the
Bears of Brooks River
eBook ahead of time.
Tip
 – Watch the
bearcams
run in conjunction with explore.org.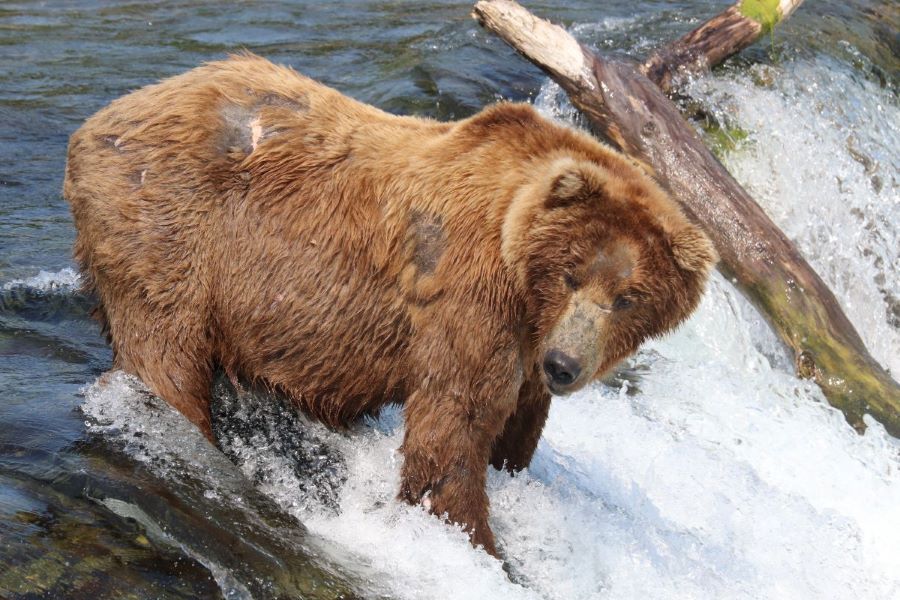 Bears don't pose, but a fast shutter speed makes it look like the usually animated 775 Lefty did just that! NPS Photo/S. Vanstrom
Bear numbers at the Falls peak in July. After the salmon run, many bears head elsewhere in the park to search for food. Bear numbers increase in September. Adult males are most frequently seen at the Falls, and many females without cubs fish here as well. Some females with cubs come to the Falls, but are more often seen near the Riffles or at the Lower River, and can be photographed from the bridge at the North and South viewing platforms. Subadults – bears who have been emancipated by their mother but are not yet adults – make great subjects as they play fight and try out fishing techniques in all parts of Brooks River. Cubs make for a memorable photo no matter where you find them or what they're doing- nursing, playing, or sleeping.
Be sure to look all around. Bears can be anywhere at the Falls, including behind the platform and sows may fish after "parking" cubs in the tree across the river. Keep an eye out for other wildlife including gulls, eagles, and even wolves!
Manage your expectations
Knowing your gear, location and subject, as well as your own skill level, can help prepare you for the best photography experience. But don't forget Katmai is a wild place that presents unique challenges. Learn to expect the unexpected and make the best of any circumstance. Even if you don't take
the photo
you hoped for, you can still take
your best
photo.
What is the best photo you will take?
The one in your memory! No matter your photographic skill or how sophisticated your equipment, don't forget to put the camera away, and watch the wonders of Brooks Falls and Brooks Camp in general. Be in the moment during your time here. Don't wait until you're home and live this incredible experience through your photos – live it while you're here!