Architecture of Kalawao/Kalaupapa
During the late 19th and early 20th century, buildings were clustered as part of two settlements—Kalawao at the east edge of the peninsula and Kalaupapa at the west edge of the peninsula. Each settlement had a distinct architectural character.
Buildings at Kalawao were initially influenced by the existing conditions upon arrival of the first patients in 1866. Early patients made use of existing structures and locations and used whatever materials they could find. Most buildings were situated along a single, existing road (now Damien Road) and were primitive huts or shelters. At its height in 1890, Kalawao was a large community, consisting of about 325 frame structures that provided homes and services to around 1,100 patients. The houses provided protection against the weather, and Father Damien, with the help of patients, was responsible for building about 300 of them. Father Damien was also instrumental in founding the "Home for Boys" (later called Baldwin Home) in Kalawao. The complex consisted of a number of cottages arranged around a central open space. The Baldwin Home for Boys in Kalawao was abandoned in 1932, and patients were moved to Kalaupapa. The remains of the old Baldwin Home were destroyed by fire in 1936
.
Today scattered building foundations, stone walls, cemeteries, and two churches, Siloama Congregational Church and St. Philomena Catholic Church, are all that remain of this once populous community.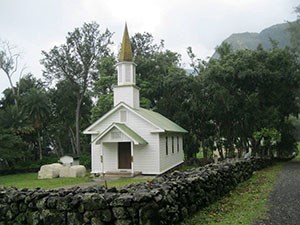 Siloama was the first church to be erected at Kalawao Settlement, originally constructed in 1871 by the Congregational Church. It has undergone a number of successive alterations including being rebuilt in 1880 and completely reconstructed in 1966. The white wood-frame structure rests on concrete pilings, and is one story with a gabled portico over a concrete slab, six double-hung windows, small steeple, corrugated gable metal roof, horizontal channel siding and corner boards. Services continue to be held at this location once a month.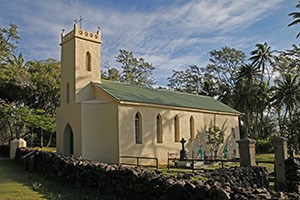 St. Philomena Church, the first Catholic church on the peninsula, was built in a simple gothic style in 1872 in proximity to Siloama Church. Built in successive stages, the building has stone and wood walls, a bell tower, and hipped roof. Double hung windows are on the older portion to the rear and eight triple hung windows in gothic arch recesses line the sides of the more substantial addition. The building is closely associated with Father Damien, who's grave lies to the east. Services are held at this location for special feast days and commemorative masses.
Architecture of Kalaupapa
Buildings at Kalaupapa were primarily placed in linear arrangements along a roughly orthogonal grid of streets. Many structures were sited on individually expressed lots and were generally oriented toward the street. The hospital, stores, community hall, and majority of churches were all centrally located within the settlement. An industrial center complete with warehouses, power plant, laundry, carpenter shop, and oil house was located near the boat landing. Residential buildings, including individual homes (cottages) and group living homes, were located to the east and south. Generally speaking, the single-residence cottages were used by healthier, adult patients, whereas the group homes were for those patients who were children or else required assistance on a daily basis. Four group homes were constructed between 1888 and the 1930s, including Bishop Home, Bay View Home, new Baldwin Home, and McVeigh Home.
Today, nearly 200 buildings of the original Kalaupapa settlement remain. These buildings can be grouped into five major architectural building types—residential, community/administration, religious, and industrial/maintenance. The form, materials and stylistic features of most of these buildings are similar despite their varied historical uses. The majority of buildings feature traditional Hawaiian building styles made from local materials.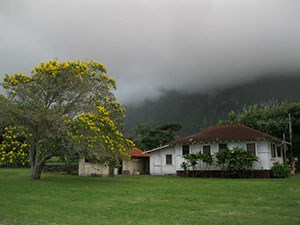 Residential Buildings
Residential buildings include early individual homes (cottages), post-World War II Hicks Homes, and group living homes. Early cottages are very similar to the standardized plans produced by the Hawaii Sugar Planter's Association in 1919 and 1930, now known as the Hawaiian Plantation Style. These houses are typified by single story wood frame buildings in a simple massing of rectilinear spaces accessed from open porches. The exterior frame consisted of vertical boards, either tongue and groove, or board and batten. Gable or hip roofs had overhanging eaves; windows and door openings were organized in singles or pairs; windows were multi-paned double hung or sliding; and doors were plank or stile and rail. The residences were raised 1.5 to 2-feet above the ground on wood posts. The kitchen and bathing functions occurred within the residence, while the laundry function was often housed separately.
Residences built after World War II are typical Hicks Homes, which was a standardized, pre-fabricated housing type popular in Hawaii at the time. Many of these buildings were erected in the 1950s and 1960s at Kalaupapa and remain in the residential areas throughout the settlement. These homes are also on raised foundations.
The group homes are similar in construction to the cottages, but on a much larger scale. The main structures are primarily single wall construction with hip roofs extending over a large front porch extending the full extent of the façade. They rest on raised foundations and have board and batten siding and double-hung windows. A number of outbuildings are associated with most of the residential buildings. These outbuildings include garages, carports, washhouses, outhouses, hothouses, sheds, poker rooms, garden houses, chicken coops, pig sties, and other ancillary buildings.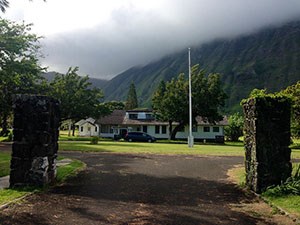 The Bishop House was the earliest established group home at Kalaupapa, established to care for young girls and women, in 1888. Centrally located in the settlement, the Bishop Home historically contained as many as 19 structures including a chapel and convent, an infirmary, several cottages, dining room/kitchen, dormitory, heating plant, and laundry. Most of the structures were clustered on a high point, in the center of the grounds. The entire lot was enclosed on all four sides by a dry-laid rock wall, approximately four feet in height.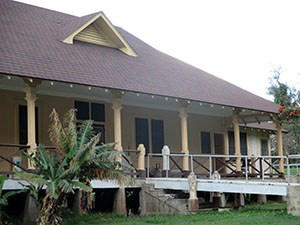 Bay View Home historically included 10 primary structures, including a manager's cottage, four dormitories, dining room, kitchen, heating plant, chapel, and laundry. The buildings were arranged in a formal, symmetrical plan, on a relatively broad expanse of grass. Designed in the Hawaiian Plantation Style, structures faced each other with an inward orientation.
The new Baldwin Home for Boys was located at the base of the pali and historically included a large dormitory, recreation room, cottages, chapel, and rather large grove of papaya and banana trees. The Baldwin Home was shut down in 1950, and the residents were moved to a 1950s-style Quonset hut near the Bay View complex. The structures at the Baldwin Home were removed the following year and, in some cases re-located elsewhere within the settlement.
Located in the northeastern portion of Kalaupapa Settlement, the McVeigh Home consisted of a centrally located dining hall, pavilion, large dormitories for men and women, and 19 individual cottages situated along narrow driveways. Communal facilities were located in the center, while private cottages were located at the edges of the complex.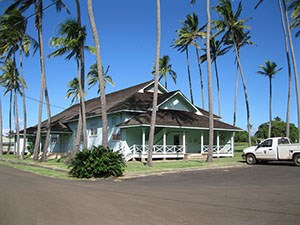 Community and Administration Buildings
The community buildings constructed for the enrichment of patient life were typically large and centrally located. Paschoal Hall (the social hall) is the most important community building and is distinguished by its large size, central location, and orientation within a large open space surrounded by tall palm trees. The building is an example of Hawaiian Plantation Style architecture, yet atypical of the institutional plantation style because of the overall unarticulated massing of the building. The structure retained the basic elements of the Plantation Style with tongue and groove vertical wood walls, sliding windows, stile and rail doors, truncated hip roof and pre-cast concrete footings.
It was used to view movies and live entertainment and to host other community meetings and events such as dances.
In addition to Paschoal Hall, there were several ethnic social halls in the settlement including the Americans of Japanese Ancestry (AJA) Benevolent Society Hall, the Chinese Clubhouse, the Filipino Meeting House, and the Women's Social Club. Of these, only the AJA Benevolent Society Hall remains. Other remaining civic buildings such as the post office, community store, and bakery are residential in scale and distinguished only by their location within the community's core area.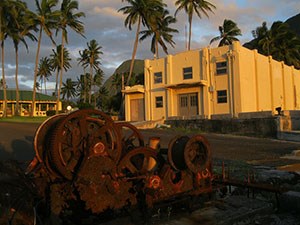 Industrial and Maintenance Buildings
The buildings in the industrial area are large and rectilinear warehouses, sheds, and storage structures with flat or simple gable roofs. The exceptions are food warehouse, the store, and the gas station which have simple hip roofs and are more residential in scale. Most structures were constructed on concrete slabs with concrete or unit masonry walls with few distinguishing stylistic features. The exceptions were the main warehouse built after 1931 which has modern plaster decorative elements.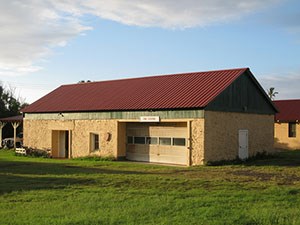 Religious Buildings
Places of worship played an important historical role and continue to be important to the remaining residents of Kalaupapa. The main religious congregations are Catholic, Protestant, and Mormon, and to a lesser degree Buddhist. Currently there are four extant church buildings of various ages and styles within the Kalaupapa Settlement. These include Kalawina (Protestant-1854), St. Francis (Catholic-1908), Kanaana Hou (Protestant-1915), and the Mormon Church (1940).
Kalawina, the oldest church structure at Kalaupapa, dates to the pre-settlement period. Now used as the NPS ranger station, it was built in 1854 in the form of a typical Protestant missionary meeting house of simple rectilinear volume, gable roof, and thick rubble masonry walls with deeply set double-hung windows. Although this church remains today, it has changed significantly due to varied uses as jail, repair shop, warehouse, and NPS office and fire engine storage.
St. Francis Catholic Church is an Italian Gothic-style building of reinforced concrete rebuilt in 1908 after a fire in 1906. It has a corner bell tower with kicked eaves, gothic arches with double hung windows, quatrefoil windows, side buttresses, and a large corrugated metal gable roof. Church services are offered regularly throughout the week.
Kanaana Hou Church was constructed by the United Church of Christ in 1915 in a modified Arts and Crafts Stick Style. Constructed in the shape of a Greek cross, the beige wood-frame structure rests on wood post, stone, and concrete foundations. It has a large bell-tower, gabled portico, numerous double-hung (and other) windows, tongue and groove siding, and a cross-gable wooden shingle roof. Architectural details include gothic arched louvers and large dentils in the bell tower, as well as and numerous chamfered buttresses. The Kanaana Hou Church recently underwent restoration work in 2004.
The Mormon congregation at Kalaupapa was established in the early years at Kalawao as well but has never been as large as the Protestant and Catholic followings. The Mormon congregation's current church was built in 1940 in a modified Hawaiian Plantation Style structure with a low gable roof of composition shingles, plywood and batten siding, and sliding windows. The Mormon Church at the Kalaupapa Settlement is accompanied by a residence and social hall.

Last updated: April 19, 2016