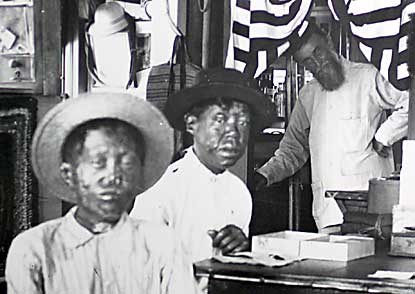 About Hansen's Disease
What causes Hansen's disease (leprosy)?
Hansen's disease (named for Norwegian scientist Gerhard Armauer Hansen) is a chronic, infectious disease caused by a bacillus, Mycobacterium leprae. This disease usually affects the nerves, skin and eyes.

Why is leprosy called Hansen's disease?
There is a strong negative association with the derogatory term "leper." In the United States the disease's name has been changed officially to Hansen's disease.

How contagious is Hansen's disease?
Hansen's disease is one of the least contagious of all communicable diseases. Only 5% of the world's population are susceptible to the disease. It is very difficult to contract.

Can the disease be treated?
In 1941 Dr. Guy Faget used a sulfone drug, promin, to treat Hansen's disease patients in the US Public Health Service National Leprosarium in Carville, Louisiana. Additional drugs were developed and today three drugs—dapsone, rifampin, and clofazimine—are used to render cases non-infectious. This treatment, lasting from six months to two years, is known as Multi-Drug Therapy.

Does Hansen's disease still exist around the world?
There are approximately 1.15 million registered cases of the disease according to the World Health Organization. Hansen's disease can be found in 55 countries around the world.



About The Park
Where is Kalaupapa National Historical Park?
The park is on the north shore of the island of Moloka`i, Hawai`i, in Kalawao County. It is a unit of the National Park System.

When was the park established?
President Jimmy Carter signed Public Law 96-565 establishing the park on December 22, 1980.

How is the park managed?
Nearly all of the land within the 10,700+ acre authorized boundary remains in non-federal ownership, managed by the National Park Service through several cooperative agreements. Land owners include the Department of Hawaiian Home Lands; and the State of Hawai`i departments of Health, Transportation, and Land & Natural Resources. The National Park Service owns the Moloka`i Light Station and 22 acres surrounding it. The U.S. Coast Guard still oversees operation of the light.