Recreation Trails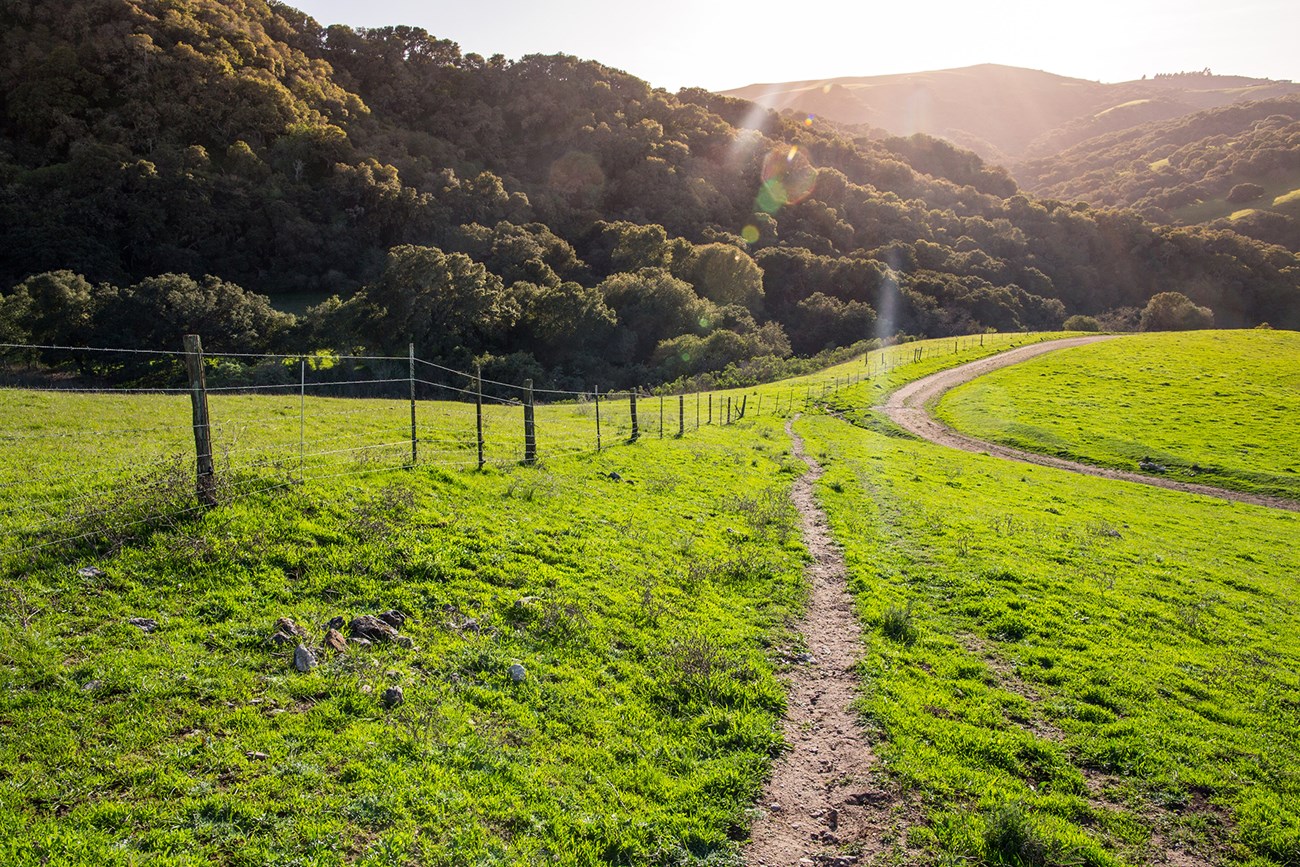 The National Park Service is working toward the creation of a continuous, 1,200-mile non-motorized recreation trail that will roughly follow the historic route of the Anza Expedition of 1775-76. Approximately 300 miles of recreation trail have been certified so far. These certified trail segments are independently operated. Hours, fees, and use rules vary. Premier segments of recreation trail include:
Tumacácori National Historic Park to Tubac Presidio State Historic Park
Arizona
The segment of the Anza Trail between the Tumacácori National Historic Park and Tubac Presidio State Historic Park, offers the visitor an opportunity to experinece historic sites and a landscape similar to that experienced by the Anza party, over 235 years ago.

The six mile trail connecting the two parks follows the Santa Cruz River through a lush cottonwood-willow riparian forest and mesquite bosque. Due to the presence of water, the river corridor supports a high diversity of plant and bird species within the arid Sonoran Desert region. Over 250 miles of the Anza Trail exists along the 1200 mile route within the U.S., including many miles along the Santa Cruz River through Santa Cruz and Pima counties.

This segment of the Anza Trail is maintained by volunteers from the Anza Trail Coalition of Arizona (ATCA), in partnership with private landowners and the National Park Service. The ATCA is a 501(c)(3) non-porfit corporation devoted to the establishment and interpretation of the Juan Bautista de Anza National Historic Trail within Arizona.

For more information, visit the Anzatrail.org website.
Sonoran Desert National Monument
Arizona
Forboding mountains, tall saguaros, and a vast sky; just like it was when Anza passed through.
A twelve mile section of the Anza Recreation Trail is now open to the public. Hikers, mountain bikers, and equestrians can all use this trail. It passes through the scenic Sonoran Desert National Monument (BLM) in Maricopa County. The trail follows or parallels the historic Butterfield Stage route through Maricopa Pass.
The trailhead is best accessed by using Highway 238. Coming west on Hwy 238, travel 20.6 miles from the Maricopa/Pinal county line and turn right onto the BLM monument dirt access road. If you are coming east on Hwy 238, travel 10.9 miles east of the 238/85 intersection in Gila Bend. Directional road signage is coming soon. See the bottom of this page for a picture of the turnoff from 238 onto the Monument access road.
The BLM road is usually accessible by any car, although not after rain. Most of the year the road is passable by cars like Honda Civics. Use caution driving low clearance vehicles through rutted sections.
Travel 1.5 miles north on this dirt road and you will pass an abandoned corral and a newly built restroom. 1/10th of a mile further north you will see a right turn to the Anza Trail/Butterfield Stage 4x4 road. There is a white Anza wayside sign there. (pictured above) If you have a passenger car, park here. If you have a high clearance vehicle such as a small pickup or SUV, you can travel an additional 2.7 miles east of the Anza sign to the Butterfield Stage cistern parking area (you won't miss it). If you have 4-wheel drive, you may drive through the pass, but all other vehicles will not make it.
No water or other amenities are available. The trail is remote and seldom traveled. The trail is the 4x4 dirt road through the pass. East of the pass, the trail crosses open desert along the Butterfield Stage trail. The trail portion ends at a water tank (No water available).
Griffith Park
Los Angeles, California
Horseback riders, hikers and runners routinely enjoy Griffith Park's segment of the Anza Trail – a distance of approximately 4 miles. It can be accessed at the Park's northwest end opposite the Equestrian Center or at its southeast terminus near the Pony/Train Ride concession at the Park's Los Feliz entrance. In some places it passes through remnants of oak woodland communities and is shaded by heritage oaks and ancient sycamores. Elsewhere, it skirts picnic grounds and Wilson-Harding Golf Course offering views of the Park's foothills. Be forewarned that some sections of the trail are less than ideal and that problems with upkeep and freeway noise will affect enjoyment.

To learn more, you may visit the Friends of Griffith Park website.
San Juan Bautista
California
San Juan Bautista De Anza Trail is a 5.3 mile moderately trafficked out and back trail located near San Juan Bautista, California that features beautiful wild flowers and is rated as moderate. The trail offers a number of activity options and is accessible year-round. Dogs are also able to use this trail but must be kept on leash.

Directions from Seaside, CA: The access Juan Bautista de Anza NHT starts at the Creekside Access point on the Fort Ord Public Lands located on the north side of State Route 68. (Across from the access point and south of SR 68 is Toro Creek County Park, which is the tie-in point to the rest of the Anza Trail that stretches from Sonora, Mexico, to San Francisco, California.)

East Bay Regional Park District
Description coming soon.

Presidio of San Francisco
Description coming soon.
Interactive Map & Online Trail Experience

Visit our partner website, http://www.AnzaHistoricTrail.org, for a dynamic online Anza Trail experience:
Discover points of interest, recreation trails, and historic sites along the Anza Trail
Create custom maps of the Anza Trail's Historic Corridor, Auto Route, and Recreation Trails
Find local events
Read expedition diaries (courtesy of Web de Anza) and toggle an expedition timeline to follow the colonists as they traveled north
Download county maps and read county guides of trail resources (adapted from the Anza Trail Guide by 1775-1776 Anza Colonizing Expedition descendant Greg P. Smestad, Ph.D.)
Earn your Junior Ranger badge by completing a virtual expedition
And much more!
AnzaHistoricTrail.org is a partnership of the Juan Bautista de Anza National Historic Trail and the Anza Trail Foundation.
Last updated: September 28, 2017