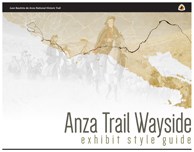 Anza Trail Wayside Exhibit Style Guide (2014)

Provides partners a framework for developing effective and engaging wayside exhibits to interpret their sites along the Juan Bautista de Anza National Historic Trail. Download the style guide at the link above or view the online version.

Wayside Exhibit templates in Adobe InDesign are available upon request.