Women's History Month
From the lives of young, courageous migrant women who joined and assisted on the
Anza Expedition
traveling over 1200 miles through vast diverse terrain in hopes of a new life, to those of the female shipyard workers who were essential to the home front during World War II at 
Rosie the Riveter/World War II Home Front National Historic Park
, women's history can be found in the San Francisco Bay Area. If you want to understand our nation's history, explore the remarkable legacies of American women.
---
Women's History and the Anza Trail


Park Ranger Fatima Colindres from Golden Gate National Recreation Area shares a personal connection with the legacy and women from the Anza Expedition. Ranger Colindres brings history alive with her interpretive program that highlights the life of Juana Briones, a descendant of the Anza Expedition.


 
El Polin Spring is one of my favorite park sites in the Presidio. It is filled with Magic, Legends and stories from the past. One of my favorite stories to tell is the life of Juana Briones.

Juana Briones moved to El Polin at age 10, after her mother Maria Isadora Tapia died. Juana's family was made up of Curanderas, medicine women. She like her grandmother, mother and sisters, helped make their world a better place by helping others, no matter who they were or where they came from. Juana was also a rancher, a business woman, a land owner, in a time when women did not have the same rights or privileges we have today.

Juana was born in the town of Branciforte, now known as Santa Cruz California in 1802 during the Spanish period. She married Apolinario Miranda at Mission Dolores in 1820, one year before California became Mexican territory. Like many other Mexican Families during the early American Period, Juana had to legally fight for her lands, her Rancho "Ojo de Agua de Figeroa", against the new American settlers. Her fight was against the US Army at the Presidio of San Francisco, who took her all the way to the Supreme Court, but unlike many of her Mexican neighbors, she won and was able to keep her lands.

Even though Juana was born in California, her story is an immigrant story, a dream of one day being able to own land and have better opportunities.  Her family walked all the way from Mexico with the Juan Bautista de Anza Expedition of 1775-1776. Juana's Mother was only 5 years old in 1776 when she and her parents volunteered and join the Juan Bautista de Anza Expedition which would bring them to Alta California to start a new life a new beginning in what would become the Bay Area.

Many families I bring to the park for the first time come from many different parts of the world, and just like Juana's family, they came to this place looking for a new start, a new beginning. I am not Mexican but Juana's story is my story too. My family (my mother) and I walked all the way from El Salvador in Central America. Just like Juana we have worked hard to help others to make the world a better place in our own way. Juana as a medicine woman and I as a storytelling Park Ranger. I tell her story. I help teach new generations that their story is here, that they have roots in this place no matter what part of the world they come from.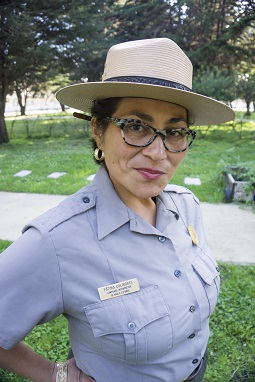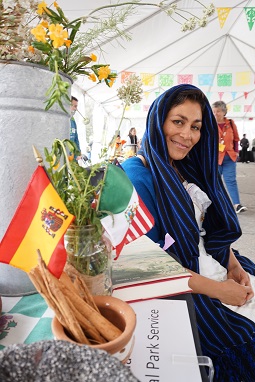 If you want to learn more about Juana's story join me on March 17th, 2018 1:00 PM - 3:00 PM. at the Presidio of San Francisco Officer's Club, building 50 Moraga Avenue. A park ranger will lead you on a walk back in time to El Polin Spring where you will meet Juana Briones. She will tell you one of the legends of El Polin's magical waters, show you some medicinal plants and teach you how to cook your very own tortilla. Hope to see you at El Polin Spring with Juana Briones.