Aviso!
VOLUNTEERS WANTED for the Anza Trail Color Guard
To All Brave Persons Who Have Any Inclination To Join A Group Of Living History Reenactors
TAKE NOTICE: Now Recruiting Soldados de Cuera, and Civilian Men, Women, Children, Musicians and Camp Followers.
All Those With A Strong Interest In The History of Alta California from 1769 to 1776 Are Urged To Join The Ranks!
The Juan Bautista de Anza National Historic Trail Color Guard is a military style color guard, but also an equine group that provides the general public with a resource which will authentically interpret and enhance the knowledge and understanding of the history of the Juan Bautista de Anza National Historic Trail.
The interpreters are more than a color guard; they are also an interpretive team that works out of 18th century clothing and in modern dress. In addition our military soldado impressions we also include the civilian men, women, and children on the 1775 colonizing expedition to San Francisco. Interpreters may dress as settlers, militia, soldiers, vaqueros, and muleteers.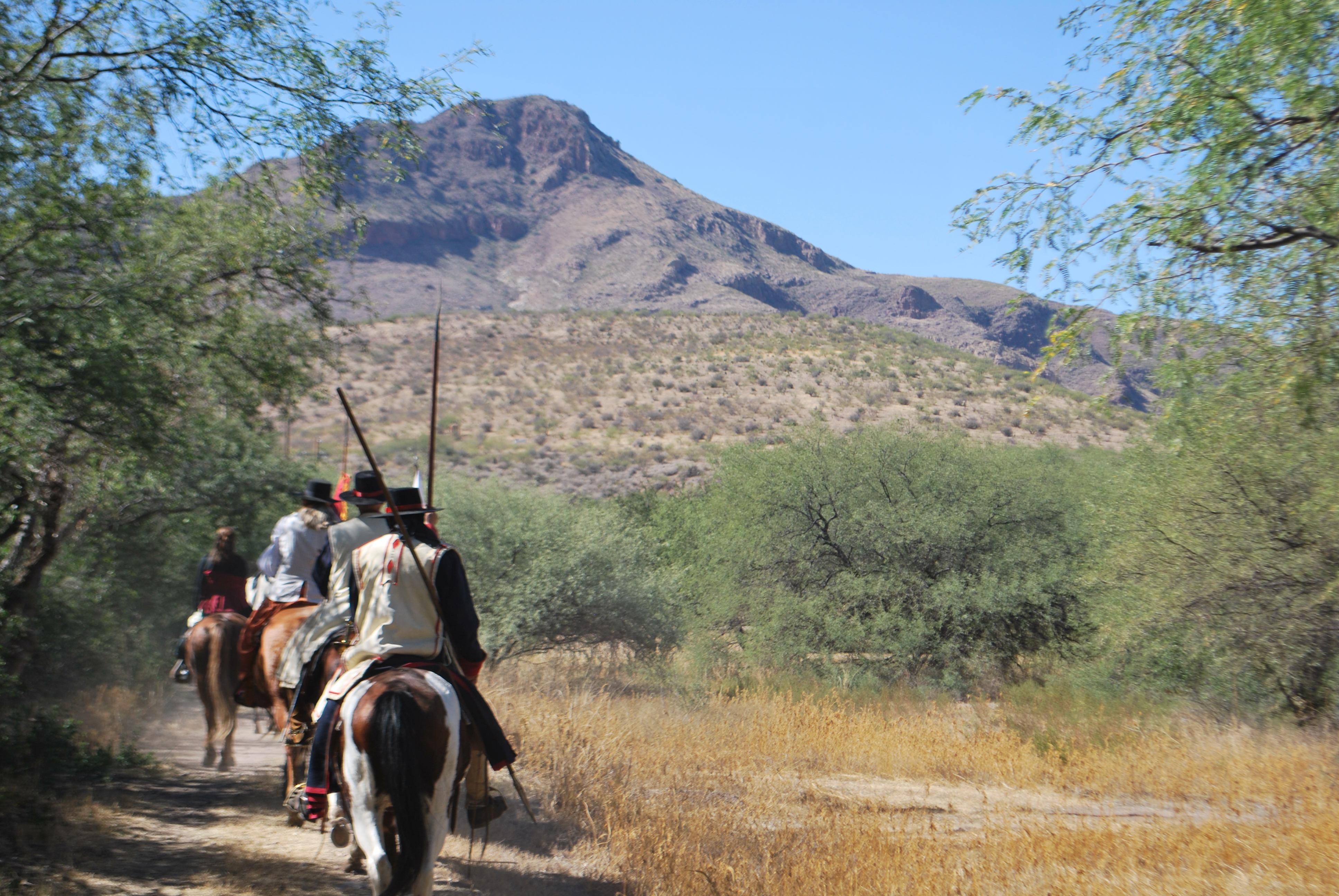 The Color Guard consists of two divisions representing Arizona and California but work together to provide living history programs along the entirety of the Anza Trail historic corridor. Both divisions adhere to the same regulations, clothing designs, and interpretive materials and work closely with the National Park Service as Volunteers-In-Parks (VIPs).
If you're interested in joining the Color Guard or have additional questions, contact President Dennis Carlos.
---
Anza Trail Color Guard Mission Statement: To provide an educational program that will enhance local, regional, state, and national programs by telling, as accurately as possible, the military, social and political aspects of the Anza Expedition.
We are an apolitical, authentic 18 century period living history interpretation unit, and serve as volunteers of the National Park Service. Volunteers are subjects to rules and regulations of the National Park Service Volunteer Program.