Melissa Avery-"Chasqui Mom".
Melissa Avery is known as "Chasqui Mom" and blogs about her outdoor family adventures in the San Francisco Bay Area and beyond.  Melissa focuses her time partnering with organizations and companies to facilitating outdoor activities such as camping, hiking and biking with families.  Melissa and her Family often pass Anza Trail Auto Route signage, the Anza Trail historic corrider, and certified Juan Bautista de Anza National Historic Trail during their family adventures and daily lives in the Bay Area.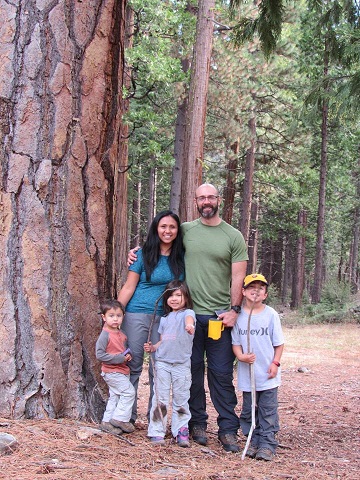 The Avery Family in El Dorado National Forest. From left to right: David, Melissa, Sophia, Jesse, Diego Avery. 
Becoming Anza Trail Junior Rangers
My children have been on a mission to get all National Parks badges since the age of 5.  They love going to National Parks just to get their badges, so when we learned we could earn the Juan Bautista de Anza National Historical Trail badge from our home computer the kids were ecstatic.
"Apunte! Fuego!", is my children's favorite line from the online Anza Trail Ranger program.  The loved hearing all the sound bits of soldiers aiming practice, church songs and other sounds of the Anza Expedition.  My children are in Spanish Immersion School, so they were very excited to be able to understand bits and pieces of what they were hearing.  The loved the idea of "coming along" with the expedition from Mexico to the San Francisco Bay Area, their home!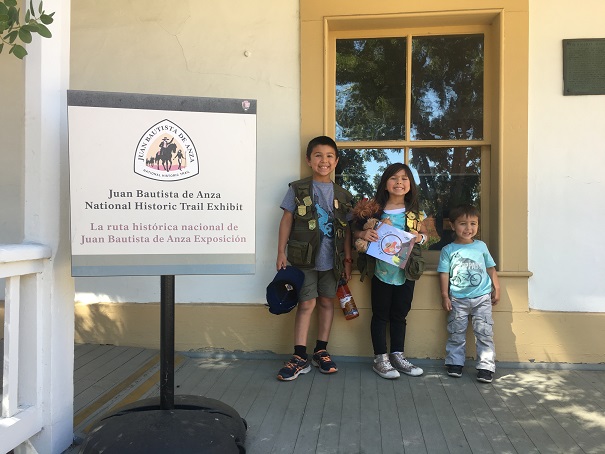 Diego, Sophia, and David Avery at the Martinez Adobe at the John Muir National Historic Site in Martinez California. Photo: Melissa Avery 
We recently went on a road-trip to Colorado, so the kids are familiar how long it takes to get somewhere by car.  My kids are also very good hikers, so they understand that walking from Mexico to the Bay Area was a very hard trek for the Anza Expedition! It's great that my children can also recognize the Anza Trail signage from the car because parts of the original route are now on major freeways.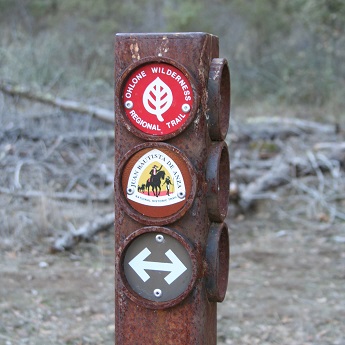 Juan Bautista de Anza National Historic Trail and Ohlone Wilderness Regional Trail marker. Photo: Melissa Avery.
How to Get the Anza Trail Junior Ranger Badge
The Anza Trail Virtual Expedition is a great interactive ranger program for kids and adults! My children were between the ages of 5-7 when they did the online program, so I had to do the virtual expedition with them.  The virtual expedition allows you to choose a person from the Anza Trail and it follows that person's life during the expedition.  The expedition is similar for all the characters except at the end it tells you a little bit of history on the individual that was selected.
Visit the

Junior Ranger Webpage  www.anzahistorictrail.org/juniorrangers

Allot about one hour to complete the program.

Read the stories, listen to the reanimated songs and sounds of the Anza Trail.

Answer the true/false and multiple-choice questions.

When completed, enter your mailing address and the Anza Trail will send the Junior Ranger Badge!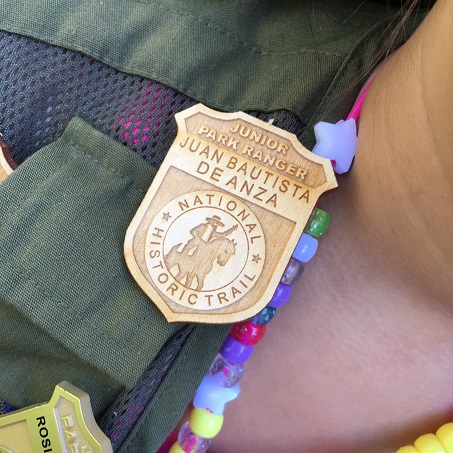 Wooden Juan Bautista de Anza National Historic Trail Junior Ranger Badge. Photo: Melissa Avery. 
Our Family on the Anza Trail
Our family loves to adventure all over California and we have had to opportunity to visit places along the Anza Trail.  Sometimes we purposely visited the Anza Trail and at other times just by accident!  Visiting the Anza Trail reinforces what they learn on the online program and it great to learn about non-traditional California History.
Backpacking through Sunol Regional Wilderness.
We enjoyed a family backpacking trip along from Sunol Regional Wilderness to Mission Peak.  At the time, we didn't know that this was part of the Anza Trail but my kids were delighted to know they walked along the trails the expedition took.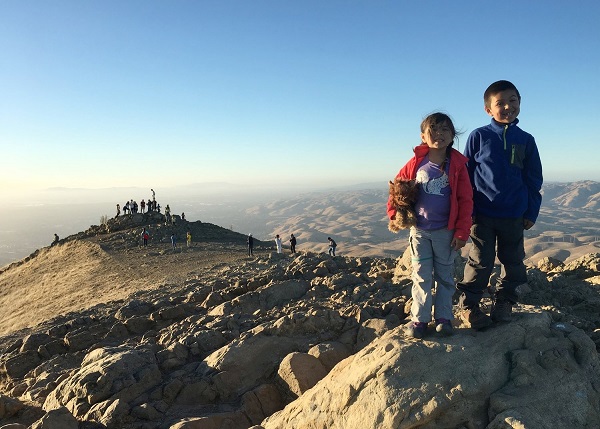 Two kids stand at a rocky peak above hills in the distance. Sophia and Diego Avery at Mission Peak. Photo: Melissa Avery.
For more information about this backpacking trip, please visit my
Blog.
Hiking at Garin/Dry Creek Regional Park
This is one of my "go to" parks to hike with my kids which I co-led a Latino Outdoors Anza Trail family hike with former Ranger Daniel Sanchez.  He was able to visually explain how the Anza Trail came to the Bay Area.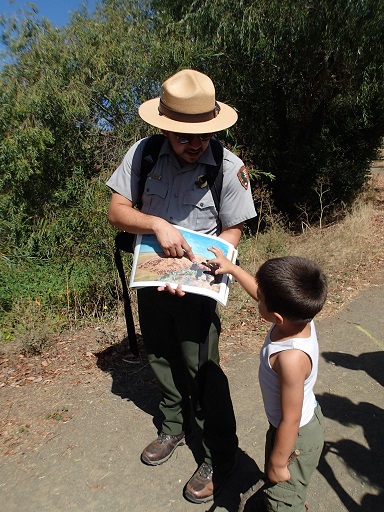 Park Ranger shows a young boy a photo book during a presentation. Park Ranger Daniel Sanchez and Diego Avery. Photo: Melissa Avery. 
Biking on the Alameda Creek Regional Trail.


It is believed that on the north side of Alameda Creek trail is where the Anza Trail made a trip out to the Bay near by Fremont.  I led an 8-mile biking Latino Outdoors trip along with Ranger Sanchez.




Melissa led a Latino Outdoors bike ride along with Ranger Daniel Sanchez along Alameda Creek Regional Trail. Photo: Used with permission by Melissa Avery. 

Woman standing and holding her baby in front of her bike and bike trailer. Melissa Avery holding Diego Avery. Photo: Used with permission by Melissa Avery. 
Hiking at Lake Chabot Regional Park


Many years ago, I had recently discovered what the Anza Trail was so when I went hiking at Lake Chabot I was excited to find out that we were hiking along the Anza Trail.




Adult with a child on his shoulders hiking up a dirt trail. Jesse and Sophia Avery hiking at Lake Chabot. Photo: Melissa Avery.
The Presidio of Santa Barbara


My kids were excited to find the "soldier base" on a road trip to Southern California.  Nothing like building downtown Santa Barbara with high end boutiques and gourmet coffee around a 1700's military base.




Young child walking down a hallway at a historic Mission. David Avery. Photo: Melissa Avery
Martinez Adobe at Jon Muir National Historic Site
We are on a mission when we visited John Muir NHS! We wanted to visit the Martinez Adobe and get another Junior Ranger from John Muir's house!  My kids immediately recognized all the sound bits inside the Martinez Adobe and loved the ability to ride on the horse saddles.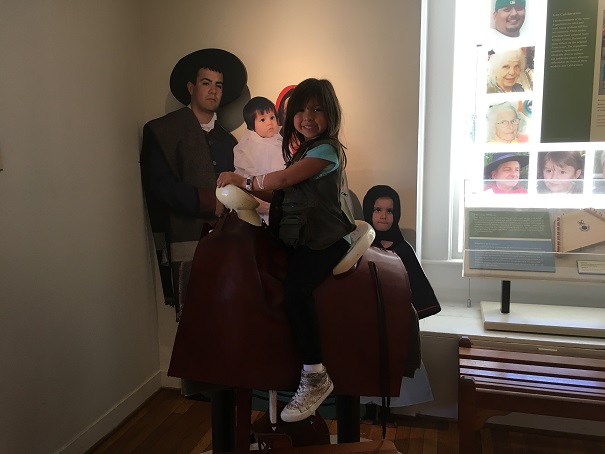 Young girl sitting on a wooden horse and saddle by an exhibit. Sophia Avery. Photo; Melissa Avery.

For more information about the Martinez Adobe
We are Californios
The Anza Trail Junior Ranger program helped my children relate our family's history to California.  My children know that their abuelitos walked and took buses all the way from Peru to California a long time ago.  The Anza Expedition was comprised of many cultures: Indigenous People to Mexico and "America", Spanish and African Heritage.  It was a mixture of cultures that reached and settled in what is now the San Francisco Bay Area and where known as "Californios".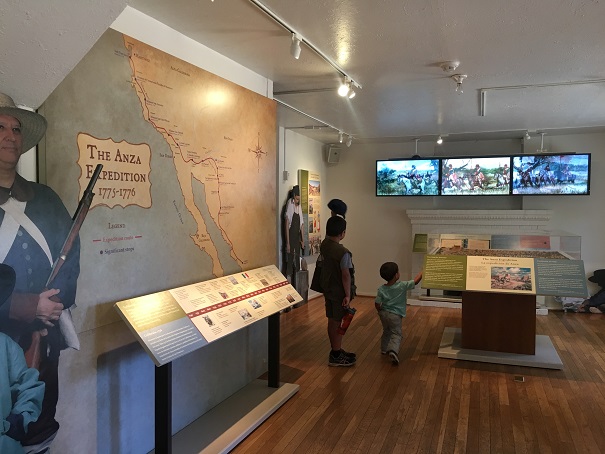 Diego and David explore the Anza Trail exhibit inside the Martinez Adobe at the John Muir National Historic Site. Photo: Melissa Avery. 

This is something my children can truly relate to.  My parents came to the to the California from Peru in the late 1970's and our extended family still lives here San Francisco Bay Area. The 3rd generation, like my children and all their cousins, are a mixed culture of Peruvian, White, Mexican and Colombian; just like a multi-cultural descendants of Anza Expedition.  I want them to know of their Peruvian Culture and their American culture but at the same time I want them to know that they are unique like the people from the Anza Expedition so when my kids occasionally ask me "Mommy, what are we?" I respond with "We are Californios".

For more information on my Family Adventures visit my website 
www.chasquimom.com