Give Some Space to Keep Safe
John Day Fossil Beds National Monument is open, and facilities are maintaining continuity of operations. Visit our Operating Hours & Seasons page for details. The park continues to monitor the COVID-19 situation and maintains high standards related to the health and wellness of staff and visitors. Park staff are working to maintain clean and healthy facilities in parks in accordance with CDC guidance.
Experience the Park Safely
If you were already planning on visiting John Day Fossil Beds this spring, be aware of practices that can help keep you and park rangers safe.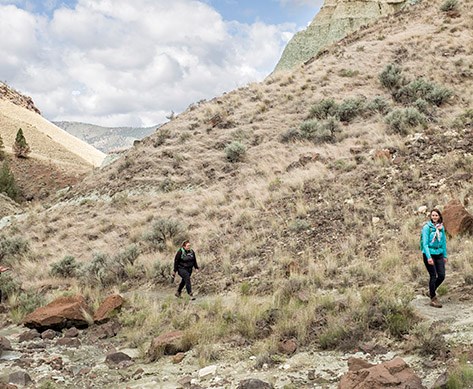 Practice Social Distancing
The Centers for Disease Control and Prevention recommends social distancing or avoiding groups of people and keeping a distance of six feet or two meters from others. To keep yourself safe, give some space.
If a trail is crowded move to another trail.

At viewpoints, try to distance yourself from other people.

If you need to use the restroom, spread out the line at the bathrooms.

Please give rangers space to get their jobs done. Park rangers don't want to be vectors of the coronavirus. By protecting rangers, you are protecting yourself.
Routine Precautions
Avoid touching your eyes, nose, and mouth.

Washing your hands frequently throughout the day.

Cough into your elbows.

Clean and disinfect touched objects and surfaces.

Stay home if you are sick to avoid getting others sick.
Last updated: March 16, 2020