Trees and Shrubs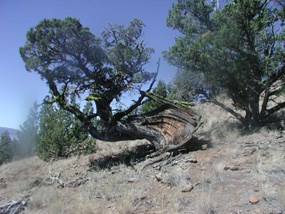 Trees such as cottonwoods, willows, alder, and hawthorn grow only in a very restricted zone along the riparian courses. A few stately ponderosa pines can be found near some seeps and springs.
Serviceberry and currant bushes can be found around rock slides. The occasional mountain mohogany is found high up along the rocky escarpments surrounding the valleys.
Greasewood plants are able to draw up moisture high in salts and to distribute this out into the succulent leaves. This allows them to thrive in heavy, saline soils.
Rabbitbrush do well in dry areas, sending their roots down to subsurface moisture. Other shrubs that have adapted well to these dry, xeric sites include big sagebrush, shadscale, broom snakeweed, antelope bitterbrush, and purple sage. Each has adaptations allowing it to grow, produce seed, and compete with its neighbors.
Junipers may spend over 10 years developing large underground root masses before the tree really starts to grow upward. Juniper have taken full advantage of the suppression of fire by spreading out from rocky crags and other small pockets typically protected from fire, and are much more widespread than they were before the area was homesteaded.


Last updated: February 28, 2015