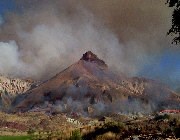 The semi-desert ecosystem of John Day Fossil Beds National Monument is split by the the John Day River and its tributaries. While the mountains receive plentiful moisture both as rain in the summer and snow in the winter, the monument has very few days were the 9-16 inches of precipitation puts a damper on outside activities.
Daily and even hourly temperature changes need to be planned for with proper clothing, amounts of water, and gear.
Due to its remoteness, impacts on air quality and soundscapes are rare. An occasional forest fire may put a haze in the air during the summer or a passing logging truck can generate a brief moment of noise.
Upstream uses of the John Day River by communities and ranching operations do have an impact on the river flow levels and water quality, especially in late summer. A concerted effort in the watershed continues to address and attempt to reduce these impacts.
Unfortunately the river corridor does act as a natural conduit for the various noxious weeds that have found their way into the river basin. Monument staff makes a concerted effort to locate, identify, and treat these weeds. This is important to prevent noxious weeds from gaining a foothold and replacing the native plant communities found here.