History & Culture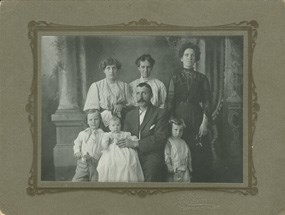 Fossil Frontier
Fossils may have been the reason paleontology became popular in the 19th century. Thomas Jefferson told Lewis and Clark to look for living giant sloths in the west. The term 'paleontology' was coined in the 1820s to describe the new branch of science dedicated to the study of ancient life. Charles Darwin published On the Origin of the Species in 1859, giving voice to a new idea that plants and animals evolve by way of natural selection in an ever-changing world. A growing awareness for the long age of the earth riveted minds from university halls to street corners. Scientists sought fossils to answer difficult questions about the nature of life.

In 1862 gold was found near present-day Canyon City. While guarding wagons of gold destined for ships on the Columbia River, Union cavalry troops noticed fossils along the way. They collected what they could and took their fossils to Thomas Condon, a Congregationalist minister in The Dalles. Condon was well known to locals as an avid geologist. Condon recognized the importance of the fossils and joined the soldiers on their return to the fossil beds. It was here in a world of colorful eroded gullies and pinnacles that Condon found a stunning abundance of ancient life. He returned to the area frequently, eventually hiring men to help prospect for him. In what is now the Blue Basin area of the Sheep Rock Unit, he found so many fossils that he named part of the valley The Cove. He even sent some of the fossils he found to prominent east coast paleontologists. These paleontologists were tantalized by the potential for their own great finds just waiting for discovery. The word was out; there were fossils in Oregon!
Rock and Hard Places
Finished in the year 2000, a comprehensive book commissioned by the National Park Service explores the regional history that intersects with the monument. Read the online copy of Rocks and Hard Places by Stephen Dow Beckham with Florence K. LentzClick. Navigate by chapter to read more on the amazing human stories of the John Day country.


Last updated: December 1, 2017