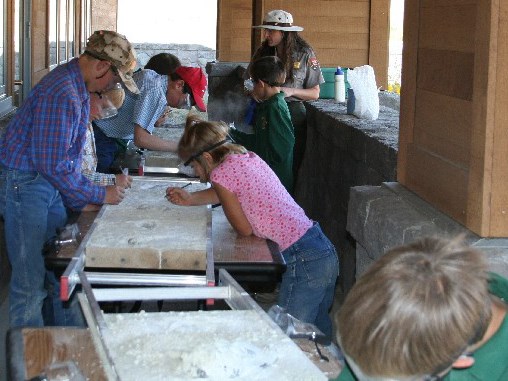 Now Accepting Applications for 2017 Teacher-Ranger-Teacher!
John Day Fossil Beds National Monument is offering an exciting opportunity for a local teacher to work and receive a stipend for educating students and visitors about the wonders of your local national monument. The purpose of the program is to provide teachers an opportunity to learn about NPS educational resources and themes while earning continuing education graduate credits through a partnership between the NPS and the University of Colorado (CU Denver). The Teacher-Ranger-Teacher (TRT) will have a unique opportunity to enhance their teaching skills in science or history fields.
The TRT program provides an extended professional development opportunity for teachers to learn about the resources and educational materials available through the National Park Service. Teachers spend the summer working with park staff on education projects, learning about park resources and visitor services, and developing lesson plans to use in their classrooms. The program is a partnership with the University of Colorado Denver which administers the program and provides graduate credits to participants.
The TRT will be required to complete an agency background check, attend a TRT program webinar, and develop at least one lesson plan to use with their students as part of a 3-credit graduate course through the University of Colorado Denver.
Download the 2017 Teacher-Ranger-Teacher Flyer
.

Why Apply?
Obtain 3 graduate continuing education credits through University of Colorado, Denver
Engage in parks and with park resources
Develop at least one lesson to be used in your classroom or school
Assist the park with an education project
Increase your understanding of place-based learning
Link with teachers across the nation.
Receive a $3000 stipend upon successful completion of the project.
When Does it Start?
The program has flexible start dates and typically runs June through September 15, 2017.
How Do I Apply?
Any Oregon K-12 teacher can apply for a Teacher –Ranger –Teacher position.
Obtain a support letter from your school's principal or administration
Send your application packet either by mail (the address is on the application) or e-mail us by April 30, 2017.

Questions?
Please contact the Education Coordinator by e-mail or call (541) 987-2333 ext. 1215.