Boat Tours of Bayou Lafourche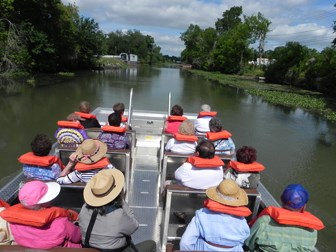 Locally known as "the longest Main Street in the world", Bayou Lafourche once served as a 100-mile major water thoroughfare connecting Southern Louisiana communities. From its juncture at the Mississippi River, Bayou Lafourche connected New Orleans to Donaldsonville communities and then traveled southeast through towns in Lafourche Parish. The watery "Main Street" provided passage to Terrebonne Parish communities via an offshoot, Terrebonne Bayou, at Thibodaux, Louisiana. Today, Bayou Lafourche still follows its southerly course through Southern Lafourche Parish communities, finally emptying into the Gulf of Mexico at Grand Isle.
Friday Tour (10:00am. – 12:00pm)
Visitors enjoy a historic, guided tour on Bayou Lafourche to the E.D. White Historic Site, birthplace of U.S. Supreme Court Chief Justice Edward Douglass White, a pioneer of the "Rule of Reason" and key supporter of Antitrust laws that still protect fair trade in the United States. Visitors also experience a typical Creole Sugar Planation built in the early 19th century and transformed into its current Greek Revival style under White's ownership.
Saturday Tour (10:00am – 11:00am)
Visitors embark on a guided, natural history tour of Bayou Lafourche to experience the distinctive natural ecology and human settlement patterns unique to Louisiana bayous. Expect to encounter migratory and residential wildlife such as diverse bird species, reptiles, and turtles in the water-centered, leveed communities of Southern Louisiana.
Boat Tour Schedule
No boat tour programs June through August or on federal holidays. Boat tours are offered in the fall through early summer (October through May).
Reservations
Individual and group reservations are required. Reservations can be made by phone (985-448-1375) or by email. Tickets are $15.00 per person. Walk-ins accommodated upon availability.
Location
The tours leave from:
Wetlands Acadian Cultural Center
314 St. Mary Street
Thibodaux, LA 70301
Last updated: September 6, 2023