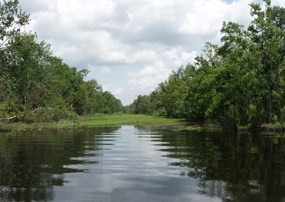 None of Jean Lafitte's six sites were directly affected by the 2010 Deepwater Horizon oil spill, but the Barataria Preserve was affected by activities related to the oil spill response. The preserve was the park's most vulnerable site since it is linked to the Gulf of Mexico via waterways (click here for a 1791kb pdf satellite map of south Louisiana).
No oil from the spill has been observed in the preserve. Oil fouled the shoreline of the Barataria Waterway about 12 miles south of the preserve boundary and penetrated marshes on the north edge of Barataria Bay, about 15 miles south of the preserve. Park staff collected baseline data and continue to monitor the situation.
---
On April 20, 2010, the Deepwater Horizon oil rig exploded in the Gulf of Mexico. 126 people were on board; 11 people died.
By April 25 it was determined that oil was leaking from the rig's well. National Park Service areas along the Gulf began to prepare for the potential of oil contamination.
The National Park Service is focused on minimizing the impact of the land-bound oil on park resources to the greatest extent possible. Park staff continue to work closely with the unified response to the oil spill.
How you can help:
report oiled/distressed wildlife 1-866-557-1401
volunteer 1-866-448-5816
The park continues to work with other government and local partners and has drawn extensively on resources from throughout the National Park Service. Thank you for caring---Jean Lafitte staff will keep you informed about what's happening at your national park.