Citizen Science at the Barataria Preserve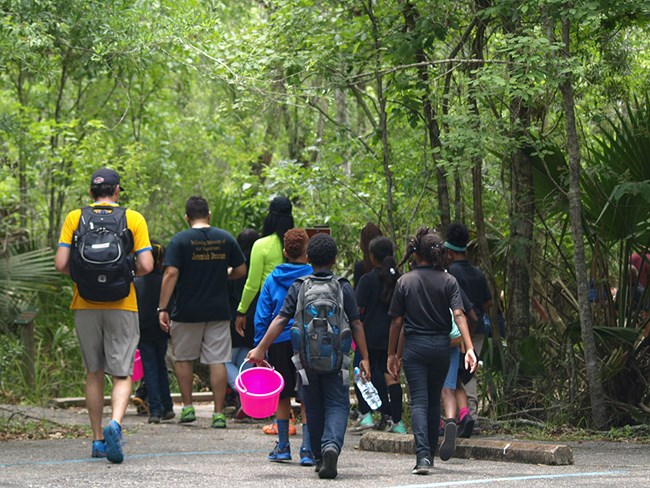 What is Citizen Science?
It's ordinary people making observations, collecting data, and helping researchers answer questions about Louisiana's ecosystem. It's protecting and preserving America's treasures. It's fun, it's fascinating, and it's surprisingly easy to do. Discover citizen science opportunities for all ages at the Barataria Preserve in Marrero, and for more nature-related workshops, programs, and citizen science opportunities, follow the link to the preserve webpage.
What We Offer
We offer science education programs for K-12 students, citizen science program options for high school-aged, and independent citizen science programs for adults aged 16+. For more nature-related workshops, programs, and citizen science opportunities, check out the Barataria Preserve webpage.
K-12 Field Trips with Ranger-Led Science Education Activities
Field trips featuring citizen science projects are available at the Barataria Preserve. Projects vary in scientific intensity according to the grade level of the students. For example, students K-8 can get acquainted with scientific data collection methods and scientific instruments while students in grades 9-12 are able to collect research-grade scientific data. All data collected by students is submitted to national databases at the end of the program. In addition, science education activities at Barataria Preserve have Next Generation Science Standards and Louisiana Student Standards in mind.
All field trips and science activities are Ranger-led and can be booked on Wednesdays, Thursdays, or Fridays. A typical field trip includes an introduction to Barataria Preserve and the National Park System, at least one science activity (e.g., water quality testing, seasonal life cycle monitoring), and time for class reflection and discussion.
Booking a field trip and science activity at Barataria Preserve is easy!
To obtain an activity brochure outlining our field-trip program offerings or to schedule your field trip, call 504-689-7611 ext. 25 or email the park. For quicker scheduling, make sure you tell us the number and grade level of your students in your e-mail or phone inquiry.
Adult Citizen Science Projects (ages 16+)
Participation in citizen science projects at Barataria Preserve involves a higher level of scientific experience than general science education activities. Thus, these projects are best for high school students and adults aged 16+.
Some of our citizen science projects have a social element where data collection is usually completed by a group (e.g., FrogWatch). Other projects can be completed by individuals in a group setting or by individuals on their own time (e.g., Nature's Notebook). The following lists the specific citizen science projects available at Barataria Preserve as well as their participatory elements. These programs are available for field trips of students in 9-12 grades, for adults seeking to participate in a citizen science project, and for service projects. For more information, call the Citizen Science Coordinator at 504-689-7611 ext. 25 or via email.
Projects:
Nature's Notebook is powered by people who make note of when flowers are blooming when trees get their leaves, or when birds migrate. These observations are entered into a national, online database used by students and scientists around the country! We need citizen scientists (you!) to observe these phenomena to help us track the seasonality of the organisms in our park. Both scientists and casual observers have noticed that spring is arriving earlier, and fall is arriving later each year. Phenology---the study of plant and animal life cycle events---is crucial to discovering how ecosystems change over time and how climate change is affecting natural systems.

At Barataria Preserve, Nature's Notebook observers contribute to "The Green Wave", a nationwide research campaign that studies deciduous trees. Nature's Notebook observers also contribute to the Gulf Coast Phenology Trail, a network of data sites that stretches from the Barataria Preserve to Grand Bay, Mississippi. The Preserve staff offers both online and in-person orientation for new Nature's Notebook volunteers. This citizen science program can be done individually or in groups.
FrogWatch USA is a phenology-based citizen science program that tracks the seasonal timing of frog and toad calls throughout the year. Each month, FrogWatch volunteers meet at the preserve for a 2-hour program that includes an introduction to FrogWatch, participation in data collection methods, and a discussion and wrap-up about the experience. This citizen science program can be done individually (with online training) or in groups. Monthly FrogWatch group outings are staff-led and scheduled via e-mail to volunteers. To join our FrogWatch Krewe or to obtain data collection sheets for individual data collection, please call 504-689-7611 ext. 25 or email the park for more information!
iNaturalist, or iNat, is an online and phone application that allows citizens to collect observations on any organisms they encounter. As a citizen scientist, you can use iNat to log the plants and creatures you find in the preserve! When you submit your observations to the iNaturalist community, experts will identify the species and your location information will help us monitor which species are occurring in the park. If you're good with technology, just download the app to your smartphone and begin recording observations! Data collection is largely done on an individual basis, but group outings can be organized. If you need help or for more information please call 504-689-7611 ext. 25 or email the Citizen Science Coordinator and mention iNat
Other opportunities
Other opportunities to get involved in the preserve are available on a seasonal basis. Service-oriented activities are available to school and non-school groups. Please call 504-689-7611 ext. 25 or email the park for more information about service projects available in the preserve! From 4-H to Scouts, we have projects for everyone! Get involved in your National Park!
Last updated: March 4, 2023