Gateway Arch Still A Modern Engineering Marvel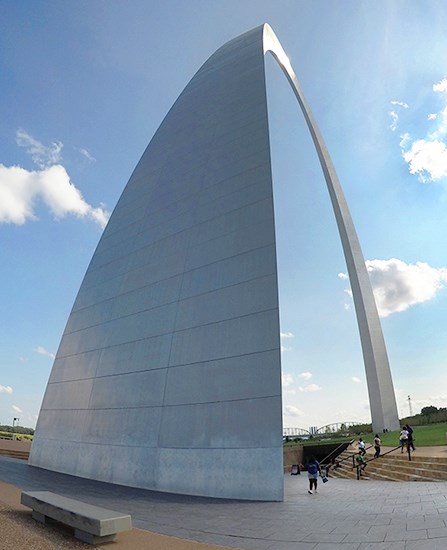 Spectacular views and five miles of trails deliver on an excellent experience for all
Unique in its design and majestic in its setting, the Gateway Arch towers 630 feet above the banks of the Mississippi River. The stainless-steel-faced Arch spans 630 feet at the ground level and takes the shape of an inverted catenary curve. In designing the Arch, architect
Eero Saarinen
worked with engineers to bring the project from concept to reality. Each leg of the Arch consists of double-walled steel equilateral triangles which are stacked one on top of the other and welded together. The complex engineering design and construction is completely hidden from view; all that can be seen from the outside is its sparkling, stainless steel outer skin.
From the start, Saarinen did not intend for people to just marvel at the Arch from afar. He wanted people to visit an observation deck at the Top, but he had a problem – how to transport people to the top from inside such an unusual structure? No ordinary elevator would do, and few would want to climb 1,076 steps to reach the top!
What is engineering if not problem solving?
Dick Bowser
, a second-generation "elevator man," had worked with his father to develop, manufacture, and install Bowser Parking System elevator equipment. These elevators could travel horizontally, diagonally, and vertically through a structure. Eero Saarinen needed someone to design a "transporter" that could move thousands of people to the Top of the Arch every day without distorting the exterior of the Arch. Together, the Engineer and the Architect would find a solution.
Bowser considered the constraints. The triangular shape and the different slopes of the Arch would not allow for a standard elevator to reach heights above 300 feet; the slope of an escalator would not follow the required curvature; the distance up one leg and down the other was too long for any chains or cables to traverse and the Ferris wheel principle would not allow visitors to exit at the observation deck. Only a combination of these principles would solve the problem. The Arch's one-of-a-kind transportation system is an innovative solution to a very unique problem.
The tram ride to the top of the Arch allows millions of visitors to enjoy the spectacular views from the top and marvel at the architectural and engineering feats that make it possible. In addition, Gateway Arch National Park encompasses 91 acres in downtown St. Louis, providing green space for park neighbors and visitors from all over the world. People can view the Arch from many different angles as they enjoy five miles of walking and biking trails. They can walk their dogs or eat a picnic lunch in the shadow of the monument. Inside, the Museum at the Gateway Arch provides an opportunity to engage with 200+ years of history, from the founding of St. Louis as a fur trading post to construction of the Gateway Arch and beyond. Stretch your legs and expand your knowledge all in the same place!
Last updated: February 9, 2022