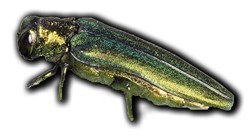 The park has completed an Environmental Assessment of replacing the single species planting of Rosehill ash with a compatible new species, in response to the potential threat from the Emerald Ash Borer. Download a PDF copy of the report by clicking here.

WHAT IS THE EMERALD ASH BORER?
The emerald ash borer (EAB) is a small and very destructive metallic green beetle. It only infests trees of the ash species and infested trees will die.