JEFF-10176
A woven coverlet is a type of bed covering with a woven design in wool colored yarn on a background of natural linen or cotton.  Coverlets were woven in almost every community in the United States from the colonial era until the late nineteenth century.  From the museum collections, this month's artifact is an eighteenth century design woven cotton navy blue and white coverlet with a Star and Nine Diamond quilt pattern.  
Coverlets of the eighteenth century America were twill-woven with a linen warp and woolen weft.  The wool was dyed a dark blue indigo, but madder red, walnut brown, and a lighter "Williamsburg blue" were also used.  From the turn of the nineteenth century, simple twill-woven coverlets gave way to patterned hand-woven coverlets made in two ways-either an overshot weave made on a simple four-harness loom in the home or a double-cloth where a coverlet was double-woven, which required more elaborate looms of professional weavers. Wool was spun and dyed in the home but then delivered to a local weaver who made up the coverlet.  Coverlets in large-scale floral designs became popular in the mid nineteenth century.  Synthetic dyes were introduced in America just before the Civil War and coverlets after that period were of bolder colors.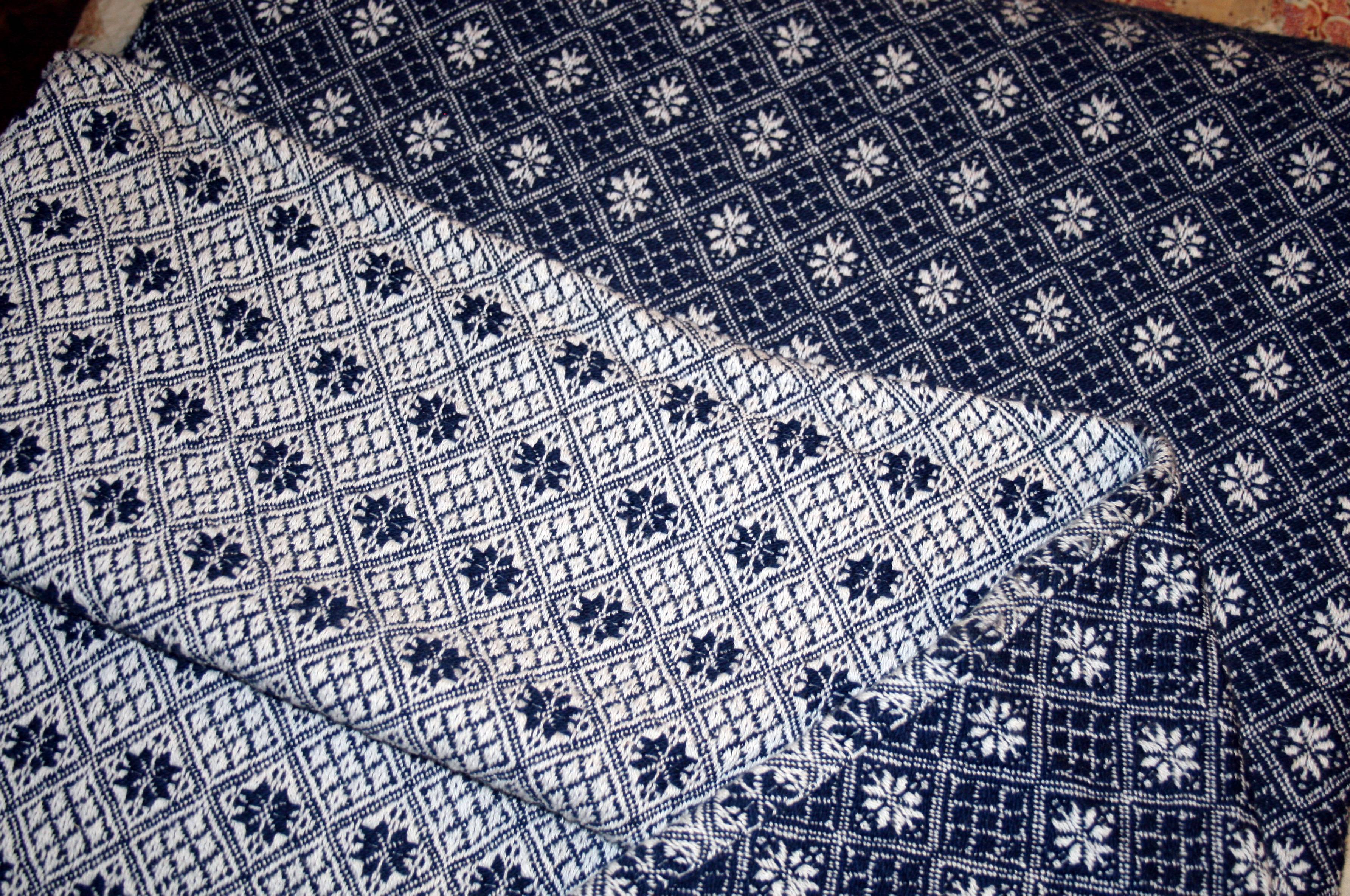 The biggest development in weaving coverlets was the introduction of the Jacquard loom, a device developed by Joseph-Marie Jacquard who, in the early part of the nineteenth century, developed an apparatus which, when mounted on a hand loom, enabled weavers to create pictorial designs more easily and rapidly.  This invention literally revolutionized weaving.
These Jacquard coverlets are distinguished by bold colors, tight weave, double-facing, pictorial centerfield designs and striking borders incorporating designs like American eagles, railroads, buildings, trees, ships and other elements.  Most were produced full size without a middle seam.  
Our example of a woven coverlet is more of a country design representing an art that died around
the turn of the century because of the advance of technology and changing tastes.  However, great coverlets have always been considered a household treasure and are truly American heirlooms.