Late 19th Century "Log Cabin" Style Quilt
JEFF 6142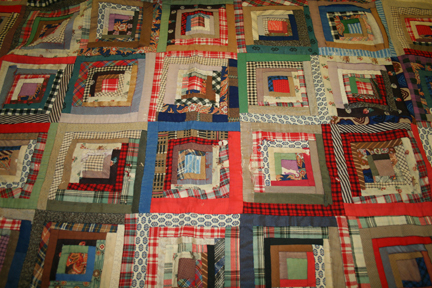 Quilts have been a part of history as long as have beds themselves. In Europe, they comforted kings and queens. In America, however, quilts came to be used in vastly different circumstances.  Here, pioneers in need of warm bed covers and with little cloth to spare, out of necessity, sewed together scrap after scrap of material to achieve bed-size patchwork panels. One of the many sources of inspiration for quilt patterns was pioneer living itself which contributed to the development of the "Log Cabin" pattern. The Artifact of the Month is an example of a late 19th or early 20th century "Log Cabin" style quilt from the collections. In making these quilted bed covers, women also achieved a level of beauty and creative expression not otherwise found in many frontier homes.
Although the quilt had a utilitarian rather than a decorative function at first, completed quilts became material documents of the style and taste of different periods in America's development.  Their designers gave them symbolic meanings. Through their quilts, American women told of their dreams, interests, politics, progress and family history. The "Log Cabin" pattern was one of the most popular designs. The design provides for a small central square surrounded by rectangular shaped "logs" of different lengths. Light-colored logs go on one side of the unit block and dark-colored go on the other. Variations of the basic pattern depend on the way the colors are assembled in the overall design. In the featured quilt, which is 87-1/2" x 65", there is an 11" dark brown border at one end and an 11-1/2" tan border on the opposite ends. Both ends are stitched with red thread. The squared patterns are multi-colored with a ½" red plaid border.  On the opposite side of the quilt, material is gray floral with lighter gray patterned material at both ends. The mid- section is surrounded by a gray, blue and white 3" wide floral border.  In this quilt, the composition of each square is carefully handled to create an optical illusion.  The quilter divides each square diagonally, sewing lighter-colored fabrics on one half and darker-colored fabrics on the other, creating the effect of light and dark stripes running diagonally across the entire quilt. This pattern is called "Straight Furrow".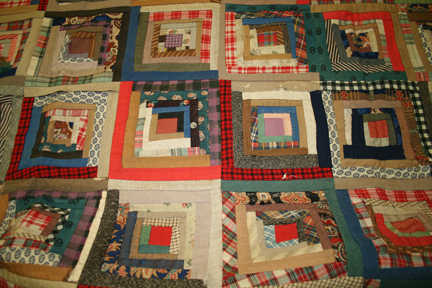 Late 19th Century "Log Cabin" Style Quilt
JEFF 6142

 People, places, religion, nature, and patriotic and historically important events occurring in America's history provided a major source of quilt pattern names such as "Union Calico" or "Confederate Rose."  The Lincoln-Douglas debates produced "Little Giant" and "Lincoln's Platform."  Pattern names changed as people migrated to different parts of the country. Quilt pattern names tended to reflect the industry and economy of their different geographical regions.  For example, a pattern with wheels in it might be called "Ship's Wheel" on the New England coast, while in the West, the same pattern was called a "Prairie Star." "Rocky's Glens" in the West became "Little Lost Ship" on the East coast and "Kansas Troubles" in Kansas.
Quiltmaking out of need peaked in the late 19th century as material availability made it less of a salvage art.  Today, a quilt can be considered a piece of art.  There are many museums and special exhibits dedicated to displaying quilts as a form of artistic expression.  And in everyday life, there is a resurgence of interest in making quilts.  There are needleworkers of all ages, studying  patterns and producing quilts as gifts, home decoration  or as heirlooms which will join other prized family possessions in the future.