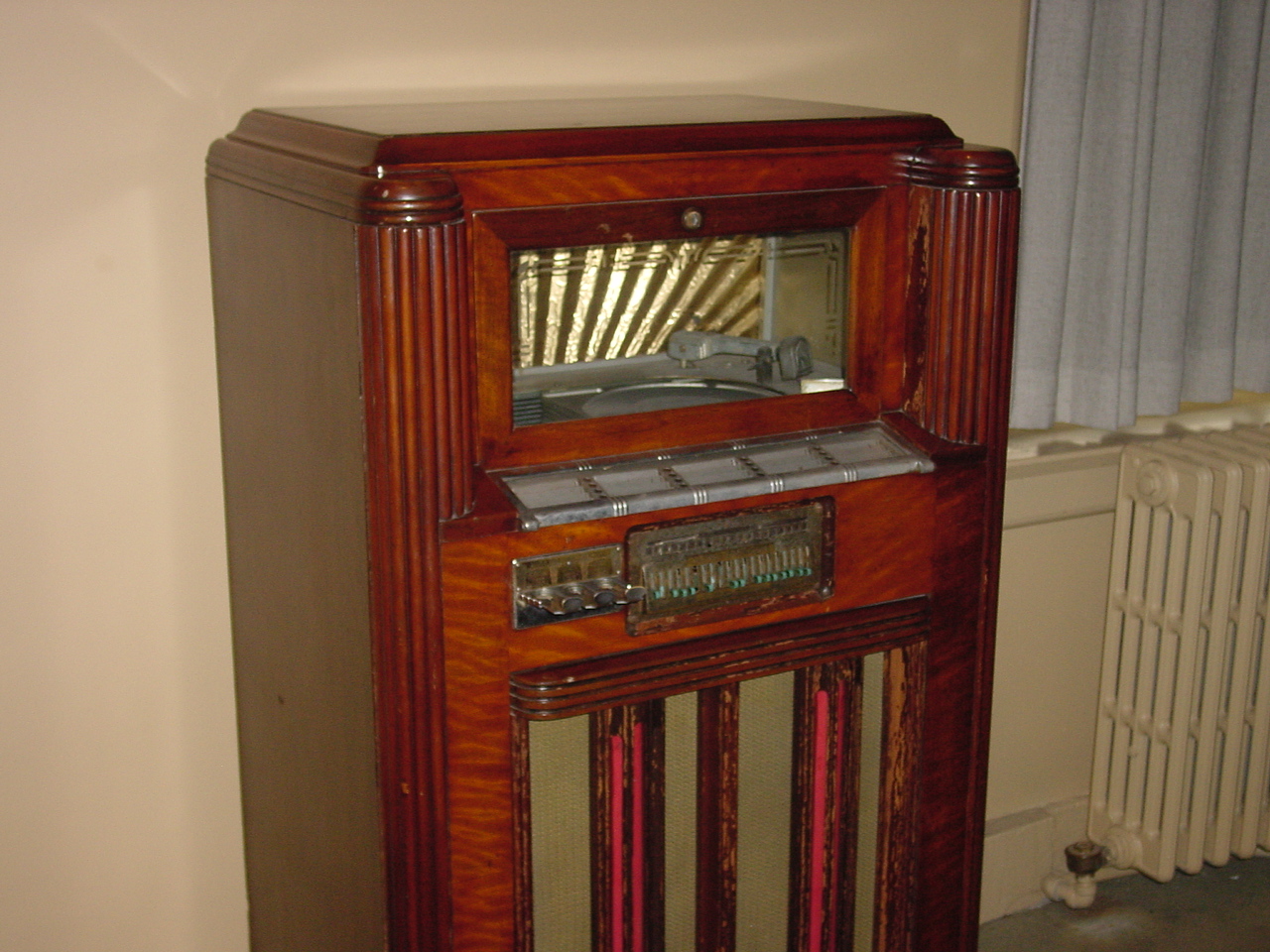 Jukebox
JEFF-8277

The impact of the jukebox on American culture was profound. People now had the freedom to listen to what they wanted to, almost anywhere they wanted to. On exhibit in the St. Louis history gallery of the Old Courthouse is JEFF 8277, aSeeburg Rex 1937 model art deco style jukebox that holds 20 records.
The development of the jukebox is an interesting story. The term "jukebox" isderived from the once familiar "juke joint" derived from the Gullah(descendents of slaves who live in the Low Country of South Carolina and Georgia) word "juke" or "joog" meaning disorderly or rowdy.
"Jukejoints" were hangouts for people who wanted to drink and dance to music. It allstarted in 1877 when Thomas Edison developed a machine that used no electricitybut acoustically reproduced sound to be heard through a listening tube. In1890, Louis Glass invented the "nickel in the slot" phonograph, which wasbasically an Edison phonograph retrofitted with a device patented under thename Coin Actuated Attachment for Phonograph. In the 1890's, these phonographsappeared in phonograph parlors around the country.
The first true jukebox was the Gabel Automatic Entertainer of 1906, amulti-selection coin operated machine with a visible record changing mechanism.It wasn't until 1927 that the Automated Musical Instrument Company introducedthe first electronically amplified version of the above. It changed the courseof entertainment. A roomful of people could be entertained with music for anickel.  The jukebox on exhibit in theOld Courthouse was made by one of the top competitors, the Seeburg Corporation,in 1937. Justis Seeburg came from Sweden and settled in Chicago where he laterset up his company which made player pianos. He first developed theOrchestron-a restyled piano that added the sounds of mechanically playedinstruments. Then he developed the Audiophone-the automatic phonograph. In1937, his industrial designer introduced illuminated plastics.With the newplastics and the current technology at that time came the jukebox we recognizetoday. The Seeburg Company went on to develop a jukebox with 45 rpm records andlater a jukebox using compact discs.
Jukeboxes were most popular from the 1940's through the mid 1960's, with a break duringWWII because metal and plastic were needed more for the war effort. After the war, jukebox production resumed.  They were particularly popular during the 1950's. Bringing the music to the people,the jukebox has become an icon of America's popular culture.