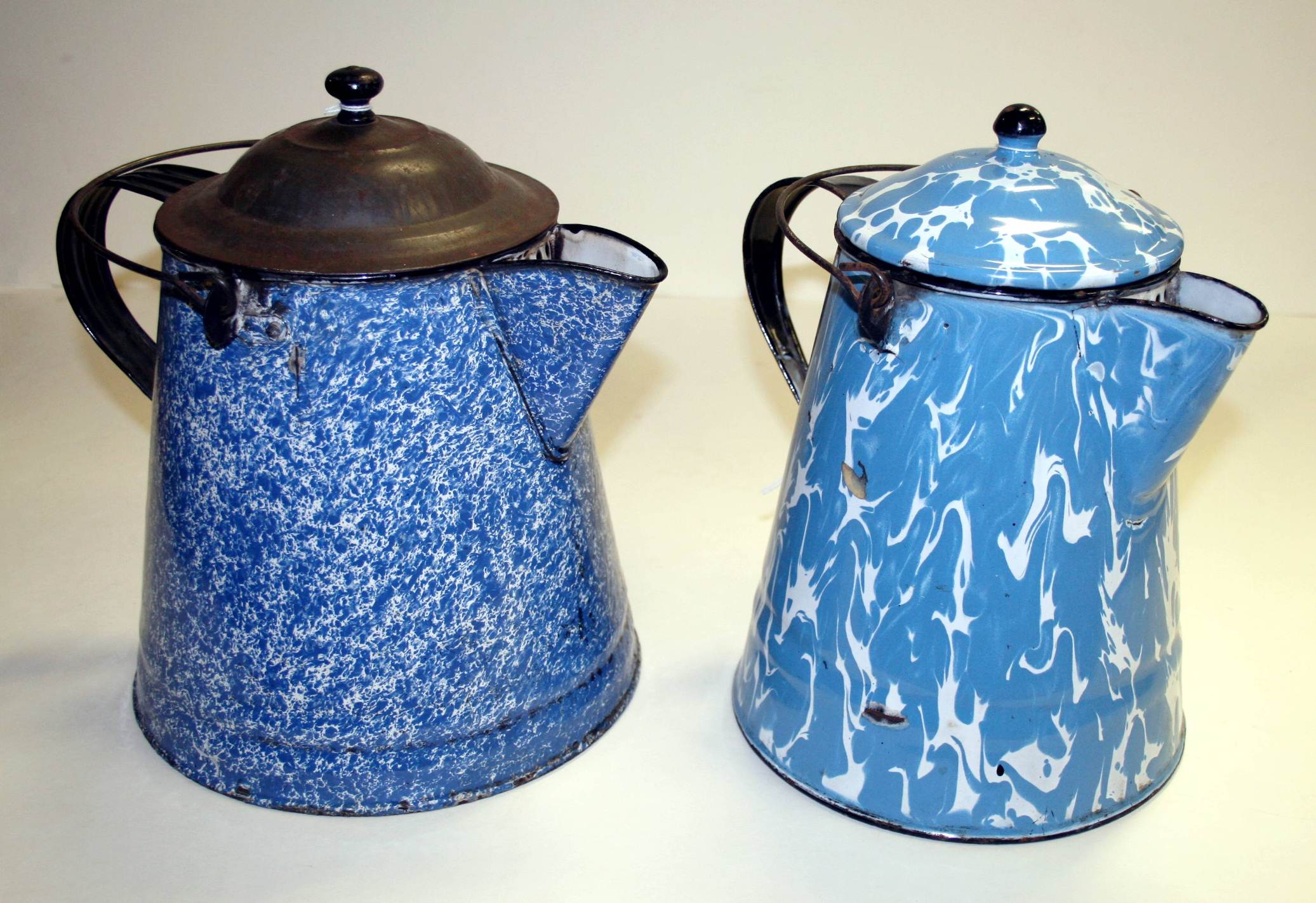 JEFF 681 and JEFF 789 

Graniteware is a type of metal used mostly in the construction of kitchen items such as pots, coffeemakers, and dinnerware.  An inexpensive and durable metal, it was first made possible in the 1800's.  It is also known as enamelware. The park has two excellent examples (JEFF 681 and JEFF 789) of mottled and speckled blue and white large-capacity, chuck-wagon sized coffee boilers made of enamel coated tin that are believed to date back 115 to 140 years. 
Graniteware's virtues made it a popular and economical choice for cooking in the nineteenth century: it was colorful, easy to clean and cooked evenly.  It was originally made of cast iron with multiple coats of enamel.  The enamel was speckled and baked on the metal producing the distinctive color patterns.  The term "graniteware" comes from the unusual color pattern, as it mimics actual granite.  Graniteware's colored patterns were distinctive and were available in a solid color, spotted, or marbled pattern.  Most of the color combinations consisted of white mixed with either red, blue, or black.
The two examples from the collection are made of tin and are blue and white. One has a speckled pattern and one has a marbled pattern.
Graniteware, technically enamelware, traces its origins to Germany in the 1760's.  A process was developed to coat metals with an enamel finish in order to stop metallic tastes or rust getting into the food as it cooked.  Porcelain was the most common coating at that time.  The earliest examples were solid in color.
The St. Louis connection to graniteware dates from 1874, when two brothers, William and Frederick Niedringhaus, traveled to Germany. The Niedringhaus brothers owned their own kitchen utensil manufacturing business. They noticed enameled utensils in a store display and ultimately ended up purchasing the process.  Their version of graniteware was actually coated with ground granite. Upon their return to St. Louis, the brothers began working on manufacturing enamel-coated utensils.  Their company, the St Louis Stamping Company, grew and later moved to Granite City, Illinois.
Graniteware was mostly produced from the 1870's to the end of WW II.  Unfortunately, it was prone to cracking, which would then expose the metal underneath and cause it to rust through.  Modern graniteware is made of stainless steel with a porcelain covering.  Collectors of vintage kitchenware still collect the beautiful blue and white marbled and speckled pieces of graniteware as valued items in their collections.