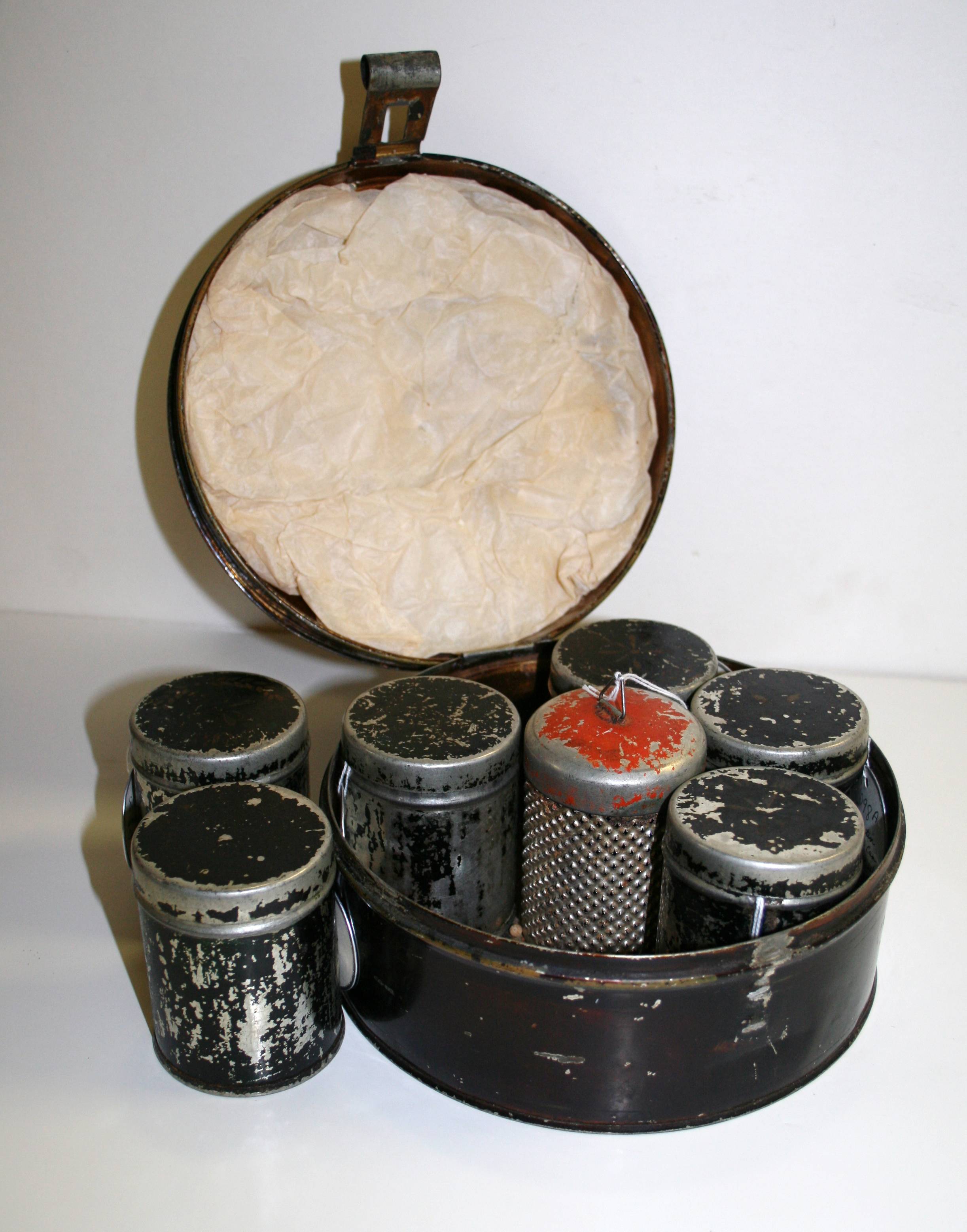 JEFF-5239 Coffee Mill and JEFF-8097 Spice Caddy
No matter what era in history, people have always needed food processing items to prepare life-sustaining foods for themselves and their families. Our museum collection has two examples from two different periods of those types of items. One example is a cast iron and wooden coffee grinder (JEFF 5239) dating to the 1880's-1890's. The other is a tin spice caddy (JEFF 8097) dating to the 1850's.
The antique coffee grinder, style Imperial #705, has a cast iron black urn top with an ornate design.The handle, also of cast iron with a wooden grip, has a hard wood base and sturdy metal grinder mechanics inside to grind the coffee.The grinder has a well-made wooden box casing with a grinder drawer intact. A very practical domestic device such as this piece has now become a very collectible item in antique and collectors' circles.
The coffee grinder was made by the Arcade Manufacturing Company out of Freeport, Illinois.
The Arcade Manufacturing Company was originally founded in Chicago, Illinois as the Novelty Iron Works in 1868 by Edward and Charles Morgan. After a devastating fire, thecompany started up again but eventually faltered and had to reorganize in 1885 under the name Arcade with a third owner joining the founding Morgan brothers. They then moved the company to Freeport, Illinois. The Arcade Company produced many small cast iron machinery products for home use, especially coffee grinders, which were made from the company's inception until
the 1930's. Arcade was one of the country's leading producers of coffee grinders from the late 1800s to the early part of the twentieth century.
Another interesting food preparation item in our collection is a tin spice caddy (JEFF 8097) with six small spice jars. Amongst the large assortment of goods pioneers carried west were many food related supplies including spices to make food palatable. One problem faced by the early pioneer cooks concerned the seasoning of the food in the same manner they had known back home.Once general stores were set up in new towns, customers could go and replace or replenish the old spices they had used along the trail. This particular artifact was owned by a gentleman who moved west from Delaware, Ohio to Junction City, Kansas in the 1850's. The spice caddy is round, hinged, tin, and painted black on the outside with a green and red circular design on the top with a pull ring.Inside is a tin grater in the center surrounded by six spice jars, labeled: -GINGER, SAGE, PEPPER, CLOVES, CINNAMON, AND NUTMEG.
It's gratifying to know that useful kitchen artifacts from well over a century ago are now sought-after collectors' items and can provide people with a sense of wonder and history.