Beaded Purses, JEFF-1595 and 1596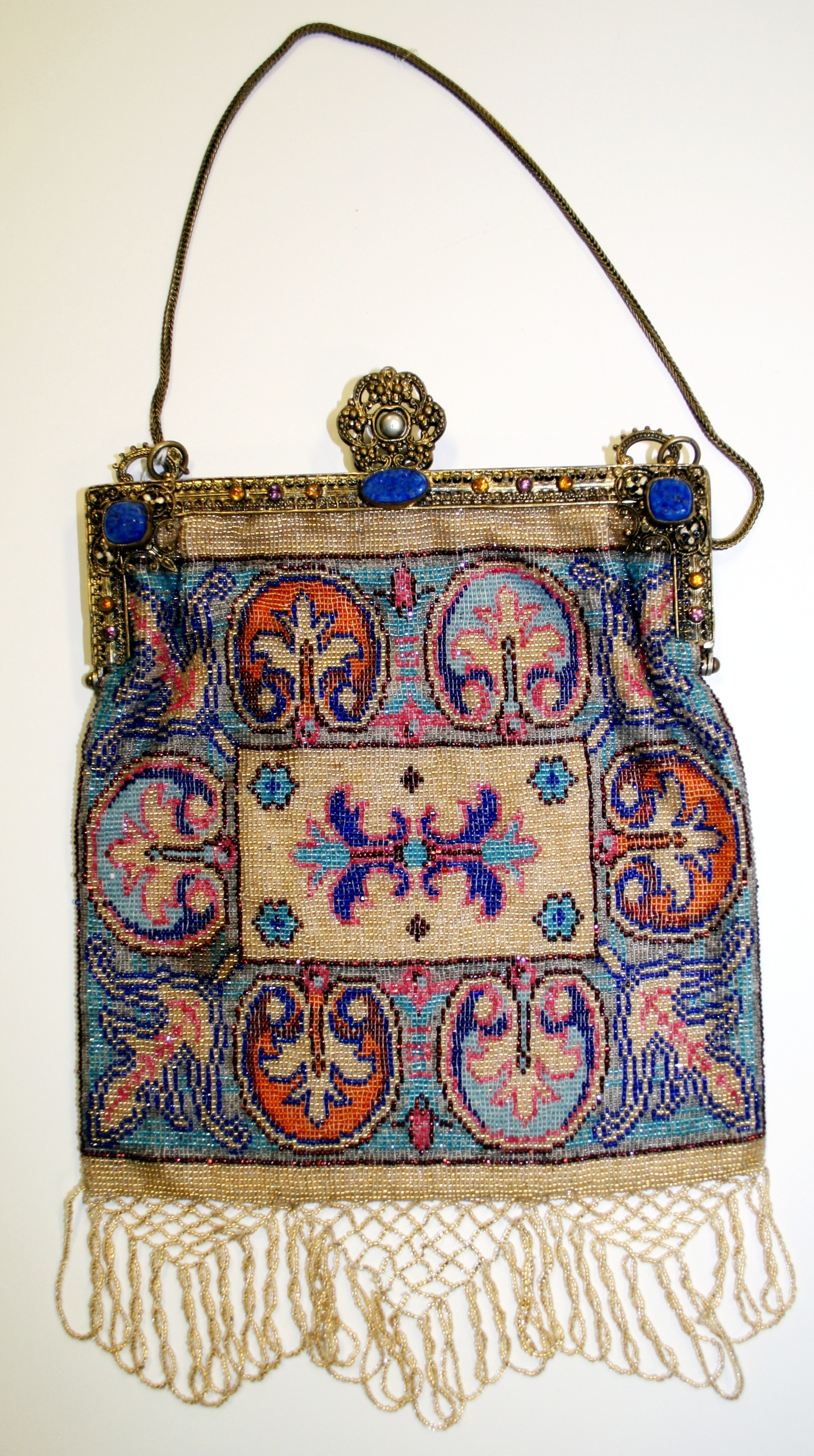 Both purses in our collection came to us from the estate of a prominent St. Louis family.  JEFF 1595 is elaborately beaded with a mosaic design in royal blues, orange, red and gold beads.  It has a fringe at the bottom made of tiny gold beads.  The bag is attached to a metal gold finished frame set with three large turquoise blue stones and ten small colored stones.  A thirteen inch chain is fastened on each end of the frame.  The bag is lined with tan taffeta and held in place by gold braid.  The other purse, JEFF 1596, is also an elaborately beaded bag with a flower design of pink, yellow, blue and lavender flowers.  The bottom has a conventional design in black, orange, tan, lavender, blue, yellow and green.  The bag is attached to a plain gold frame with a chain and there is a snap in the center.  The bag is lined in white kid.  Both bags are in excellent condition. We do not know the makers of these bags, but it is possible that they were made by one of two local companies at the time: Brooks Optical Company and the M. Bonn Company.
Early beaded bags were made with very small fine beads; about thousand beads per square inch.  The glass beads used in the making of these bags varied in size and color. Dozens of colors and different shades of the same colors were produced to create these desirable bags.  Beads were transparent, opaque or iridescent (like carnival glass).  The shapes of the bags varied as well. The early beaded bags were called reticules and were assembled with a drawstring.  In the late 1800's and early 1900s, elegant metal purse frames became popular.  Some of the earlier bags were reused and attached to these frames.  Our one example, JEFF 1595, has a very elaborately designed metal frame.
The major design schemes in these early pieces consisted of three defined horizontal layers knitted into the bag.  The bottom usually had a tassel in the middle.  If the bottom was square, as in JEFF 1595, fringe was used instead.  The middle section, the largest, had illustrated or decorative scenes. Bag designs included subjects as beautiful outdoor scenes, historic landmarks, romantic interludes, and floral patterns.  Beaded purses designed in the Art Deco and Art Nouveau periods had mosaic designs and other themes in keeping with those periods.  The third and top portion of the beaded purse usually had a pattern that complimented the entire design and closed with a clasp.
Antique beaded bags are often found in museum collections but are highly prized in collector's circles as well, where they command very high prices. The intrinsic value of a beautiful antique beaded bag often goes far beyond its financial value. Many beaded purses are family heirlooms, passed from one generation to another. Beyond the museum and collector's circles, beaded bags of this type are often simply cherished representations of a time gone by.