A TIME TO PERSEVERE
 
As mentioned in my original Sky Ranger blog post in
November 2018
and my Apollo 50
th
anniversary tribute in
July 2019
, I am old enough to remember the Apollo and some of the Gemini program.  The excitement of the various missions helped pique a lifelong interest in astronomy and space.  For the last few weeks, many people have been excited to hear about the adventures of NASA's Perseverance rover, which landed successfully on Mars on February 18, after a journey of more than six months and nearly 300,000,000 miles.  Epic video of the spacecraft's landing can be easily found at the NASA and Jet Propulsion Laboratory websites, along with countless early images taken from the new mission.  Perseverance's primary mission is to search for evidence of ancient life on Mars.  It will also be trying out new technology by caching away rock samples to be picked up by a subsequent mission and test-flying the Ingenuity helicopter, whose first flight is tentatively scheduled for April 8 as of press time.  This promises to be very exciting.
NASA has developed a great tradition of naming its Mars rovers in order to reflect qualities essential to space exploration.  This began with Viking in the 1970s and then Pathfinder and Sojourner in the 1990s.  More recently, Spirit, Opportunity, and Curiosity have toured the surface, the latter still active.  I can't help but think about how these qualities parallel the themes of our Park- westward expansion and the people who were part of it.  There are almost too many examples to count, but I can point out
Laura Ingalls Wilder
, famous for her "Little House" books that tell the stories of her life in Wisconsin, Minnesota, Kansas, and South Dakota, eventually settling in Mansfield, Missouri.  All of these Mars rover themes can be found if you thumb your way through the pages of her books, relating Laura and her family's lives on the prairie.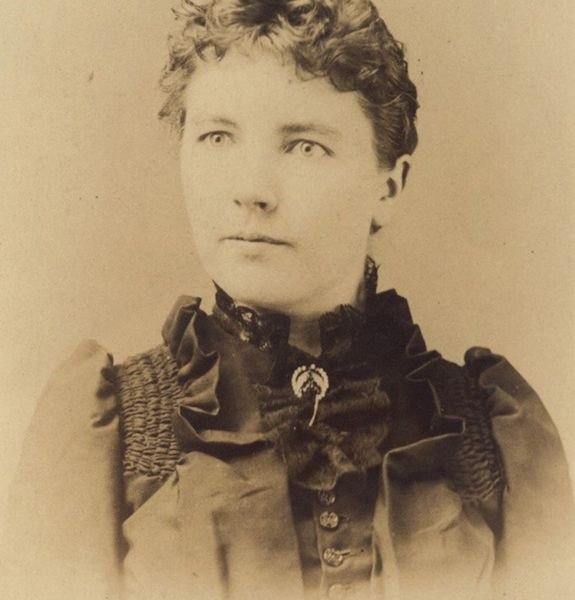 Laura Ingalls Wilder, courtesy of National Archives & Records Administration
Many people went west, often through St. Louis, simply for the adventure and thrill of it, but most had more concrete goals.  These could be anything from the lust for gold in California Gold Rush to simply the search for greater freedom and opportunity.  So it was for the Shores family, who had been enslaved in North Carolina.  Following their emancipation after the Civil War, the seeming opportunity that existed was quickly snuffed out by the failure of Reconstruction measures and the enactment of Jim Crow laws.  Along with their cousins, the Speese family, they moved first to Indiana and finally to Nebraska.  Making use of the Homestead Act of 1862, they established 160 acre farms near Custerville.  Out on the plains, then almost treeless, like many other pioneers, they raised their houses out of the sod of their land, building their lives out of the scant resources available.  Their story is not really that different than that of many other pioneers, but has not been told as often.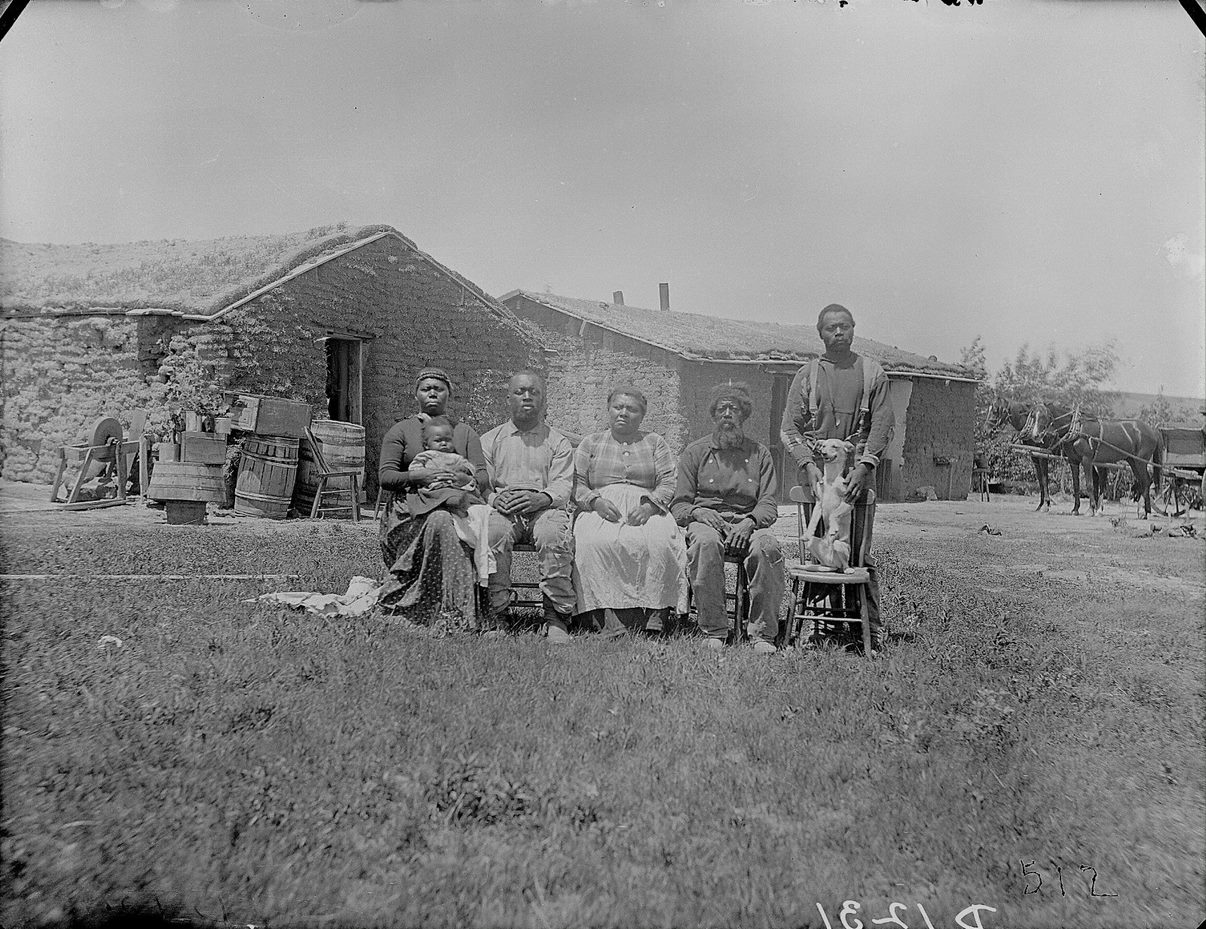 The Shores family and their farm.  Courtesy of Library of Congress
In 2019, students from around the United States & U.S. territories submitted more than 28,000 essays suggesting names for the Mars 2020 project rover.  The winning essay was written by Alexander Mather, a 7
th
grader at Lake Braddock Secondary School in Burke, Virginia.  Alexander's essay stressed how "perseverance" was an essential quality in life as well as in space exploration.  Little did he or anyone know how all of our skills of perseverance would be tested amidst the current pandemic.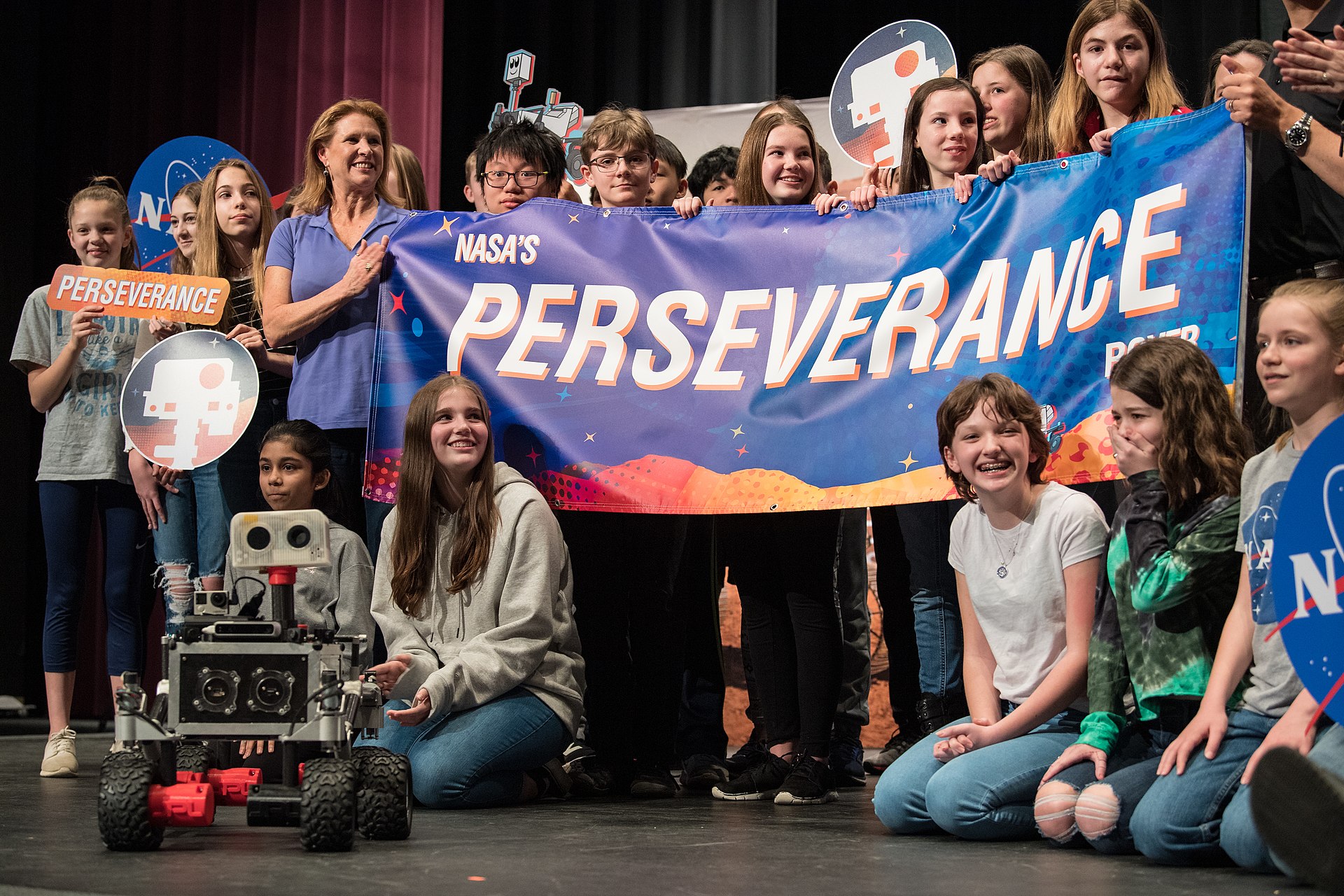 Students at Lake Braddock Secondary School celebrate Alexander Mather's (pictured just above the "R" in Perseverance) essay being selected as the winner of more than 28,000 submissions for a suggested official name for the Mars 2020 rover.  Courtesy NASA.
If you have been keeping an eye on the sky, hopefully through following the pages of this monthly blog, you may know that Mars is still out there in our current sky, faded greatly from its peak last October, but still easy to find.  In April, Mars can be found well up in the western sky after sunset, in the early evening after sunset.  It will look similar in color but slightly dimmer than orange Aldebaran, seen below it.  Perhaps the best time to catch it will be when the crescent moon passes by it on April 16
th
(left) and 17
th
(right), as shown in the images here, which I was able to create using the
Stellarium
program.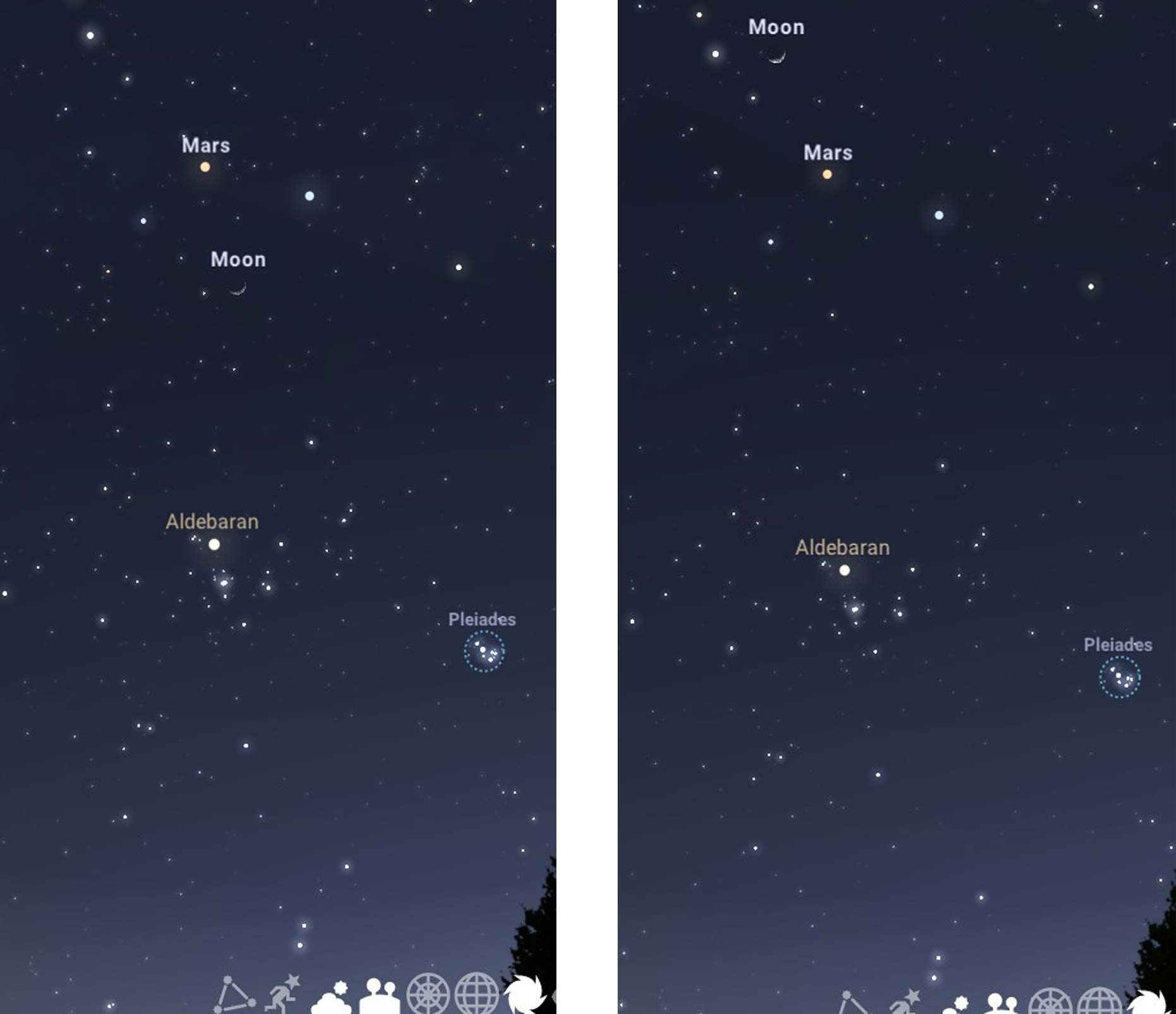 Catch our first virtual Gateway to the Stars program of 2021!  Dr. Connie Walker of NOIRLab (National Optical-Infrared Astronomy Research Laboratory, operated by the National Science Foundation) will discuss the Globe at Night program at 8 pm on May 8th.  The Globe at Night provides a way that you can contribute to the study of light pollution by measuring the darkness of your own night sky.  The program will be followed by a tour of the May night sky and video views of celestial objects.  The event will be streamed via Facebook Live.   Check out the Gateway Arch NPS page for details on how to log in.