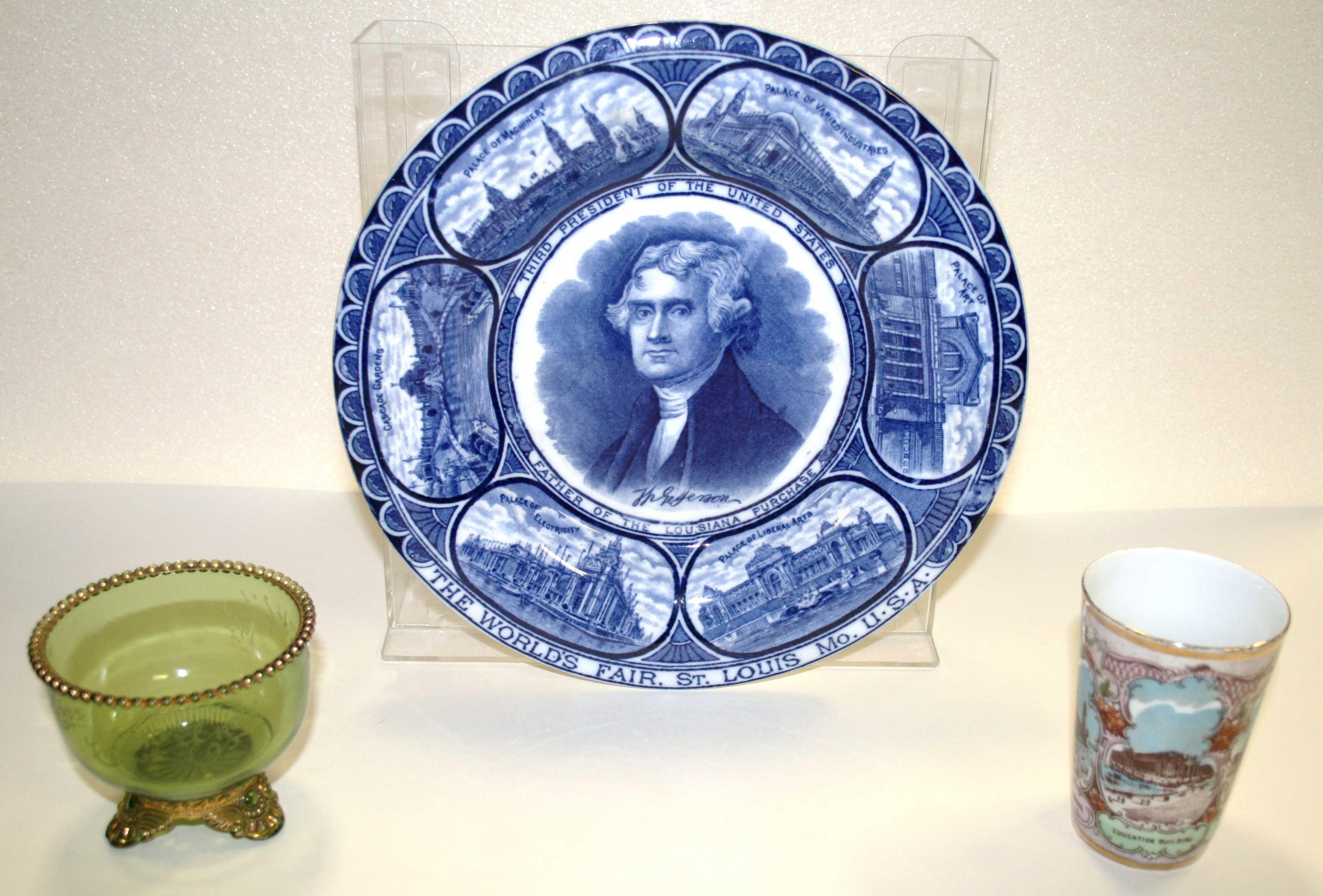 JEFF 1531, 1555 and 1443
In 1904, St. Louis welcomed the world to the Louisiana Purchase Exposition with great enthusiasm. Everyone who came wanted the experience of a lifetime. They sought souvenirs in quantity to remember their visit to the Fair.  Those souvenirs still today represent the success and excitement of the World's Fair in St. Louis. The park's collections contain several fascinating examples of these mementos.
The first example from the parks collection is a small, green dish trimmed in gold that sits on three legs.  Inscribed in gold are the words, "Miss Clara Ende-World's Fair 1904".  Many people wanted their souvenirs personalized, so they would have their name added to many items purchased at the fair.
Another interesting piece is a china tumbler that was actually made in Victoria, Carlsbad, Austria. It has a multi-color view on a white background with gold trim.  The words on the tumbler read, "Souvenirs of St. Louis" and depicted are three of the palaces at the Fair-Palace of Varied Industries, the Education Palace, and the Palace of Machinery.  There were eight main exhibition palaces at the Fair, all very ornate with Victorian opulence and all outlined with electric lights at night.  They were all massive in size, each one covering several acres.  Each palace presented the most up-to-date educational exhibits and developments in their respective fields.
Another interesting fair artifact is a blue and white china plate with Thomas Jefferson's picture in the center circle.  Around the border are seven pictures of World's Fair buildings. Above Jefferson's picture appear the words, "THIRD PRESIDENT OF THE UNITED STATES: and below, "Father of the Louisiana Purchase". On the bottom of the outer edge of the plate appear the words, "THE WORLD'S FAIR, ST. LOUIS MO U.S.A." What's interesting about this piece is that the design for the plate was done by Barr's of St. Louis and then sent to England to be made by the Rowland & Marsellus Company in Staffordshire, England.
The Louisiana Purchase Exposition was the culmination of the dreams of civic-minded St. Louisans who wanted to plan a showcase of the world's peoples and their cultures and to celebrate the great advances in the century leading up to 1904.  The fair always intended to educate and entertain all visitors.