Wild Caving Tour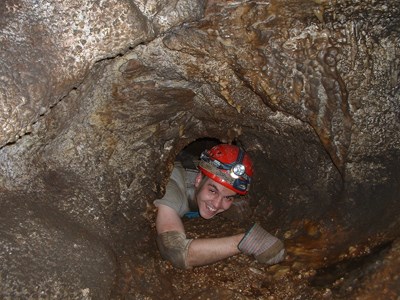 The Wild Caving Tour will start back up in the 2024 summer season. Advance reservations are required. The booking window closes one week before, and can potentially close earlier if the tour sells out.

The Wild Caving Tour is your passport to the underground wilderness of Jewel Cave.
With hard hat secured and headlamp turned on, you are ready to experience the cave in its natural state. Feel the wind at the famous Hurricane Corner, ascend Martha's Kettle, crawl through the Roller Coaster, and squeeze into the Brain Drain. See the place where hydromagnesite balloons were first discovered, including the balloon known as the earring, and view several beautiful and fragile cave formations.
At 2/3 of a mile long, this tour is a real caving adventure. You scramble over cave "breakdown," chimney between cave walls, use a rope assist to climb a nearly vertical wall, and belly-crawl through tight passages. Along the way you learn about low-impact caving, caving techniques and safety. The Wild Caving Tour lasts 3-4 hours, and is extremely strenuous. Anyone having a fear of closed spaces or heights should not attempt this tour.
Participants must be in good physical condition and are required to pass through an 8-1/2 inch by 24-inch crawl space before beginning the tour. Refunds are not given for those visitors unable to negotiate the block located on the patio of the visitor center. For safety reasons, there is an age requirement, which is strictly enforced. Participants must be 16 years of age or older, required to provide proof of age, and a parent or legal guardian is required to sign a permission waiver, on the day of the tour, for any 16 or 17-year-old minor participant. The parent or guardian must remain on site during the entire tour.
The park provides a hard hat and headlamp to each person taking the Wild Caving Tour. Participants must provide the following: sturdy, above the ankle, rubber-soled, lug-soled, lace-up boots; long pants or coveralls; a long-sleeved shirt; gloves; knee and elbow pads; a clean change of clothing and shoes; and a plastic bag for carrying soiled clothes and boots from the visitor center after the tour. Bring your caving clothes, boots, clean clothes and shoes to the visitor center when you check in and meet your tour guide. Clothing and footwear will be permanently stained by black manganese deposits encountered during this tour. NOTE: Participants may be subject to white-nose syndrome (WNS) screening. WNS is a fungal disease that impacts bats, and we could spread the spores of the fungus that cause this disease from cave to cave on cave gear, cameras, etc. Caving clothes from Jewel Cave cannot be worn in nearby Wind Cave; and caving clothes from Wind Cave cannot be worn in Jewel Cave.

Each Wild Caving Tour is limited to a minimum of 2 visitors and a maximum of 5 visitors. The Wild Caving Tour is offered when staff, trained for this specific tour, is available from late May to the end of August.
Reservations are required and tour dates are limited. Tour Dates will be made available on this website. Interested visitors are asked to call the visitor center for more information at 605-673-8300 from 8:30 a.m. to 4:00 p.m. (Mountain Time).
Last updated: October 14, 2023