Phillip Sterling (Artist-in-Residence, 2014)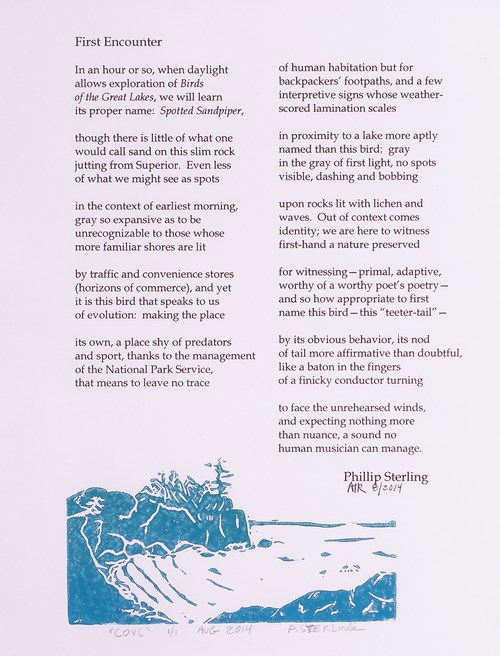 Isle Royale Reflection
"I was invigorated and awed by my time as an artist-in-residence for Isle Royale. I found the island enriching, the time productive. I had discovered in the wonderful journals left in the Dassler Cabin by previous artists (my first week's self-imposed "orientation" involved a study of those journals) that I was not alone in my feeling of enthusiastic uncertainty, my creative dilemma, for Isle Royale indeed presents a challenge to artists and writers.

Remote and undeveloped, an archipelago of rocky grandeur thrusting demonstratively from the wild northern waters of the greatest of Great Lakes—Isle Royale offers untold beauty, a beauty that one finds difficult to replicate in mere words or images. A beauty that is perpetuated in large part by a concerted effort to protect and manage its wilderness, its isolation. As a consequence there is a certain amount of constancy in its ecology and habitat, in its beauty. Even the astonishing sunrises may become predictable. While a boon for scientists, who appreciate the opportunity for (carefully controlled) scientific study, such constancy and redundancy of wilderness is not necessarily "inspiring" to artists."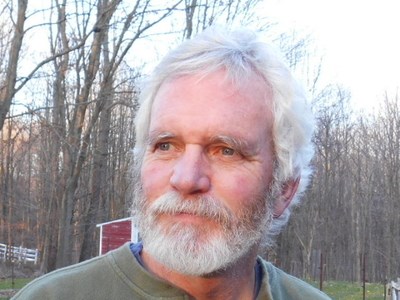 About the Artist
Phillip Sterling's books include two poetry collections, And Then Snow and Mutual Shores, a collection of short fiction, In Which Brief Stories Are Told, and four chapbook-length series of poems (Significant Others, Quatrains, Abeyance, And for All This: Poems from Isle Royale). He is the compiling editor of Imported Breads: Literature of Cultural Exchange and Isle Royale from the AIR: Poems, Stories, and Songs from 25 Years of Artists-in-Residence. Among his awards are an National Endowment for the Arts Fellowship, two Fulbright Lectureships (Belgium and Poland), a P.E.N. Syndicated Fiction Award, and inclusion in Best Small Fictions 2017. Professor Emeritus at Ferris State University, he has served as Artist-in-Residence for both Isle Royale National Park (August 5th to August 27th, 2014) and Sleeping Bear Dunes National Lakeshore.
Search by Year

Search past Isle Royale Artists-in-Residence by year of their residency.

Search by Artist

Search past Isle Royale Artists-in-Residence by last name.

View Gallery

View past Artist-in-Residence artwork sorted by medium.
Last updated: January 15, 2020