Eddie Soloway (Artist-in-Residence, 1992)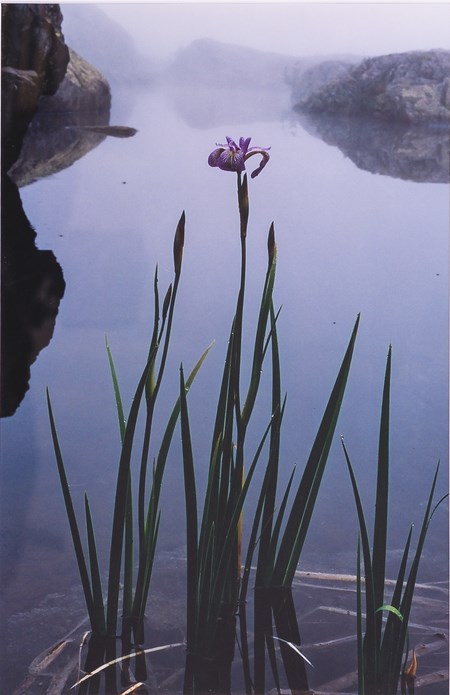 Isle Royale Reflection
"The Isle Royale experience goes beyond creating new work; it goes into that sacred realm of nurturing the soul and building the foundation of how we as artists create.

One particularly calm evening, I took the canoe out onto the lake. I felt as though I were balancing on the belly of a very large, sleeping beast. With each breath, a quiet, yet deceivingly tremendous force pushed me higher, then moments later set me down. Gentle but massive. For five days northeasterlies had prevented me from taking the canoe out beyond the harbor and into the open waters of Lake Superior. But tonight, with a full moon rising, the normally wild and awesome lake lay silent. A dark, deep blue, in the hour before pure black, the sky mirrored the lake, both melting into an edge hard to discern.

I pushed off into the cool night air, cutting a clean slice with the bow. As I left the protective waters of the harbor, a wild animal-like alertness tingled across every nerve in me. This lake, one tenth of all the fresh water in the world, was not to be messed with. The wrecks of numerous ships, big ships, lay well-preserved deep below the surface I slid across. I paddled further out—the same unexplained force that dares a child to touch his tongue against metal on an icy January morning—dipped the paddle into the rich cobalt water. Then again. And again. For many minutes I pushed further into the deepening night. Good sense took charge and I stopped paddling and looked back. In the stillness my little canoe rose many feet, then just as quickly was set back down. Another breath, and back down again. This time I noticed that as I rode into a deep trough I completely lost sight of my faint view of land. Very much alive, and humbled, I carefully turned the little craft at a right angle to the next trough coming my way, and paddled towards the island.

Back in the arms of the cove I turned around and looked back at the calm. The lake took another breath and helped push me the last few feet to shore."

-Eddie Soloway*
About the Artist*
Eddie Soloway was an Isle Royale Artist-in-Residence from June 30th to July 18th, 1992. He lives in Santa Fe, New Mexico. Since childhood his passion has been the natural world. Early days in Scouting led to a commitment to study ecology at the University of Wisconsin. After college he started a decade-long position with the Institute for Earth Education. He led teacher education workshops and developed programs designed to help people of all ages maintain a lifelong relationship with the natural world.
After a ten-year absence he returned to an early interest in photography. Today he divides his time between making fine-art photographs, teaching photographic workshops, and continuing work on a series of photographic books.

*[Source for all Eddie's page content: Root, Robert and Jill Burkland, editors. (2000). The Island Within Us. Houghton, MI: Isle Royale Natural History Association. p 30. Print.]
Search by Year

Search past Isle Royale Artists-in-Residence by year of their residency.

Search by Artist

Search past Isle Royale Artists-in-Residence by last name.

View Gallery

View past Artist-in-Residence artwork sorted by medium.
Last updated: December 26, 2019