Ladislav R. Hanka (Artist-in-Residence, 1992)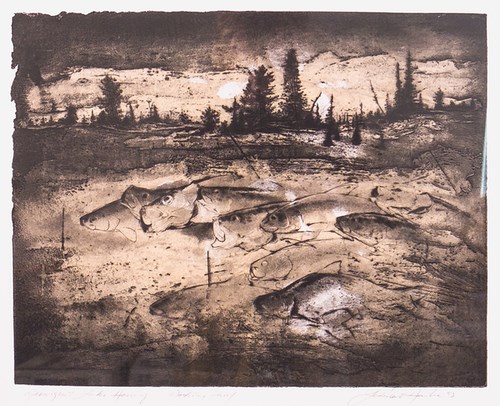 Isle Royale Fisheries
"The shores of Lake Superior are scattered with the remains of decaying fish-camps, littered with the large wooden spools once used for the drying of nets, with their crumbling saunas, and the cribbing for docks that winter storms have smashed to bits. Abandoned work boats are left pulled up on shore where dry-rot and porcupines hasten their return to the elements. These artifacts - the decomposing vestiges of family fisheries - speak of the absent people once intimate with these shores, people who understood the elements and made their livelihoods from this land and water. Any evidence of their lives has been almost completely obliterated, except for these elegant remains - somehow made richly beautiful by the heartbreak they evoke. They are the abandoned relics of futile attempts to live an honorable life in the face of insurmountable economic adversity.

As the family fisheries become extinct and this way of life is lost, we are left with the melancholic view of fish-camps that were once cherished homesteads, now returning to bush. But what if these fish camps, now idyllic remains, had instead developed road access, added canneries, housing for employees, schools for their children, then some gas pumps and a general store. Soon there would be a post office, a bank and a real estate office. How long would it be, before fast food emporiums, condos and strip malls, rather than balsam fir and indian paintbrushes, displaced the fishery?

The decimated fish stocks of the Great Lakes were given a last minute reprieve and have once again begun re-colonizing the reefs and the spawning gravels of rivers. Whitefish and trout are once again plentiful, although impoverished in their variety. For some species and locally distinct populations, the pardon came too late and that too is a legacy of the vestiges of nets, boats and obscure mechanical devices littering remote inlets of the great North. The spirit-ghosts of exterminated fish - like unburied or inadequately mourned ancestors - still evoke nagging memories. Why not learn from the indigenous people and do our own ghost dances in their honor? I attempt this through the contemplative act of drawing; I use my etchings to evoke the spirit of extinct fishes. At other times, I simply pay my last respects to a pickerel that I've caught for supper, by drawing it before I eat it."

- Ladislav Hanka, 2018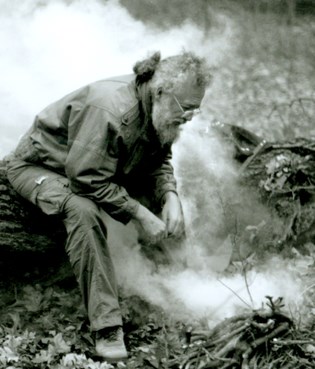 About the Artist
Ladislav R. Hanka lives in Kalamazoo, Michigan and exhibits internationally. He is an artist working largely with themes of natural history – the birds and trees, fish and insects — as co-habitants rather than resource. He's published two books: In Pursuit of Birds; a Foray with Field Glasses and Sketchbook and The Crooked Tree Prints, which examines the Eastern Woodlands Indian practice of deforming trees to mark trail ways and council sites – published in English and the native Aneshnaabemowin.

His work examines themes of life, death and transfiguration – nature as the crucible in which man finds a reflection of his own life and meaning. Over the years that has meant going to visit old trees and drawing them from life, an artist residency at Isle Royale (July 21st to August 8th, 1992), circumnavigating Lake Superior, and angling for the various trout and pike he needs as models for his etchings. Most recently his work has involved close collaborations with honeybees and placing his works into living hives. Hanka has had about 120 one-man shows and his etchings can be found in over 130 public collections on all continents. The permanent archive of his works, books, proofs, documentation and correspondence is housed at Special Collections: Western Michigan University. Visit Ladislav's webpage for more examples of his work.
Search by Year

Search past Isle Royale Artists-in-Residence by year of their residency.

Search by Artist

Search past Isle Royale Artists-in-Residence by last name.

View Gallery

View past Artist-in-Residence artwork sorted by medium.
Last updated: January 5, 2020