Ardell Nelson (2008 Artist-in-Residence) Poems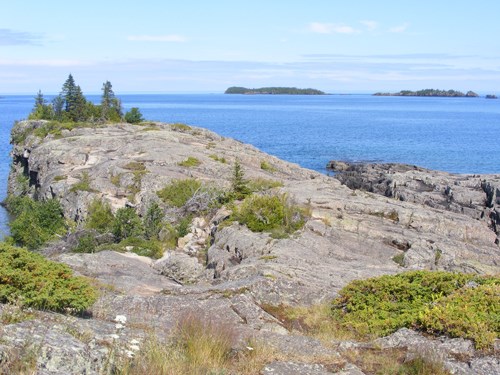 Two full days of travel
to arrive at Scoville Point
Oh my
Oh God
those who live
at the ends of the world
stand in awe.

_______


Nature rejoices
a constant
daily, seasonal, millennial
prayer.

_______
Grey ominous sky has cut loose
stack of wood by the fireplace
rain pelts on the windows
thunder rolls through
the bedrock
and shudders my feet.

_______


The moose hoofs on shallow soil
were not in a hurry
this still, still morning
passed by my window
to the cliff edge with viewing bench
the moose stood gazing
at this spectacular morning.

_______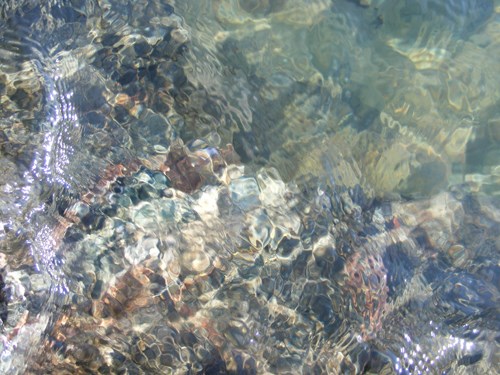 Today I hear birds singing
across Tobin Harbor from Smith Island
rhythm of lapping waves
adds quiet percussion
breeze through the trees
a soft violin.

_______


Head-on
we met on a trail
too close to hide
a red fox and I
looked each other in the eyes
dark brown and blue
"Hello, aren't you pretty" I spoke
around me it went
stopped, turned to look again
I had no camera – just as well.

_______


Follow the rise of the terra firma
scan the Superior horizon
keep sight on the sky
the clouds tell us
the weather is always
changing.

_______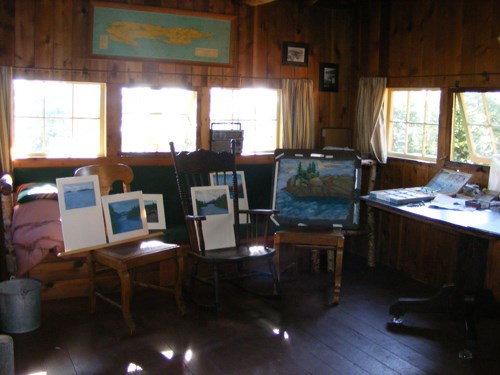 Phthalo, Prussian, Ultramarine
and every hue in between
not enough blues
for Superior water and sky
my greens seem inadequate
my violets all wrong for shadows
forget the rocks (at least for now)
no desire for dull brown.

_______


Wild, wilderness in slow motion
dense growth & decay
the loon's mournful evensong
reminds us of rest
"take it easy" the otter displays.

Yet, an undercurrent, nagging thought
look over your shoulder
for what lurks behind
a howl
a predator
a hunger to be satisfied.
There are wolves in the shadows.

_______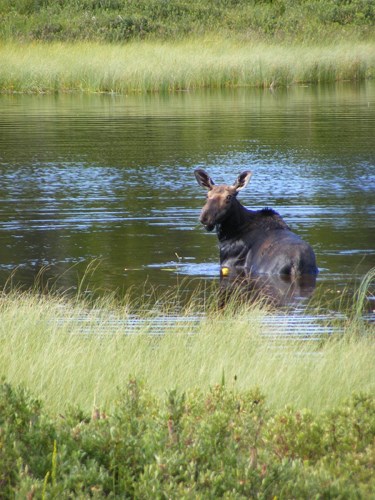 To Hidden Lake, I have been
on the way to Look-out Louise
carrying a burden on my back
on the return
lighter and exultant
I saw the moose
neck deep in water.

2nd visit: I came with pastels
settled at water's edge
focused four hours
I drew with only one distraction
an otter's head
the only tell tale of the diagonal line
dividing the lake.

3rd visit:
I went hoping to recapture
but as it was, it was a struggle
wrestled with ideas
swatted mosquitoes
jerked the pastels
eventually
scared off by a snake.

4th visit: By now I had a companion
and thought like a guide, "You must see"
as we hiked, he bounced and spun
jumped from rock to rock
louder than a moose foraging for food
shhhhh…..
only two-legged creatures did we see.

_______

Please,
Let me stay awhile longer . . .

Return to Ardell's Page
Return to the Artist-in-Residence Exhibit
Search by Year

Search past Isle Royale Artists-in-Residence by year of their residency.

Search by Artist

Search past Isle Royale Artists-in-Residence by last name.

View Gallery

View past Artist-in-Residence artwork sorted by medium.
Last updated: December 18, 2019