John Miller (Artist-in-Residence, 2006)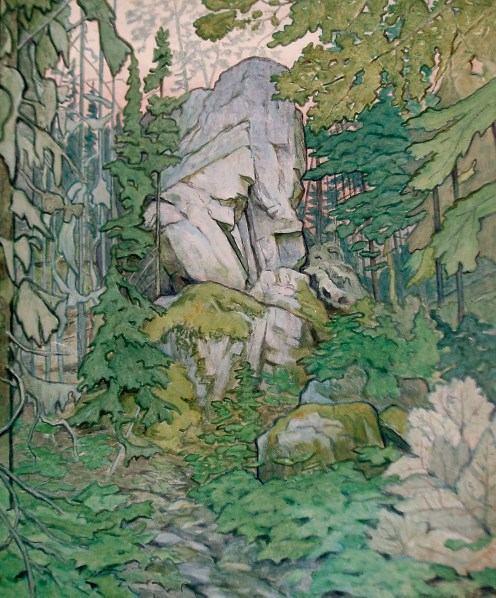 Isle Royale Reflection
"On Isle Royale National Park there are countless possibilities for works of art. For me, the difficulty lay in excluding subjects as I pondered just what I might focus upon in creating the piece I'd dedicate to the park as part of my Artist in Residency agreement. Based on surveying works created before me I thought that focusing on some unique inland feature could help broaden the portfolio of art owned by the park. Many artist's donated water themed creations and though this seems ever so appropriate, hikers have a another sense of the place as well. I chose Monument Rock, a pillar of stone found along a trail littered with glacial erratic boulders in a forest section decorated with hanging lichens. The place had a sense of mystery and a timeless feel that almost suggested the presence of an ancient witness to countless seasons of changing land and weather. Or maybe I was sensing the watchful eyes of wolves that had been spotted in the area.

My residency was an incredible opportunity for me to slow down, observe, and prioritize art as an every moment involvement. My understanding of water, light, and space were enhanced by the slow time experience of bearing witness to the passage of time each and every day."

- John Miller, January 2020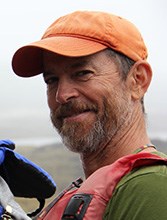 About the Artist
John Miller grew up in St. Paul, Minnesota and graduated from the University of Minnesota with bachelor degrees in Zoology and in Art.

He has both a graphic art and fine art career focus and has been Artist in Residence at two National Parks: Acadia National Park in Maine, and Isle Royale (June 16th to July 1st, 2006).

John has over 30 years of illustration and design experience working for business, non-profits, and State agencies. In his illustration and design work he focuses on natural history, natural area preservation, and human health and medical technology related subjects. In his fine art he focuses on natural spaces and natural phenomena with a particular interest in how what we see effects what we think, feel, and believe we know about the world around us.

John is a paddler and spends a good of time gliding along the waterways of Wisconsin as well as in regions north. Read more about John's time at Isle Royale and view his work on his webpage.

Next Artist-in-Residence by Date
Return to the Artist-in-Residence Exhibit
Search by Year

Search past Isle Royale Artists-in-Residence by year of their residency.

Search by Artist

Search past Isle Royale Artists-in-Residence by last name.

View Gallery

View past Artist-in-Residence artwork sorted by medium.
Last updated: January 3, 2020