Marianne Boruch (Artist-in-Residence, 2006)
Isle Royale Reflection
"Isle Royale is the most beautiful spot on planet Earth. It was a great privilege to be there. And the poems I wrote (now in my poetry collection The Book of Hours but before that in a chapbook, Ghost and Oar from Red Dragonfly Press) still haunt me. My favorite part of our visit (my husband and son were encouraged to come by the Rangers, given the isolation involved) was canoeing out and about the various little islets, early morning and at dusk, and a lot of images in the poems came with the calm strange sound of oar hitting water as backdrop.

The Dassler family cabin is a charmed and lucky place, most especially the little guest cabin down the path where I took my pot of tea early each morning to be alone and write until about noon. Sometimes a little fox would peer in at me, through the screen door, curious. I cherished his company."

- Marianne Boruch, March 2019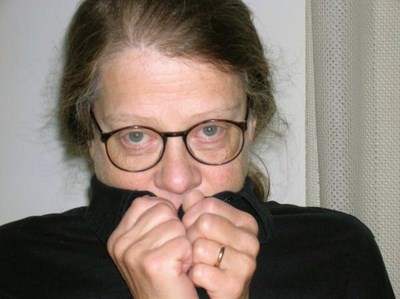 About the Artist
Marianne Boruch's The Book of Hours (Copper Canyon Press, 2011, and winner of the Kingsley Tufts Poetry award) includes poems from her chapbook Ghost and Oar which was written at Isle Royale and published earlier by Red Dragon Gate Press. Among her other nine poetry collections are Cadaver, Speak; Eventually One Dreams the Real Thing; and The Anti-Grief (Copper Canyon, 2012, 2016, 2019). She's written three essay collections as well, most recently The Little Death of Self (Michigan, "Poets on Poetry Series," 2017), and the memoir, The Glimpse Traveler (Indiana, 2011).

Her work appears in The New York Review of Books, Poetry, The New Yorker, American Poetry Review, New England Review, and elsewhere. She's received Pushcart Prizes, fellowships and/or residencies from the Guggenheim Foundation, the NEA, the Rockefeller Foundation's Bellagio Center, and two Fulbright Professorships, one at the University of Edinburgh in 2012, the second in 2019 at Australia's University of Canberra. She's been a visiting artist at the American Academy in Rome and at two national parks, Denali and—yay!—Isle Royale from July 4th to July 19th, 2006.

Boruch taught at Purdue University for 31 years, was the founder of the MFA program there, becoming a Professor Emeritus in 2018. She continues on faculty in the low-residency Program for Writers at Warren Wilson College where she has taught since 1988.

Next Artist-in-Residence by Date
Return to the Artist-in-Residence Exhibit
Last updated: January 5, 2020