Elisa Korenne (Artist-in-Residence, 2010)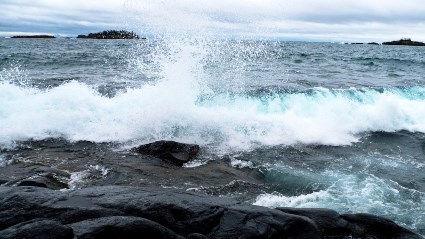 "Chris sloshed the water pails onto the kitchen floor and held my coat out to me. I lumbered out of the rocking chair and stuck my arms into it. Chris led me twenty feet down the rocky path to the small bay where we collected our daily water from Lake Superior.

Pine branches slashed through the air, but offered a modicum of protection against the storm. As soon as we left the cover of the pine tree circle, the storm surrounded us. Winds bellowed; waves crashed. The very earth vibrated. Sea spray whipped my cheeks to a chill and, before they could warm, spray-laden wind chilled my skin again. Waves piled into the small cove in attack formation, phalanxes of them driving toward shore. When the gray-green waves hit the rocks, they erupted in gushing columns of white spray.

Chris led me into a hollow between two boulders where we could hide from the bite of the wind. We had to yell to be heard. "It's amazing!" I screamed into the roar of air and water. Chris took my hand, and I turned to look at him. His eyes were as full as storm clouds, swirling with color."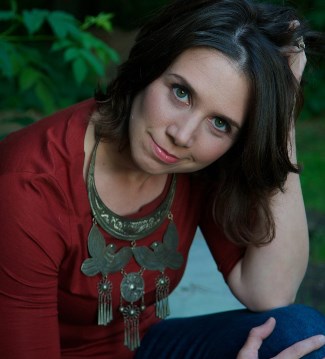 About the Artist
Elisa Korenne, a Yale Graduate and award-winning songwriter known for her original songs about oddballs in history, left New York City in 2006 to be an Artist-in-Residence in rural west central Minnesota. She was also an Artist-in-Residence at Isle Royale from August 27th to September 11th, 2010.

Since becoming a Minnesotan, Korenne has become known as a pioneering rural artist. Gull Lake TEDx chose Korenne to be a featured speaker at their April 2017 conference. Prairie Public Television in Fargo, North Dakota commissioned her to create songs and appear in a series of ten mini-music documentaries of unusual people and events in the Upper Midwest. Subjects include controversial politico A.C. Townley, health-insurance saleswoman Sister "Lumberjack" Amata Mackett, and Mail Order Bride Rachel Calof.

She began her music career in 2001 after leaving her role at the international development nonprofit she cofounded, Geekcorps; an alternate Peacecorps for technology professionals building businesses in developing countries. Her debut book, Hundred Miles to Nowhere: An Unlikely Love Story was published in June 2017.

- Adapted from Elisa's webpage, where you can go to hear her music and learn more about her
Last updated: January 28, 2020