Cecil Howell (Artist-in-Residence, 2019)
Isle Royale Reflection
"By the second week of my residency, I had taken to listening to the National Park Radio in the mornings as I drank my coffee, much like I would NPR at home. The "programming" mostly entailed long periods of silence interrupted by the comings and goings of park service boats and every once in a while an exchange about a lost item or park police inspection. This may seem like an attempt to escape the isolation or wilderness that this residency offers, but it felt different than that. I was not listening to escape the wilderness but rather to find out how such a place exists within humanity; the radio helped me understand the human scaffolding that helps make this place available for humans and non-humans alike.

Three weeks of slowly walking the trails, quietly observing Scoville Point, and not-so quietly/slowly jumping into the lake for a morning plunge, left me in awe of this archipelago. It is a place of dramatic beauty, with basalt cliffs plunging into clear water, deep forests entangled with lichen, and the mesmerizing lake, always changing in color, sound, and smell. In my own silence, I started to hear the forest in a way I had never before and without the distractions of digital media, the simple beauty of light on water became intensely vibrant. I know I am not alone in these feelings; of all the National Parks, perhaps this is the one most deeply beloved. I spoke with families who returned to the island generation after generation and a woman who, after forty years, was back on the island sharing the memories from a magical teenage summer with her husband.

I've been back from the island for almost six months now, leaving behind the lava cliffs for New York City. But rarely a day goes by that I don't recall my favorite routine of the residency: on evenings when the wind was low, and the sky clear, I pulled out the canoe and floated down Tobin Harbor. Engulfed in the colors of the sunset and the chatter of loons and beavers, I drifted along, steeping myself in the language of this place."

- Cecil Howell, November 2019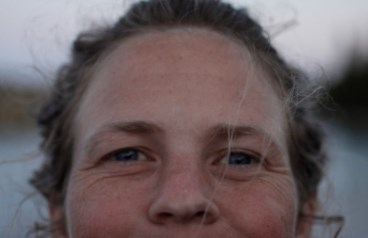 About the Artist
Cecil Howell was an Isle Royale Artist-in-Residence from June 25th to July 13th, 2019. She is a designer and artist, whose practice ranges from mapping, to product design, to landscape architecture. Her work is an exploration of place: how it evolves, how we connect with it, and how we can design it. Growing up in the woods of New York, her love of land is rooted in childhood walks through the forest, observing a successive ecosystem regenerating over remnant stone walls and farmlands.

Cecil approaches her work through studying how spaces are formed over time through the dynamic layering of cultural and ecological forces. Through analysis, model making, and drawing she is interested in creating narratives that tell the multi-faceted stories of a place; expanding our perspective and dialogue. This type of analysis is the point of departure for her work as a landscape architect, where she uses her research to generate creative and community driven designs.

After 9 years of working for multiple award-winning firms, including Hargreaves, Future Green, and Margie Ruddick Landscape, Cecil created her own studio and collaborative: Object + Field, in order to expand her practice to include art, product design, and landscape architecture. Her work includes a 12-acre corporate campus in Beijing, in collaboration with the renowned artist Maya Lin, as well as a climate change resiliency study for the San Francisco Bay Area. She has received a number of awards, including the ASLA General Award of Excellence for her student work. Learn more about Cecil's work on her personal webpage.
Search by Year

Search past Isle Royale Artists-in-Residence by year of their residency.

Search by Artist

Search past Isle Royale Artists-in-Residence by last name.

View Gallery

View past Artist-in-Residence artwork sorted by medium.
Last updated: December 17, 2019