Robert Dorlac (Artist-in-Residence, 2008)
Isle Royale Reflection
"The first morning of my Isle Royale National Park residency I awoke to the loud breath of a cow moose that was standing directly outside the open Dassler cabin bedroom window, a scant two feet from where my head rested on the pillow. The following morning as the dense fog began yielding to a brilliant blue sky, a fog dome rimmed by a double rainbow developed behind Edwards Island – a natural phenomenon I have never experienced anywhere else.

Later, an awe-inspiring storm with crashing waves and horizontal rain blew in off the lake and shook the cabin. Every day of my IRNP residency was full of natural wonder, beauty, mystery, drama, and grandeur. And as an artist who looks to nature for inspiration, I found the experience almost overwhelming. While in residence I was often too awe-struck by what I was seeing to even pick up a brush. I made my best work several months after the experience. I needed some time and distance from the experience to absorb it all and discover how I might do justice to the experience with my paints and brushes."

- Robert Dorlac, December 2018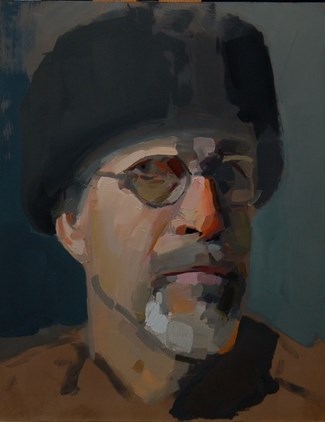 About the Artist
Robert Dorlac was born in St. Louis, Missouri. He studied at the Kansas City Art Institute, earned a B.S. in Geology from the University of Missouri, and received an MFA in painting from Southern Illinois University. He has been awarded artist-in-residence positions at Isle Royale National Park, MI (July 8th to July 23rd, 2008); Painted Desert National Park, AZ; Acadia National Park, ME; the Upernavik Museum, Greenland; the Herhúsið, Iceland; the Brush Creek Foundation for the Arts, WY; and the Ucross Foundation, WY.

Dorlac made his first plein air landscape drawings as a boy while visiting the Mark Twain National Forest in Missouri with his parents. Since that time, he has sought inspiration for his landscape works in National Parks, National Forests, National Monuments, National Wildlife Refuges, and Bureau of Land Management lands. Dorlac is strongly committed to using his art to raise public awareness of the natural and cultural heritage that these lands contain.

Dorlac is a Southwest Minnesota State University Professor Emeritus of Art and lives in Marshall, Minnesota where he paints, bakes with wild yeast, ties flies, and grows apple trees. You can see more of Robert's work on his personal webpage.
Search by Year

Search past Isle Royale Artists-in-Residence by year of their residency.

Search by Artist

Search past Isle Royale Artists-in-Residence by last name.

View Gallery

View past Artist-in-Residence artwork sorted by medium.
Last updated: December 19, 2019